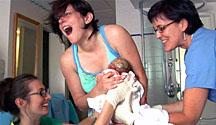 The documentary film The Business of Being Born focuses on children being born at home, but the impetus to hold a screening of it in Athens on International Midwives Day – and to put on a panel discussion about midwifery in conjunction – is much broader than simply increasing awareness of homebirth, says Alexa Shea, who's organizing the event.
"I'm not just interested in promoting homebirth," Shea says. "That's not the point, because homebirth is a very small minority. I want to support midwifery." That's why, with the sponsorship of a group known as Athens Conscious Parents, she's assembled a panel of local (or near-local) women reflecting the diversity of current trends in what, she says, can generally be termed "mother-friendly care."
The panel includes Susan Fisher, a Certified Nurse Midwife and creator of the website www.alternativebirth.org; Melanie Garland, a lactation professional at Athens Regional Medical Center ("One of the reasons that we wanted to have a breastfeeding person on the panel is because there's clear evidence that birth impacts breastfeeding," Shea says); Sarahn Henderson, an experienced midwife who serves Atlanta's African-American community; Susan Hodges, who actually appears in the film; and Madrona Wienges, a doula and homebirth mother herself.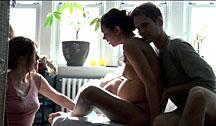 The matter of having a midwife – no matter where the birth takes place – is important, Shea says, and both the vocation and the demand for it are growing as of late. She commends the nurse midwives at Athens Regional in particular, and says they've been getting more and more patients lately who don't fit the traditional stereotypes – the stereotypical patients being low-income expecting mothers whose healthcare is covered by state indigent-care funds, or simply those already "in the know" regarding midwifery. "There's a lot of change happening in Athens right now, which is exciting." Shea says. She adds, "Already there's more demand for midwives in our state than there are midwives."
In other words, she says, the trend is becoming more mainstream. "It used to be, you know, hippie women…" Enter Ricki Lake, the former daytime TV legend who has had one baby at a hospital, had one at home, and has served as executive producer of the documentary The Business of Being Born, which outside of New York, Los Angeles and San Francisco has been shown via grassroots screenings since its release in January.
"She took it on as her passion," Shea says of Lake and the film. "She did an amazing job documenting birth reform in America." And, spoiler alert – Lake's homebirth experience is documented in the film. "It's funny… they have these nice, inflatable birthing pads now," Shea says. "Ricki Lake actually gives birth in her bathtub."
The film screens on Monday, May 5 at Ciné, with showtimes at 4 p.m., 7 p.m. and 9:30 p.m. The first and last screenings cost $7. The 7 p.m. screening costs $10, and is followed by a panel discussion that Shea will moderate. She stresses the event is for people of all levels of interest, and is not focused solely on homebirth. Of her own family, she says, "We can't imagine giving birth any other way – for us – but definitely people need to give birth where they feel safe and comfortable."
Like what you just read? Support Flagpole by making a donation today. Every dollar you give helps fund our ongoing mission to provide Athens with quality, independent journalism.