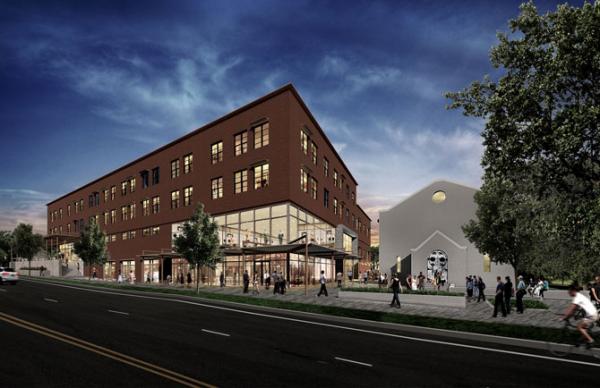 Photo Credit: Smith Planning Group
Cobbham co-op Daily Groceries has abandoned plans to move into a much larger 14,000 square-foot space in the upcoming 100 Prince mixed-use development and become a full-service grocery store, its board of directors recently informed owner/members.
According to an email sent out over the weekend:
As you know, Daily Groceries Co-op signed a non-binding letter of intent on September 6, 2016 to explore the possibility of expanding Daily's operations from our current location to the proposed development at 100 Prince (i.e. the St. Joe's property). During the course of the past nine months, we conducted an extensive review of Daily's proposed expansion with the assistance of various co-op consultants, planners, lenders, legal counsel, and other experts. At the conclusion of this thorough and extensive review, we determined that it is not in the best interests of Daily or its membership to expand to 100 Prince given the time constraints associated with the project. As a result, Daily will maintain its operations at its current location for the foreseeable future. We will continue to explore opportunities to expand from our current location, but we will only do so if an expansion is in the bests interests of Daily and its members and only if an expansion opportunity will allow Daily Groceries to continue to further its mission of promoting a thriving, local, cooperative economy and being a fun, inspiring place to shop and learn, a hub for community and civic engagement, and a source of excellent food!
Delene Porter, president of Daily's board of directors, said the board will put out more information about the timeline soon.
While Daily was set to embark on a $3.9 million capital campaign to build out the 100 Prince space, Porter said no money has been raised from owner/members, and if and when the store does move into bigger digs, funds will be placed in escrow until the project starts.
Meanwhile, 100 Prince is moving through the Athens-Clarke County plans review process. Daily would've been the anchor tenant, though, and it's unclear how the grocery pulling out will affect the development. Russ Davis, CEO of Greensville, SC-based Homes Urban, also said he will provide an update on the project at a later date.
Like what you just read? Support Flagpole by making a donation today. Every dollar you give helps fund our ongoing mission to provide Athens with quality, independent journalism.