The owners of The Varsity have applied for permits to demolish a half-dozen structures on the same block, potentially allowing them to raze several historic houses to make way for a mega-development.
The permits are for 1076, 1086 and 1092 West Broad (the Dairy Queen that closed last year, a mechanic's shop and a house) and 835, 853 and 863 Reese Street.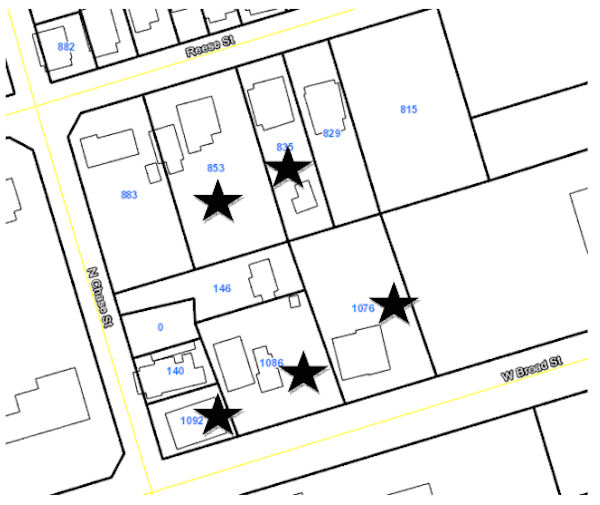 Photo Credit: Athens-Clarke County Planning Department
The applications were filed Tuesday. Commissioner Melissa Link, who represents the area, said she has already exercised her power under county law to put a hold on those permits for 90 days.
"I have activated the 90-day delay, and I have every intention of seeking a long-term moratorium," she said.
The Varsity has been quietly buying up surrounding properties since last year, leading to speculation that it would redevelop the block surrounded by Milledge Avenue and West Broad, Chase and Reese streets into a mixed-use development with apartments and a grocery store. Parcels along Broad are zoned for dense commercial use, while those on Reese are zoned for low-density multifamily units.
"I don't think the neighborhood is going to take this lying down," Link said.
Representatives for the property owners, the Gordy family, assured Athens-Clarke County commissioners in February that "there is no plan."
However, that turned out to be a "misunderstanding," Commissioner Jerry NeSmith said. He met with real estate agents Gerry and Grant Whitworth three weeks later, who told him there were no specific plans for redevelopment, but the Gordys intended to move forward with demolition. NeSmith, Link and commissioners Mike Hamby and Kelly Girtz tried to talk them out of it—apparently unsuccessfully.
Since then, communication has stalled. "We've been trying to meet with the property owners for months, but have been unsuccessful," NeSmith said, although "someone with authority" reached out today.
Officials with the ACC government, Clarke County School District, Athens Housing Authority and the Athens Land Trust (an affordable housing nonprofit that builds houses in the neighborhood), as well as residents, have sensed development pressure coming to the Hancock Corridor for years. They partnered to hire a consultant to produce a "feasibility study" on improvements and protections in the West Broad/Hancock Corridor/Rocksprings area. A draft was finished in March.
"It's not like we didn't see this coming," Link said.
She sought $25,000 in additional funding for neighborhood studies in the upcoming ACC budget, but Mayor Nancy Denson did not include it, she said.
NeSmith said his goal is to save the historic (and affordable) housing in the Reese Street neighborhood. Ideally, that would be through a zoning overlay—which would allow commercial development in appropriately zoned locations—rather than a historic district, he said.
"We will find a way to limit demolitions of this housing stock, which is working-class housing," he said.
The four dwellings on Reese Street are listed on the National Register of Historic Places, as well as on the ACC Comprehensive Plan as a possible future local historic district. One was built by former slaves who became dentists and later was the home of A.H. Burney, a prominent educator and the namesake of Burney-Harris High School—the city's black high school before integration, now known as the H.T. Edwards building—and Burney-Harris-Lyons Middle School.
Like what you just read? Support Flagpole by making a donation today. Every dollar you give helps fund our ongoing mission to provide Athens with quality, independent journalism.