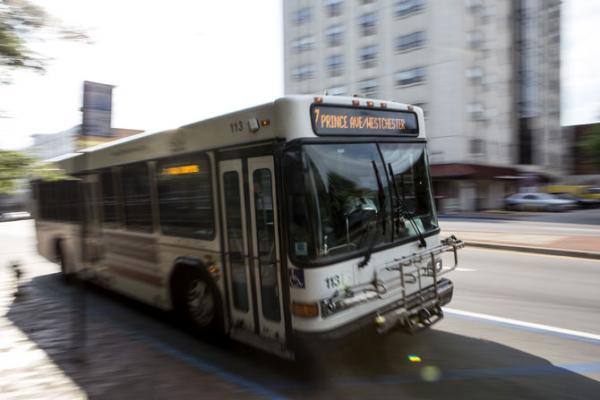 Photo Credit: Joshua L. Jones/file
Athens-Clarke County will host a public forum Wednesday from 7–8 p.m. at the ACC Library for people with questions or comments about an upcoming sales-tax referendum for transportation.
The Transportation Special Local Option Sales Tax (T-SPLOST) will be on the Nov. 7, 2017 ballot. If approved, it will raise an estimated $104 million over five years to spend on roads, bridges, sidewalks, bike lanes and paths and public transit.
State legislators voted last year to allow individual counties to hold referendums on the transportation tax after a multi-county regional approach mostly failed in 2012.
A 22-member T-SPLOST Citizens' Advisory Committee chaired by former county commissioner and current planning commissioner Alice Kinman will recommend projects to the ACC Mayor and Commission. Other members include Buck Bacon, Mildred Beck, Lauren Blais, Bill Bland, Willie Bolton, Elliot Caldwell, Corbett Chandler, Fred Harrison, Tommy Jackson, John Jeffreys, Ashley Na, Brian Molloy, Sue Plaksin, Aaron Redman, Jennifer Rice, Denise Ricks, Kaori Sakamoto, Anna "Tres" Small, Madeline VanDyck, Holly Ward and Homer Wilson.
County officials have already said they'd like to use the money to step up sidewalk construction, catch up on a backlog of road repaving, implement the Prince Avenue safety audit and Prince and Oconee Street corridor studies, finish Firefly Trail to the county line and build a roundabout at the Whitehall Road-Milledge Avenue intersection, as well as for various other bike and pedestrian safety projects, Athens Transit and downtown infrastructure. Recommendations from Atlanta Highway and Lexington Road study committees could be on the table, too.
Click here to read about T-SPLOST to your heart's content and fill out a form to suggest projects.
Another forum will be held Jan. 11.
Like what you just read? Support Flagpole by making a donation today. Every dollar you give helps fund our ongoing mission to provide Athens with quality, independent journalism.