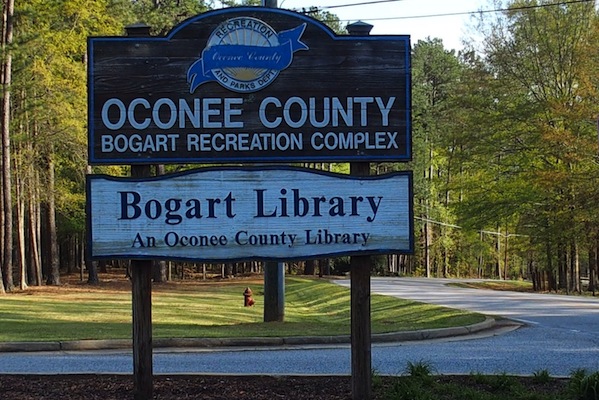 Photo Credit: Lee Becker
A House-Senate conference committee removed all funding for the renovation and expansion of the Bogart Library from the state budget approved in the final two days of the General Assembly session.
The conference committee action was taken at the direction of Rep. Terry England (R-Auburn) chairman of the House Appropriations Committee, according to Senate Majority Leader Bill Cowsert, who represents Oconee and Clarke counties.
Cowsert told me in an email message that "The library funding was removed by the House Appropriations Committee chairman after we had to cut about $20 million in bonds in the conference committee to make the budget balance."
The Athens Regional Library System was seeking $1,755,750 in state funding for the Bogart Library renovation and expansion. That was to be matched by $955,750 in funding from the 2004 Oconee County Special Purpose Local Option Sales Tax.
The Georgia Public Library Service, the statewide library authority, had ranked the Bogart project as No. 7 on its list of 10 projects for funding this year. Three of the six library projects that survived the conference committee cuts ranked lower in priority than the Bogart Library.
Rep. Regina Quick, who represents Bogart, bucked House Republican leadership and was one of only 43 Republicans who voted against the HB 170, the Transportation Funding Act of 2015, when it was approved by the House on March 5.
When I talked to Quick by telephone, she said she didn't have any explanation for the defunding of the Bogart Library project. When I asked her if it was retaliation for her vote on HB 170, which increased fuel taxes to pay for transportation, she said "I don't think that is the case."
For more, visit Oconee County Observations.
Like what you just read? Support Flagpole by making a donation today. Every dollar you give helps fund our ongoing mission to provide Athens with quality, independent journalism.