"The sun doesn't send a bill," said Ted Terry, field coordinator for Georgia Solar Utilities, an Atlanta company that is installing 4,000 solar panels on a Dublin high school.
Georgia Solar Utilities' business plan is to sell solar panels to local governments and build solar farms in rural areas and sell the electricity to power companies.
"In the past, solar just hasn't been there economically, but prices have dropped by half over the past 18 months," Terry said.
That price drop could mean the Georgia Power, long resistant to solar, might have to get with the program.
The Public Service Commission, the state's utility regulators, voted to close two of four boilers at Plant Branch in Milledgeville and will vote on closing the other two next month. Georgia Power is proposing an extensive (and expensive) greenfield environmental cleanup. Public Service Commissioner Tim Echols has another idea: clean it up to brownfield standards and turn the 1,900 acre property into a solar farm.
Georgia Power, however, has not proposed any solar in its latest 20-year plan, which the PSC is also scheduled to vote on next month. Chairman Lauren McDonald and Commissioner Doug Everett want to force the company to produce 500 megawatts of solar, a plan that Echols sounds likely to get on board with, giving solar a majority on the PSC.
"If we can figure out how not to have a subsidy on solar, there is a very good chance I could support that," he said.
Since the price of silicon is down and, in contrast to coal, there are no inflation-prone fuel costs, there is a very good chance solar no longer needs a subsidy.
The reason Echols and Terry were in town today was Echols' Alternative Fueled Vehicles Roadshow at the Classic Center. He showcasing electric Nissan Leafs and a Tesla Roadster, a school bus powered by propane, a Mercedes that runs on cooking oil and several vehicles that use compressed natural gas for an audience that included Mayor Nancy Denson, Athens-Clarke County Transportation and Public Works Director David Clark, Police Chief Jack Lumpkin and state Rep. Chuck Williams (R-Watkinsville).
Echols himself used to drive a CNG car but sold it because the fuel isn't available in Athens. "It wasn't practical," he said.
Now, he fills up his state-issued Chevrolet Impala with E-85 (85 percent ethanol) gas in Conyers on the way to and from the Capitol. But he bemoaned the fact that many alternative fuels aren't available in Athens. The PSC approved an Atlanta Gas Light plan in 2011 to build CNG stations across the state, but none are planned for Athens.
"How can we be this progressive in this town and not have a CNG pump and not have an E-85 pump?" Echols said.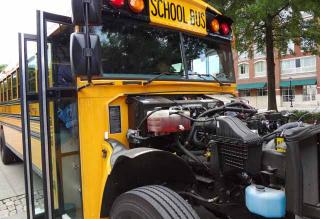 Electric is a better option locally. You can plug in your at home, obviously, and Nissan has free charging stations at all its dealerships and is building a network of 800 stations where you can charge up a Leaf enough for 50 miles in just 15 minutes, said Cornelius Willingham, Nissan's electric vehicle operations manager for the Southeast region.
An startup called JuiceCar is also installing charging stations at local businesses. (The first is at Kumquat Mae Bakery in Watkinsville.) JuiceCar rents out Leafs and Chevy Volts, an electric car with a backup gas engine.
Leafs are kind of expensive (about $30,000, though state and federal tax rebates will knock of $12,000), but the cost of electricity is equivalent to about $1 for a gallon of gas.
I test drove a Leaf—it's eerily quiet and has plenty of power. Lumpkin rode in the back seat, which made me terrified of breaking any traffic laws, so I didn't really push it. But Willingham said it will outrun a sports car from zero to 60. "I'll pull up to a Porsche and look over, 'Come on, let's see what you got,'" he said.
Like what you just read? Support Flagpole by making a donation today. Every dollar you give helps fund our ongoing mission to provide Athens with quality, independent journalism.