No one wants our public schools to close again. High schools have already gone virtual this week, and as concerned CCSD parents and guardians, we warn our community that if conditions remain as they are, our other schools will likely close due to the pandemic, and soon.
Bureaucratic shortsightedness has led to the absence of mechanisms to ensure that COVID-safe protocols are followed consistently across the district. A scattershot approach—with each principal and their staff fending for themselves—is not working. A Board of Education official with whom we consulted agrees with this assessment and repeatedly assured us there are ample CARES funds. We propose the immediate creation of a centralized COVID Safety Office.
The year started off well enough, with most parents relieved and pleased that CCSD's officials, unlike UGA's, had the moxie to put a mask mandate in place. CCSD's guidance for schools (C19P) was reassuring, with the CDC and departments of health and education cited. The health care style graphic on page one promised that: "the district has implemented safety measures including: Evaluation and Increased Maintenance of HVAC systems, PPE for Staff/Students, Limited Student Transitions, Social Distancing Expectations."
But as the numbers of positives rose with each passing day, so did the dismay. As of this writing, there have been 511 cases in schools, with 5.3% of students and staff currently in quarantine. As parents and teachers suffered traumatic flashbacks at the specter of a return to virtual learning, they turned to their keyboards, swapping horror stories and frustrations. As information flowed, it became apparent that there were significant differences among our 22 schools in terms of C19P compliance.
For instance, maskless lunchtime is a recipe for transmission. Schools were given guidance that eating outdoors when feasible was favored, and that spacing students 3 feet or more while indoors was necessary. Yet lunch conditions vary wildly among schools: Clarke Central kids eat outside, while Cedar Shoals has not opened the door inside their cafeteria that leads outside, even though pre-pandemic students ate outside frequently. If CCSD had centrally coordinated oversight, perhaps proctors would have been hired to keep an eye on lunchtime distancing; PTOs would have been contacted for lunchtime volunteers; half of the cafeteria chairs moved elsewhere, or half the places at tables been X-ed off; large-capacity air scrubbers been procured to run between lunch periods; or arrangements made for outside snack breaks at elementary schools.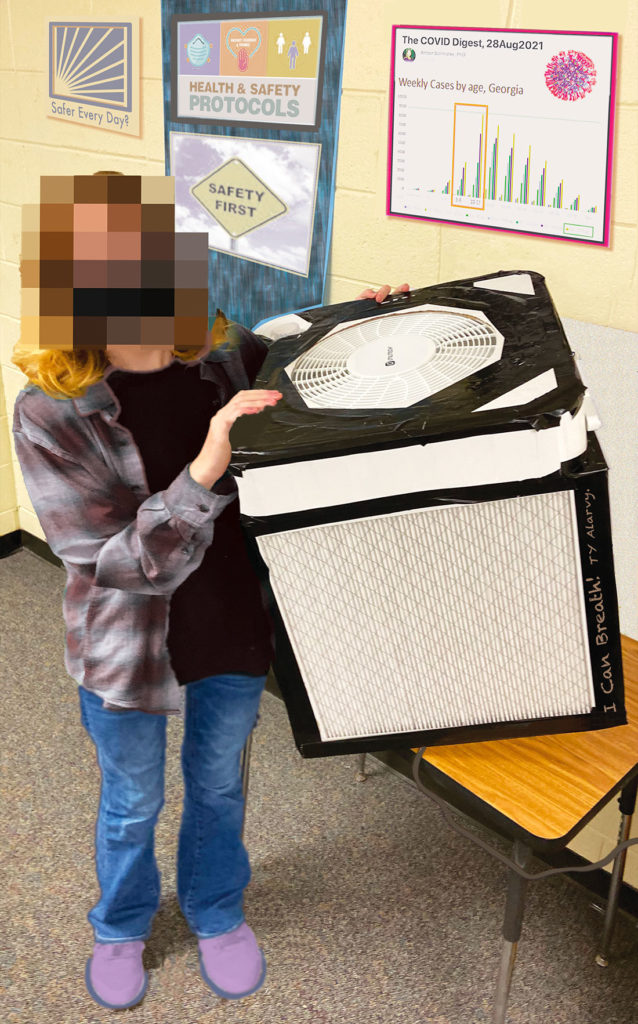 Cries for child-sized masks are a recurring refrain on social media; we live in a high-poverty county making free PPE a health priority, which the C19P promised. Without CCSD watch dogs, we have Charles Hardy of the Athens Alliance Coalition stepping up to deliver donated PPE to needy classrooms, even though there are ample funds. Superintendent Xernona Thomas was surprised to learn of the shortage at the recent BOE meeting, leading many to wonder where the missing link was in the chain of command, or if there was a chain at all.
Classrooms with subpar HVAC and no fresh air prompt wealthier parents to procure air purifiers for their children's classrooms. One handy parent built an $80 DIY air-scrubbing unit for a desperate teacher. Some rooms are finally being fixed, a month into schools opening, but as there is no transparency or accountability, teachers and parents have no idea what the status is of the air-flow in their classrooms—and anecdotally, schools with wealthier populations seem to have better air circulation. CCSD conducted an audit of our entire district's HVAC systems last spring, but never released it or provided updates on the status of repairs, again belying the C19P claims.
We urgently need a COVID Safety Office to inspect schools regularly, give guidance and report noncompliance directly to Superintendent Thomas. It could also help speed along essential programs, such as mandatory weekly testing of unvaccinated and biweekly testing of vaccinated people, for speedier detection of asymptomatic positives. It could host in-school vaccination and assist contact tracing—providing much-needed relief to our overburdened nurses. Its staff would work with the CCSD Transportation Department to solve the COVID-friendly nightmare that is our overcrowded buses, inhumane both to our bus drivers and their riders.
CCSD, we ask you, why even issue the C19P if you had no plans for ensuring its fulfillment? The stakes are just too high. CCSD, live up to your slogan, "Better Every Day," and create a COVID Safety Office today, so we have a shot at keeping all of our schools in-person.
This column was written in consultation with Clarke Central High School parent Alex Harvey and cosigned by the following CCSD parents, guardians and other community members: Tiffany Appling-Smith (Gaines Elementary), Maryanna Axson (Oglethorpe Avenue Elementary), Bonnie Bartles (Clarke Central), Carrie Bishop (Clarke Middle), Ty Brooks and Anna Belle Wood (Barrow Elementary), Amanda Dillard (Whit Davis Elementary), Rebecca Espana (Oglethorpe), Kathleen and Dave Falke (Oglethorpe), Janet Frick (Cedar Shoals High), Thea Grindeland Hanson (Cedar Shoals), Charles Hardy (Athens Alliance Coalition), Serra Jagger (Chase Street Elementary), Nicole Jozwiak (Oglethorpe), Jennifer Killen (Barnett Shoals Elementary), Erin Lipp (Cedar Shoals), Ginny Rutledge Maddox (Clarke Middle), Jami Mays (Oglethorpe; Parents for Safe Schools), Christina Opel (Oglethorpe), Tory Porcelli (Clarke Middle), Heather Matherly (Chase), Allie Miller and Nick Robbins (Oglethorpe), Jenny Rushing (Oglethorpe), Amanda Sacchitello, Rich and Tai Sherman (Whitehead Road Elementary), Stephine Smith (Clarke Middle), Antwon Stephens (former District 2 school board member), Tarin Tripp (Clarke Central and Clarke Middle), Autumn Weaver (Clarke Central) and Marci White (Clarke Central).
Like what you just read? Support Flagpole by making a donation today. Every dollar you give helps fund our ongoing mission to provide Athens with quality, independent journalism.