I was so sad to hear that Tobias Smith, age 19, was killed while riding his bike in the dark on Winterville Road last weekend. All human lives are precious.
I happened to have experienced the preciousness of Tobias, and I feel deeply his loss for the larger community in Athens. He was part of the BikeAthens team, working to make bikes available for people who have no other way to get around. My heart goes out to his family for the loss of this truly sweet, kind and helpful young man.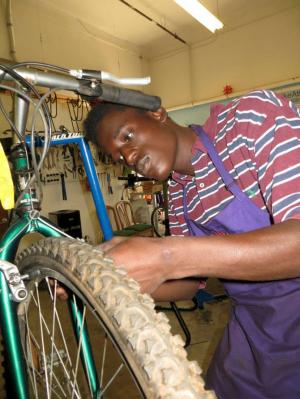 Photo Credit: Bike Athens
When Tobias was killed Saturday, Feb. 22, doing what he passionately lived to do, my grandson, Jesse, age 11, from Griffin, was visiting me at my new home in downtown Athens. I had moved downtown specifically to experience life as a townie, especially the satisfaction of being able to get what I need either by walking or biking—food, entertainment, a chance meeting on the street with friends—without needing to fire up the automobile.
We had fixed Jesse up a bike to ride and found him a cool helmet at the Habitat for Humanity ReStore. My daughter, Gwenny, showed him some cool destinations, and he spent much of the four days of his visit heading out to adventure on two wheels, autonomous, capable, a young man about town. He had such a good time!
On the way home to Griffin on Sunday, he volunteered, "Granny, Athens is my hometown. I was born here, and I want to live here again, since I can ride my bike to get what I need, and I don't have to go in the car."
I don't think he remembers me saying that was why I had arranged to be living in downtown Athens. But he has directly experienced my dream lifestyle now, and he likes it, too, and understands the lovely sustainability of it.
Now, I've got to underscore for him the extreme danger of this sustainable lifestyle within the predatory world of the automobile. I told him to ride on the sidewalk.
He came home from a foray out to spend the $5 he made cleaning the gutters for me. I asked if he had stayed on the sidewalk. He said yes, until a woman told him he had to ride in the street or he would get a ticket. [Editor's note: Children ages 12 and under can legally ride on the sidewalk, except downtown or in any other area where doors open directly onto the sidewalk.]
I had to explain the hierarchy of law then. I said, "You follow Granny's law no matter what some other adult says to you. Ride on the sidewalk, but always give pedestrians the right of way. Slow down for them, give them plenty of room. And if you get a ticket, you tell the officer, 'My Granny said her law overrides yours. She will pay the fine rather than chance me being killed on Prince Avenue.'"
If there were bike lanes where he rides, I'd tell him to ride in the bike lane. But there aren't, so Granny's law trumps the bike ordinance.
Like what you just read? Support Flagpole by making a donation today. Every dollar you give helps fund our ongoing mission to provide Athens with quality, independent journalism.