The Classic Center presented a close-to-final design for its new 5,500-seat downtown arena to the Athens-Clarke County Commission last week, in advance of a vote on Sept. 7.
After adjusting the design based on prior input from commissioners, renderings show a building with lots of glass and paneling that can be lit up in different colors with LED lights.
The lower level, off Hickory Street, would include offices for the Classic Center and a professional hockey team, as well as shell space for future expansion. There would also be room for expansion on the mezzanine level. The public will enter from Foundry Street, next door to the Classic Center's parking deck. That level will feature a "spacious" concourse area with 38 concession stands and exhibits from the Georgia Music Hall of Fame, currently stored at UGA's Special Collections Libraries. On the upper level will be 26 suites containing 919 seats, which will provide 45% of the building's revenue, Classic Center executive director Paul Cramer said.
A pedestrian plaza outside the arena "really does link our downtown all the way out to the river and connects us to our [future] parking deck on the other side of Hickory Street," Cramer said. "It will also provide for a lot of outdoor events and activities on that plaza."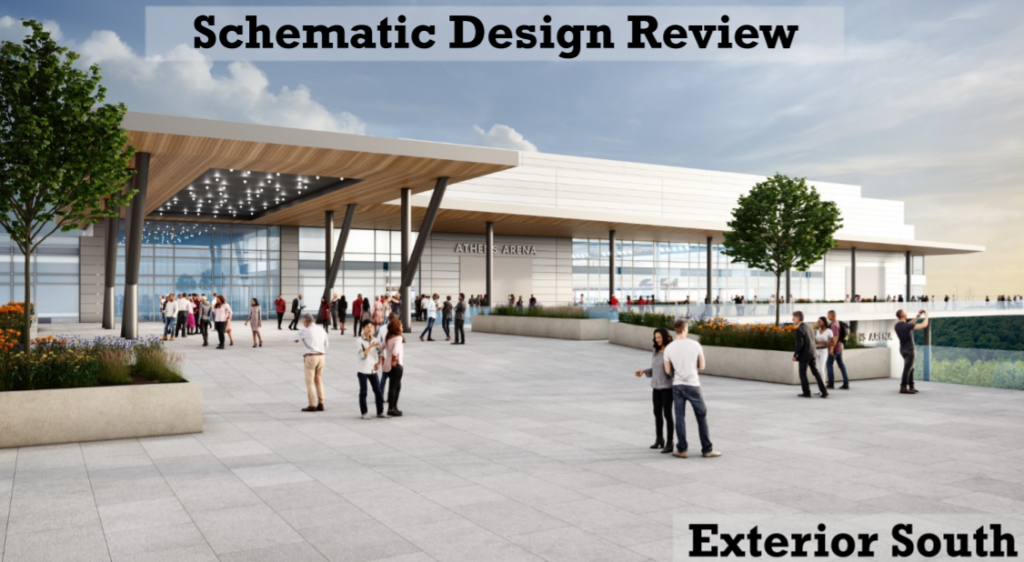 The Classic Center is considering bids for solar panels on the convention center, arena and parking deck, as well as water reclamation and energy-efficient HVAC systems, with the goal of achieving LEED Silver status for environmental sustainability, Cramer said.
The price tag for the arena has risen again, from an original estimate of $84 million to $109 million to now $117 million. $34 million will come from SPLOST 2020, a voter-approved package of sales tax-funded projects. "We're not asking for more SPLOST," Cramer said. "We have found a way to work that out internally across the board." The Classic Center has already identified sources of revenue—parking fees from a planned new deck, hotel/motel taxes from new hotel rooms, a new state law taxing Airbnb-style short-term rentals, catering, a 50-cent per-ticket fee, private fundraising and revenue from the arena itself—to pay off an initial $49 million bond issue. More revenue will come from senior condos and other development around the arena, naming rights, the hockey team, and contributions toward construction from caterer Levy Restaurants and a hotel learning lab for future hospitality industry employees—enough to cover payments on a second $25 million bond plus the new $9 million shortfall. After a deal to build a hotel fell through, the Classic Center also asked for and received commissioners' permission at their Aug. 17 meeting to seek another type of development on a one-acre parcel near the arena.
The arena is expected to bring in 55 sporting events, 25 concerts, 15 conventions, 10 family shows and 20 community events per year, many of them lasting multiple days.
Commissioner Melissa Link asked whether vendors on the concourse level could be open to the public when the arena is closed. "I really would love to see this facility benefit from some entrepreneurs and afford them space for a hotdog stand or a cupcake store or whatever, a little bakery outlet," she said. Cramer said he would look into that but noted that the arena will be in use 300 days a year. Levy has an exclusive contract for food and beverage but will likely contract with other vendors to operate food carts. "They like bringing in that local flavor," Cramer said.
Commissioners also heard a presentation about renovating the Costa Building at the Aug. 10 work session from SPLOST Project Manager Daniel Garren. Located next to City Hall on the corner of Washington and Lumpkin streets, the city-owned building has sat vacant for years, with $5.2 million allocated toward renovating it. Local architectural firm Arcollab's plans also include an addition to the building's north side and a previously approved pocket park in the existing parking lot. Pending commission approval Sept. 7, work is scheduled to start in January and wrap up in December 2022.
Like what you just read? Support Flagpole by making a donation today. Every dollar you give helps fund our ongoing mission to provide Athens with quality, independent journalism.