For years, Athens residents and local officials have been discussing the need for more public space downtown. From closing off College Square to traffic to creating a park around City Hall to, most recently, gathering space to activate the dead-before-10-p.m. block of Clayton Street near the Classic Center, we've debated various options, but our lack of initiative and political will has prevented any progress.
Imagine, though, a family-friendly pedestrian plaza downtown. Rather than empty sidewalks awaiting hordes of blitzed college students to blanket them in vomit, families dine at locally owned restaurants, then let their kids roam free without fear of being run down by speeding wrong-way drivers before donning pairs of ice skates or getting a haircut or perusing a funky local retailer. That's Market Square in Knoxville, TN.
My family spent an afternoon in downtown Knoxville during our Christmas travels and saw what so many people in Athens have been asking for: a downtown that doesn't just come alive late at night and doesn't all but die when school lets out; one that's filled with families even during the Christmas break, when Athens clears out.
The analogy isn't a perfect one. Knoxville is much larger than Athens, with a metro population four times the size. Like downtown Athens, it was hit hard when retailers fled to the suburbs, but it still had office buildings to sustain it. Nonetheless, "after five o'clock, you could basically roll a bowling ball down the street," said Michele Hummel, director of the Central Business Improvement District (similar to our Downtown Development Authority).
Mayors Victor Ashe and Bill Haslam (now the governor of Tennessee) worked to revitalize downtown Knoxville in the 1990s and 2000s, according to Hummel, by preserving historic buildings, improving infrastructure for pedestrians and building parking decks. Meanwhile, the CBID put an emphasis on organizing events to draw people to downtown.
"It was a three-legged stool," Hummel said. "Once we had more events, we started having more restaurants downtown, and that convinced more people to live here."
Of course, it's not like downtown Athens doesn't host events, but a glance at the CBID's calendar shows a far higher volume. For example, First Friday evening art walks—an idea former mayor Gwen O'Looney floated in her 2010 campaign that Mayor Nancy Denson shot down because O'Looney would have allowed people to (gasp!) sip wine on the streets as they toured downtown galleries and street art exhibitions. It resurfaced as part of Jack Crowley's downtown master plan, which calls for a wide, art-filled sidewalk along Jackson Street to the Lyndon House, but like most of the plan, that idea's been ignored. (The Downtown Master Plan Committee in charge of implementing the plan hasn't even met in two years.)
Last month, the CBID put on a The Elf on the Shelf-themed scavenger hunt. (Yes, it's kind of played out, but one of the of the children's book's co-authors is a University of Tennessee graduate, so they have a local hook.) Twenty-nine businesses participated. "Even if they don't have time to go shopping, at least they've gone into a business they wouldn't have gone into," Hummel said.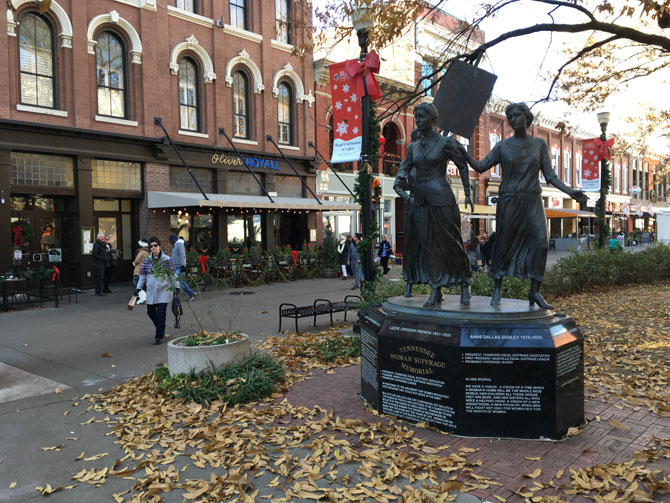 Photo Credit: Blake Aued
Many of these events—summer concerts, ice skating, gift markets and so forth—are made possible by the public space Market Square provides. Unlike College Square, it never had a street running through it. It was a farmers market dating back to the 1850s, and a building that burned down, not closing a street, created the open space. So, to a certain extent, the decision was made for Knoxville.
In Athens, because of the fear of losing a dozen or so parking spaces, the idea of turning College Square into a pedestrian plaza is so toxic that even discussing it in a formal way is forbidden. Crowley would not even consider including it in the downtown master plan.
Likewise, nine Athens-Clarke County commissioners have shut down any talk of the mere potential for opportunities for public space along Clayton Street. At last week's meeting, Commissioner Melissa Link made a motion to move forward with the design for a long-awaited streetscape and sewer improvement project, but only between Lumpkin and Jackson streets, and take three or four weeks to gather public input on alternative scenarios for the block between Jackson and Thomas. The motion died for lack of a second.
"What I hear, personally, is people want more public space," Link said. "They want more gathering space. They want a more diverse downtown. And that's what a lot of cities are doing."
The project has been on the books since 2005, and now other commissioners are in a huge hurry to get started. "Let's get this project done quickly so the merchants can continue to do business," Commissioner Mike Hamby said.
The reason for the rush is that any further delay could extend construction work through the 2019 football season, in addition to the 2018 season and Christmas holiday, the busiest times of year for retailers. That's a legit reason to push on—as long as you ignore Manager Blaine Williams saying that the project could stay on track with a three-to-four-week delay for public input. "We've been told if we don't move now, we'll be guaranteeing two football seasons," Commissioner Sharyn Dickerson said, just minutes after Williams confirmed that Link's motion would not delay completion.
As with public spaces, the idea of a downtown circulator has been kicked around in Athens for years, too, with little to no progress. Knoxville has not one, but three trolley lines running in and around the downtown/UT area, including a line to a nearby Publix and Walmart. "It eliminates people needing a car, or allows couples to go down from two cars to one," Hummel said.
And here's the best part: They're free! ("It can't be done!" cry the naysayers anytime someone in Athens raises the idea. "Too expensive! Where would we get the money?")
Well, Knoxville found it. And so could Athens—if we really wanted to.
Odds and Ends
It may be a moot point now, since the Bulldogs lost the National Championship Game on Monday, but the city won't be throwing the Bulldogs a parade, Denson told the Athens Banner-Herald, citing the cost, lack of preparation time and a previously scheduled Martin Luther King Jr. Day parade on Monday, Jan. 15. At least one downtown business owner was dawg-gone mad (sorry) about the decision: "I only see positive financial impact for the city and business owners with a parade being held," Ryan Myers wrote to Flagpole. "You can reference the Christmas parade and what it brings downtown. Despite the financial impact, it's a great opportunity to bring the community together. To say they don't have time is inexcusable because they've had since the SEC championship to begin planning." However, Denson has since backtracked somewhat, Russell Edwards told Flagpole he's working with fellow commission candidate Tim Denson and Link to organize a privately funded parade if the city won't do it. Stay tuned.
Athens' library truly is a treasure in this community, and it's received statewide recognition by being named Georgia Public Library of the Year. The award will be presented at a ceremony Sunday, Jan. 21.
The ACC Recycling Division is closing the recycling drop-off point near Athens Tech on Jan. 31 due to chronic illegal dumping. Nearby sites include the ACC Recycling Facility on Hancock Industrial Way and Fire Station No. 9 on Danielsville Road. For more information, visit athensclarkecounty.com/recycling.
Like what you just read? Support Flagpole by making a donation today. Every dollar you give helps fund our ongoing mission to provide Athens with quality, independent journalism.