Just a few months after passing a moratorium on new multifamily buildings downtown, Athens-Clarke County commissioners are poised to approve a condo tower on the border between downtown and the UGA campus.
The development at Mitchell Street—a 1.6-acre lot tucked behind Nuçi's Space and the Steeplechase condominiums—would skirt ACC's 100-foot height limit, with seven stories on the front side and 10 in back. It would include three stories of parking, a "ground floor" with commercial space and six stories of residential—mostly two-bedroom and a few three-bedroom units. With 290 parking spaces for 256 bedrooms, indicating that developers expect everyone living there to have a car and then some, it's an auto-oriented development in a walkable location. Planning commissioners expressed concern last month that it will pour hundreds of cars out onto narrow Mitchell Street, not to mention contributing to what is sure to be a huge mess on Oconee Street now that The Mark is open.
The planning commission voted 6-1 to recommend rejecting the plans, citing in particular the moratorium the county commission passed in March banning downtown apartment development and new bars for a year while a consultant studies the impact on health and infrastructure of an increasingly student-driven downtown bar scene. But most county commissioners embraced the development at their Aug. 15 agenda-setting meeting.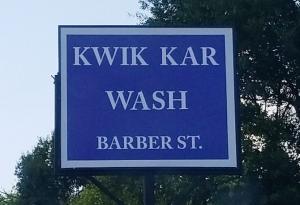 The lone exception was Commissioner Melissa Link, who repeated her call for new downtown design guidelines, which Mayor Nancy Denson continues to ignore. "It's obvious we're getting it wrong," Link said. "People in this community hate this stuff."
There needs to be a conversation about how to "allow a little more growth downtown without completely ruining the character of the community, while still allowing these buildings to meet the needs of the community," she said.
The property is currently zoned for 24 bedrooms per acre, but downtown zoning allows for 200. "There's gotta be a number between 40 and 250 [bedrooms] that's appropriate for this street," Link said, adding that the tower will loom over the modest townhouses across the street.
Commissioner Kelly Girtz defended the added density, noting that Athens is growing fast, to almost 130,000 people by the latest estimate. "Obviously those people have got to go somewhere," he said. "We've made a deliberate choice in this community that we don't want Walton County, Barrow County kind of development that's not connected by public amenities… We've decided we want to densify."
Commissioner Jerry NeSmith argued that, compared to The Mark and nearby Sanford Stadium, the development will be to scale. "The idea that we can bring adults into town, who can walk to town and live here, is extremely appealing," he said. "It's gonna look good. It's gonna look like it's in place, and it's something we need."
Will this be that longed-for unicorn, the downtown residential development that's not for students? Developer Carl Nichols of Athens and architect Steven Hill of Gainesville told planning commissioners in July that, indeed, it will be aimed at empty-nesters and retirees. We've all heard that story before.
Granted, "it does not appear from a design standpoint to be what we usually see as a student development," Planning Director Brad Griffin told commissioners. Gameday condos for wealthy Dawg fans, maybe? Who knows? One thing's for sure: The vast majority of current Athens residents will be priced out.
That didn't bother Commissioner Harry Sims. Athens is on all the "best places to retire" lists, and the people moving in will be from someplace where real estate is a lot more expensive. "If you look up north, this place would probably cost a million dollars, easily," he said. "They're looking at $300,000 and saying, 'That's a piece of change.'"
Sims is right, but that still leaves the vast majority of Athenians on the outside looking in. If the community truly wants a diverse downtown—not merely one for old rich people and their kids or grandkids—the county will have to either entice (with grants or density bonuses) or force (through regulations like inclusionary zoning) developers to build affordable units. That's a difficult conversation city officials have paid lip service to for years, but done little to nothing to actually advance.
A couple of other rezonings on the commission's Sept. 5 agenda provoked soul-searching, as well. There's a bank proposed for the corner of Epps Bridge Parkway and Timothy Road, which would encroach on a residential neighborhood. But Clarke County's stretch of Epps Bridge is ripe for redevelopment, which so far has been done parcel-by-parcel because the zoning hasn't been looked at since the 1990s, even as Oconee County has developed the hell out of its side of the highway. Several commissioners called it spot zoning. "This area needs a plan," Commissioner Mike Hamby said. "Without that, you're doing it piecemeal." Already, real estate agents are advertising residential parcels as potential commercial rezones. "How do we look at our evolution as a county?" Girtz wondered.
On Oconee Street at the Loop across from the park-and-ride lot, QuikTrip wants to build a (much needed) gas station/restaurant that would tie into Firefly Trail and include additional public park-and-ride spots. The problem is, until the Georgia Department of Transportation realigns Old Winterville Road as part of a new (also much needed) interchange there, getting in and out would be hard. GDOT is supposed to start work soon, but no one ever knows for sure when GDOT will get around to something until they actually do it.
Odds and Ends
The University of Georgia announced last week that it will start work on restoring Lake Herrick next month, removing pollutants so the lake will be swimmable again, replacing invasive plants with native species and adding recreational amenities, such as a boat dock and a trail. The $550,000 project, first announced by President Jere Morehead in his State of the University address, is expected to wrap up in 2018. Georgia Power has donated $300,000 toward the project, with the president's office covering the rest.
U-Lead Athens co-director Bettina Kaplan is a finalist for the MIT Media Lab Disobedience Award, given to honor "extraordinary disobedience for the benefit of society." Last year, U-Lead Athens raised $130,000 to award scholarships to 42 undocumented immigrant students, who are barred from Georgia's top public universities and denied in-state tuition at others despite having attended school in Georgia.
At Athens for Everyone, founder and past president Tim Denson and Briana Bivens have stepped down from their positions as organizing coordinator and member coordinator, respectively. Denson will be replaced by Adam Lassila, and Bivens by Eleanor Davis.
Avid Bookshop has announced a round of hirings and promotions. Elizabeth Willis will manage the original Prince Avenue location, while Caleb Huett will manage the new(ish) Five Points shop. Former general manager Tyler Goodson is now an inventory manager, along with Will Walton. Events director Rachel Watkins has been promoted to communications director, with Rachel Kaplan and assistant Kerri McNair filling her previous role. Hannah DeCamp has been promoted to children's book manager. Avid now has 23 employees, up from three when it first opened.
Daily Groceries had called off a potential move to the 100 Prince development at the old St. Joseph Catholic Church, but now it's back on—maybe. The developer, Greenville, SC-based Homes Urban, has addressed the co-op's timing concerns, so a feasibility study on moving into the larger space has resumed, according to general manager Lisa Merva. As for 100 Prince, it is awaiting approval from the ACC Transportation and Public Works Department before permits are issued, county planner Rick Cowick said.
TELUS International—a global company that contracts with businesses looking to outsource customer service—has bought Voxpro, the Irish company that opened a call center in Athens last year with the promise of bringing 500 jobs.
Like what you just read? Support Flagpole by making a donation today. Every dollar you give helps fund our ongoing mission to provide Athens with quality, independent journalism.