As most of you are probably painfully aware, residents along Prince Avenue have been trying to convince Athens-Clarke County to fix the street to make it safer for cyclists and pedestrians for nigh on 15 years now.
The effort, while valiant, has mostly been a failure, although the commission is now poised to make some quick, cheap fixes to Prince and other dangerous local streets (see p. 8). Prince activists have always acknowledged that other streets are deadly, too, and urged other neighborhoods to get organized, but I think part of the reason nothing has happened is resentment from folks in other parts of the city over the perceived attention Prince gets. Squeaky wheels and all that.
Now, Complete Streets: Prince Avenue—formed back in 2013 as the most recent organization to advocate for changes to the corridor—is morphing into Complete Streets Athens. "We're trying to go off of Prince Avenue and go city-wide, and we're asking the public to help us do it," co-founder Tony Eubanks said. A kickoff event is scheduled for 6–8 p.m. Thursday, Sept. 24 at Little Kings.
Eubanks and company are fresh off a victory convincing commissioners to put off repaving Chase Street until they come up with a comprehensive complete-streets plan for that corridor. Putting their wealth of experience on transportation issues to work all over Athens will not only help make the entire city safer, but make it more likely that Prince finally gets that grease. We should all be squeaking.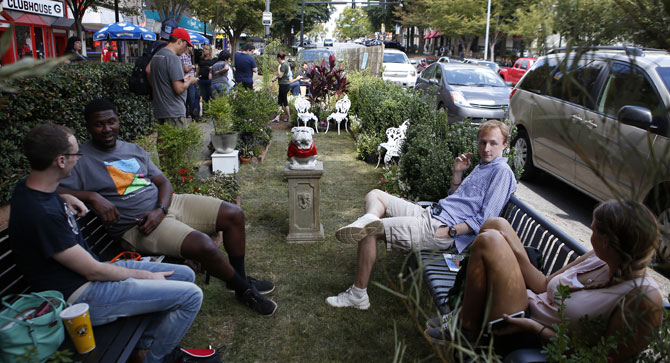 Photo Credit: Joshua L. Jones
Occupy Sidewalks: Commissioners are set to approve a policy allowing neighborhoods to pay for their own sidewalks, and it has some accusing them of supporting trickle-down sidewalknomics.
Jennifer Rice, a Yonah Avenue resident who led the fight against a medical-office parking deck that will dump an estimated 800 cars per day onto her narrow residential street, told commissioners at their Tuesday, Sept. 15 agenda-setting meeting that she's opposed to the policy because it will "exacerbate sidewalk equity issues," even though it might benefit her neighborhood.
"We need fair funding and construction of sidewalks based on need, not ability to pay," Rice said. "Sidewalks are basic infrastructure the city needs to provide. We need to do this for all residents."
As several commissioners pointed out, ACC already funds construction of sidewalks based on need, and that won't change. About $5 million over nine years in the current SPLOST is earmarked for sidewalks, and the streets that get them are chosen using an objective formula.
Unfortunately, the money is only enough to build about a mile of sidewalks per year, and the demand is much greater. So, Mayor Nancy Denson asked a committee to look at allowing homeowners to tax themselves to pay for sidewalks if their street doesn't meet the city's criteria, much as ACC already does for traffic-calming measures like speed humps.
Denson had harsh words for critics of the proposed policy: "I think it is extremely sad that this is being couched as a have and have-not issue, because there are middle-class, moderate neighborhoods in this community that have children that are walking to school, and they're walking to school in some dangerous situations," she said. "I'll tell you, those children's lives are just as precious as the lives in the lower-income neighborhoods. And the Yonah Avenue neighborhood is probably a more expensive neighborhood than some of these others that would like to take advantage of this."
The obvious solution here would be to pour more tax dollars into the sidewalk program, but where would that money come from? The policy doesn't take anything away from neighborhoods that can't afford to pony up, and low-income areas might even get sidewalks sooner if they move up the need-based list because a richer street's residents decided they didn't want to wait.
The danger, though, is that, in some future round of budget-cutting, commissioners (or their heads in jars) decide to whack sidewalk funding because, hey, people can pay for it on their own.
What Does the Fox Say?: "I'm going to try to kill you because I'm rabid," in this case.
A Waverly Woods man recently reported that a fox attacked him while he was attending to his compost pile. He killed the fox with a shovel and suffered a leg injury in the process (whether from the fox or the shovel, no one is sure). The fox tested positive for rabies.
It doesn't sound like it's anything to worry about. While it's not unusual to spot a fox or even a coyote in suburban areas, they generally shy away from people, and although a rabid animal is aggressive, encounters are rare because the disease kills them in a few days. The local health department has dealt with "a couple" of rabid animal reports this year, which is pretty typical, according to ACC Animal Control Superintendent Patrick Rives. "We're certainly not seeing a spike or any kind of unusual numbers," he said.
Like what you just read? Support Flagpole by making a donation today. Every dollar you give helps fund our ongoing mission to provide Athens with quality, independent journalism.