Mark Your Calendars: Want to shape the future of downtown Athens? A second public hearing on the downtown master plan is scheduled for 6:30 p.m. Thursday, Apr. 25 in the Classic Center's Grand Hall—a bigger space than the last hearing in November in one of the ballrooms, which was overflowing with 250 people. UGA College of Environment and Design professor Jack Crowley and his team of graduate students will present visual concepts that attendees will rate from one to 10.
In addition, Crowley is looking for ways to pay for projects proposed in the plan, such as a median on Oconee Street, repairing or rebuilding neglected trestles (including the neglected Murmur trestle) along the future Georgia Railroad rail-trail and a linear park on city-owned land alongside Jackson Street between Hancock Avenue and the Lyndon House.
"One of the big things we hear is pedestrian, bicycle access to downtown," he said.
One idea is a tax allocation district. A TAD would devote additional property taxes collected on new developments in the eastern part of downtown to infrastructure improvements within the district. Crowley noted that $150 million worth of new development is already planned or underway between Thomas Street and the North Oconee River, including a new Hyatt hotel, three apartment complexes and the Selig mixed-use project. If the Athens-Clarke Commission acts by the end of the year, it could include revenue from those developments in the TAD, along with likely future developments Crowley anticipates near the Multimodal Center, on Dougherty Street where Good Dirt is now and at the auto repair shop on East Broad Street.
"This is a way to do a lot of the infrastructure that needs to be done to continue to attract private development," he said.
Crowley suggested last week that the Athens Downtown Development Authority propose a TAD to the Athens-Clarke Commission, which board members said they would consider next month. The Clarke County Board of Education would have to approve it as well.
The TAD would allow ACC to borrow $20 million for infrastructure improvements, then pay back the bonds in 13–17 years with revenue from new development without raising taxes. But the additional revenue would not be available for other government services like education. The cash-strapped school district could negotiate to set aside only a portion of new taxes collected in the district.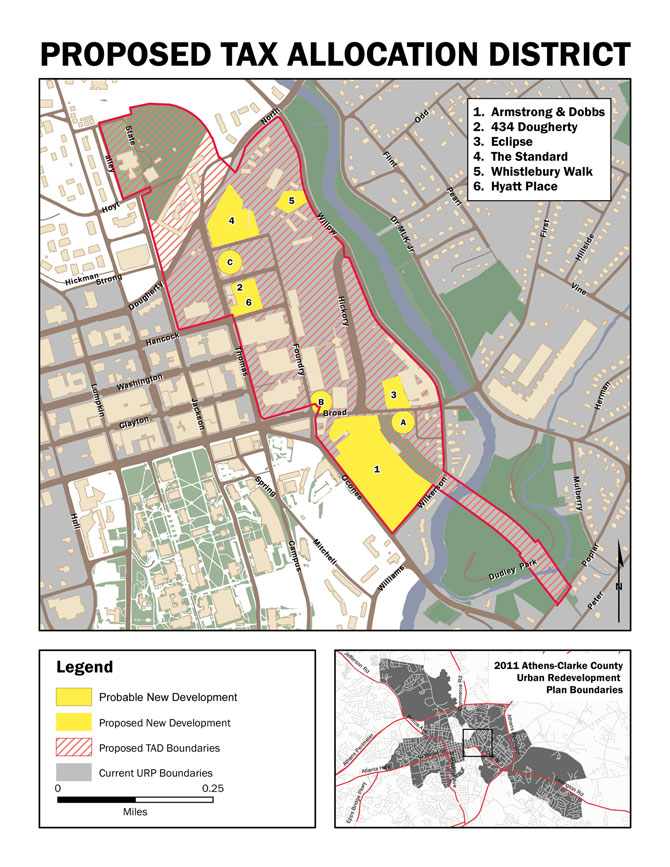 Campus Carry: Three ACC commissioners told state lawmakers last week to put the safety back on a bill that would allow carry permit holders to wield guns on the University of Georgia campus.
Senate Bill 101 died the last day of the 2013 legislative session March 28 due to a disagreement between the House and Senate. But the gun lobby is expected to—yes, the puns are coming faster than a speeding bullet—reload next year.
"It doesn't look like it's going away," said Sen. Frank Ginn (R-Danielsville).
Commissioner Jerry NeSmith told our state legislators that, while he supports the Second Amendment, pursuing the gun issue is a waste of time that distracts from more important issues.
Commissioner Andy Herod, as usual, was blunter: "I think it's about the worst idea anybody's come up with in a long time," he said.
Herod, a UGA geography professor, said the bill does nothing to make campus safer and will chill classroom discussion because students will fear angering classmates who might be packing.
"As a school administrator, I don't even want to be enabled to carry a gun on campus," said Commissioner Kelly Girtz, the principal at Classic City High School.
Ginn sponsored the original version of SB 101, before the House amended it, and said he was only interested in allowing South Carolina permit holders to carry guns in Georgia and vice versa. "The campus stuff, that's outside any interest I had in it," he said.
Redistricting: Remember those new ACC commission districts that most of us didn't want but were foisted upon us by certain members of our legislative delegation? Well, we fired those guys at the polls last year, but it looks like we're stuck with the new lines, anyway. Superdistricts aren't coming back.
"I would just say there was definitely a lack of unanimity within the delegation to pursue that this session," said Rep. Chuck Williams (R-Watkinsville).
Unnamed legislator(s) continued to have concerns about whether the old commission districts diluted the minority vote, Williams said. (Spoiler alert: They didn't.) "I don't think those issues have gone away, even though the delegation has changed," he said.
The delegation's internal rules require all five members to agree before legislation specifically affecting Clarke County, like redistricting, moves forward. So who's the holdout? What happens in delegation meetings stays in delegation meetings, but my guess is Sen. Bill Cowsert (R-Athens).
Our representatives also failed to get elections for local nonpartisan offices moved back to November. The legislature shifted them to July in 2011, and turnout in last year's commission races was abysmal.
Williams said lawmakers from other cities with unified governments promised to fight him "tooth and nail" on moving election dates back to November. He wouldn't specify why, but most likely the issue got tied up in the racial and partisan politics of Augusta and Macon.
Economic Development: ACC Manager Alan Reddish recently hired Effingham County Industrial Development Authority project manager Ryan Moore to head the government's new Department of Economic Development, which replaces the independent but publicly-funded Economic Development Foundation. So much for the EDF's claims that no economic development professional would come work for a local government on a government salary ($80,000-$100,000 a year).
Now that we've got our factory recruiter in place, let's see if elected officials will shift their focus to sectors like small business and the arts, or if they were just paying lip service.
Like what you just read? Support Flagpole by making a donation today. Every dollar you give helps fund our ongoing mission to provide Athens with quality, independent journalism.