HAPPY ANNIVERSARY: The little café that could, Buvez, will celebrate its fourth anniversary —and host the record release show by Hunter Morris & Blue Blood—Saturday, Apr. 16. Now, pay attention, because this is happening a little earlier than you may expect. Everything begins at 6 p.m. Blue Blood is celebrating its new album Give In to Livin'. It will also be screening all the videos that were made for the album. Also on the bill this night are Annie Leeth, Goodhost and Palace Doctor. For more information, please see facebook.com/bluebloodtheband.
RISE UP, GATHER 'ROUND: The first ever Resurrection Fest will happen at Rabbit Hole Studios (1001 Winterville Road) Apr. 16. This all-day event is presented by Warm Umbrellas and The Nightshade Family. The whole thing will run on two stages between 3 p.m. and midnight. Featured acts this day are Trvy & The Enemy, Juco, Canary Affair, Jacob Mallow, Good Grief, Ancient Infant, the White Rabbit Collective, Kareeza, M3wt, Sypharix, Dado, Curst, Classic City Rave Night, Powdered Donut, Outer Limit, Techno Speakeasy Athens, Sars, MAEAM, Christee Darling, and Wobble Haus and Friends. Not bad for only 10 bucks, ya know. For more information, head to Instagram and follow @jet_phase, @nightshadefamilyband and @warmumbrellas. Alternately, you can check out facebook.com/JetPhase.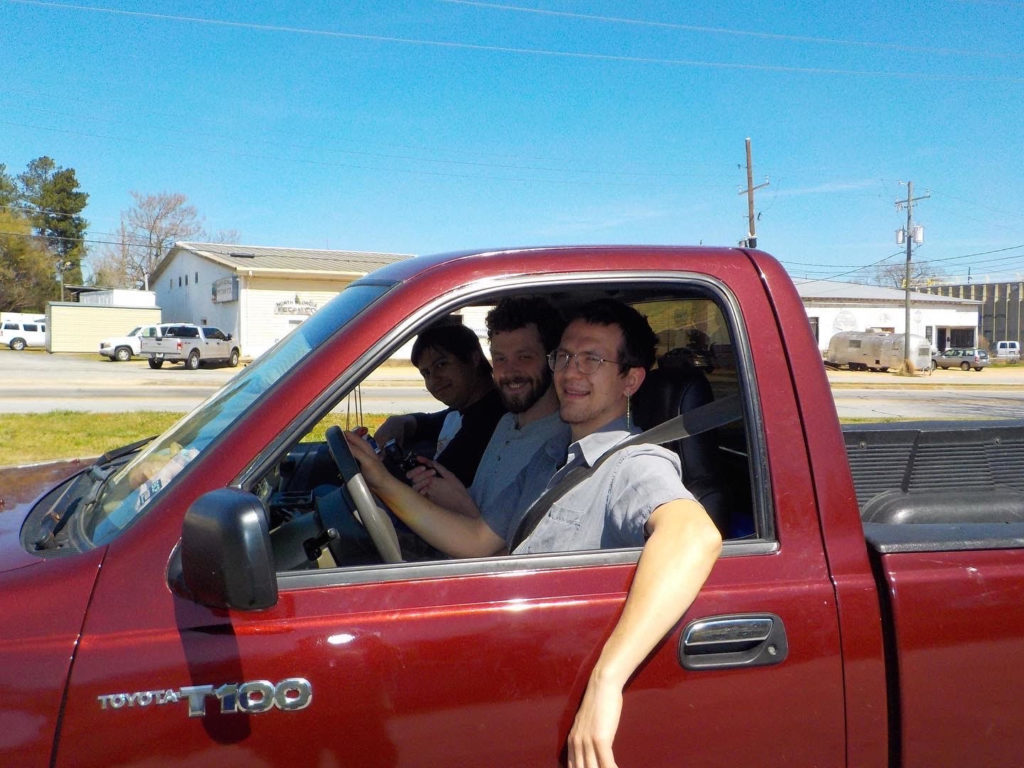 PUZZLED PANTHER PARTY: Athens rockers Maxuma will release their debut album, What Is With This Thickness?, Wednesday, Apr. 20 but will celebrate with a show the night before. The release show will happen at the Red Line Athens DIY venue Tuesday, Apr. 19. Feral Joy, which is also rumored to have a release ready to go, is also on this bill this night. While ostensibly experimental in nature, Maxuma dips its cup into a deep well of punk tradition. Specifically, shades of The Germs and The Minutemen appear quite often. There's some seriously unsettling stuff going on here, too, and I certainly wouldn't want to be approached by "Cherry" on a dark street. Your mileage will vary, of course, so check it all out at maxuma.bandcamp.com.
SOUND + VISION: While straddling the Atlantic Ocean—with one foot in Athens and the other in Manchester, England—for a few years now, Feather Trade continues to function as a working band. The group's latest document is a live EP named Live From The Fulford Arms, which was, obviously, recorded live in York, England. While not the first live issue the band has released, it's nevertheless a fine representation of its expansive and dark moods. Feather Trade has always seemed like a band for which Athens never had a big enough stage nor a progressive enough audience. Will this ever change? Who knows? But, for now, fans can keep plowing through the band's catalog and imagine what can be. Check it all out over at feathertrade.bandcamp.com. 
YOU SURE TJ DONE IT THIS WAY?: Songwriter Seth Martin (The Dish Boys) will screen his debut film There Is A Place Friday, Apr. 15 at the Flicker Theatre & Bar. Musical guests are Annie Leeth and Rare Form. Also, Eric Zock will spin vinyl. Doors are at 8 p.m., and the event begins at 9 p.m. Tickets are $10. I wish to God I could tell you what this film is about, but I have no idea, and my inquiries into such were not immediately answered. If it's anything like Martin's other photography, though, I expect it to be visually soothing, if not downright inspirational. For more information, please see facebook.com/flickerbar.athens.
GET OUTTA TOWN: The Sam Holt Band will perform three separate tribute shows to Widespread Panic's Mikey Houser and Todd Nance. None of the three are in Athens, though. But what Panic fan isn't also a fan of road trips? While these shows will most likely sell out, you've still got a little time to plan. They'll happen May 12 at Isis Music Hall (Asheville, NC), May 13 at the Pour House (Charleston, SC) and May 14 at Avondale Brewing Company (Birmingham, AL). For show and ticket information, please see samholtband.com. 
COULDA BEEN A CONTENDER: Back during the alt-rock heyday of the late 1990s, there were a handful of bands around town that were this close to busting out of the local Athens scene. One of those groups was Michael. The band has just re-released two of its albums, You Must Be This Tall (1999) and The Day After My Confidence (2002), in digital download format. Not a whole lot to say about these except they're well played, have an ear for melody and old fans should be pleased at being able to experience them in this most convenient manner. Find 'em both at michaelisaband.bandcamp.com.
Like what you just read? Support Flagpole by making a donation today. Every dollar you give helps fund our ongoing mission to provide Athens with quality, independent journalism.