RESPECT: The University of Georgia Arts Council has launched an initiative called The Arts Lab Cluster. The multi-year project was developed to "enhance research, practice and community engagement in the arts." To this end, the cluster will also host the Athens Hip Hop Harmonic, which is designed to foster community and collaboration between Athens hip-hop artists and UGA faculty and students, which will lead to community performances. These concerts are already in the works for the East Athens Community Center, the 40 Watt and local parks, schools and churches. The Athens Hip Hop Harmonic was developed by Montu Miller (ATHFactor-Liberty Entertainment), Mariah Parker (Linqua Franqa, Athens-Clarke County commissioner for District 2) and Cynthia Johnston-Turner, UGA professor and director of bands. The Harmonic will be led by Connie Frigo, UGA associate professor of saxophone. Big congratulations go out to Miller and Parker and to everyone else involved. For more information, please see arts.uga.edu/artslab.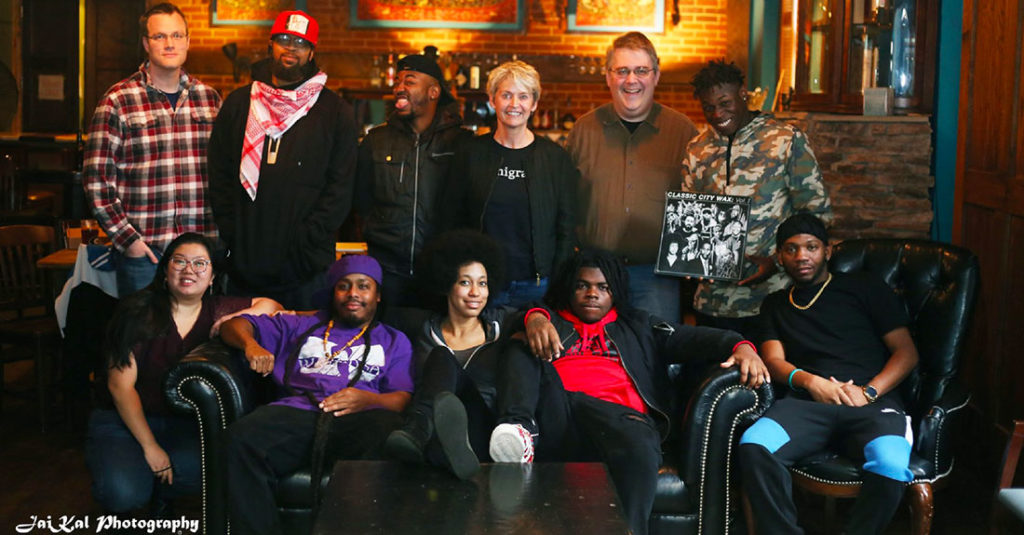 OFF THE BENCH: Just over a year ago, during the "Before Time," in popular vernacular (hat tip to "Star Trek" for that one, too), indie new-wave pop maestro Futo released a single named "Dugout_TonyMix01_01.wav" and casually mentioned that it was, and I'm quoting, "From the upcoming EP, Outstanding in His Field." Well, it's finally here. It clocks in with a very respectable six tracks and is, on its surface, a record about baseball. But it's really all just a metaphor for other things. That said, I have no idea specifically which other things, but Futo's lyrics are both personal enough and open-ended enough for you to choose your own adventure. Careful, though, as some of this has a deep-end quality that isn't clear at first blush. To wit, from the title track: "The coach's voice sounds far away/ Sucked up by the fog that hangs around our feet/ …Someday I too will grow old." Find it all at futo.bandcamp.com.
WOW AND FLUTTER: Fans of and participants in the online community known as the "Premier Rock Forum" (aka "the PRF")—the nearly-20-year-old forum that originated as a message board on Chicago engineer Steve Albini's website for his Electrical Audio studio—were edified this month when Dream Tent won its monthly Tribute Series challenge with its version of Depeche Mode's "Never Let Me Down Again." Dream Tent has included this cover, which is a very tasty version performed with full respect for how complex and layered it is, on their newest EP Lost Touch. I have no apprehension at all declaring opening track "Lost Touch" to be a most welcome addition to the hard synth-pop canon. The rest of the EP is solid, too, especially the technical Devo-isms of "Psychonaut Study Manual." Find this at dreamtent.bandcamp.com, and while you're there spend some time with the rest of their catalog. Oh yeah, since the duo—Gene Woolfolk and Erica Strout—won the February PRF Challenge, they got to choose the next month's challenge. To this end, they chose Tears for Fears and nicely covered the 1985 hit "Shout." Find both covers and a whole lot more at prfmonthlytributeseries.bandcamp.com.
IT'S CLOBBERIN' TIME: The magnificently named Fat Jock released its Demo 21 earlier this month. It's got five tracks of brutal grindcore-ish rock—but with a notably chunky dose of U.S. hardcore understood inside that portmanteau—and takes a mere eight minutes and 31 seconds to play all the way through. Lyrically, it's a straight platform of class war and incredulities. You can stream this and buy it on cassette tape over at fatjock.bandcamp.com. 
KEEPING THE FAITH: Longtime Athens country music fans will be edified to learn that Grammy winner John Berry and his wife Robin are the hosts of a new podcast series named Faith, Family & Friends. It is a twice-monthly, subscription-based program exploring, well, faith, family and friends. The pair most recently interviewed Oak Ridge Boys singer Duane Allen, as well as backup singer Norah Lee. You can subscribe or just get more information at patreon.com/faithfamilyandfriends. For all other John Berry stuff, please see johnberry.com. 
Like what you just read? Support Flagpole by making a donation today. Every dollar you give helps fund our ongoing mission to provide Athens with quality, independent journalism.