WELCOME, HOMIE: The-new-to-Athens-via-South-Carolina musician Saul Seibert (Boo Hag) is well-steeped in the immediacy and urgency of swamp rock—so much so it's become something of a cliché to describe his band that way—but on Boo Hag's latest album Burial Ground, the band cranks the spooky psych up to nearly Australian levels on the first side. It's a widely spread mental plane of considered rebellion with a yelping snarl of an outlook to boot. The second half of the record transitions into view nicely with the overt pop tones of "Jungle" before jumping full-on into a quick stream of more traditional greasy garage-rockers. Unfortunately, as the Athens live music scene has necessarily receded this year, there's been no opportunity to catch these guys live, but damn if I'm not looking forward to it. In the interest of gathering like-minded troops to signal a hearty welcome, Boo Hag is recommended if you dig, say, Vincas, The Humms, et al. Like its namesake, this band certainly slipped up on me. Go catch up on these dudes at boohagmusic.com.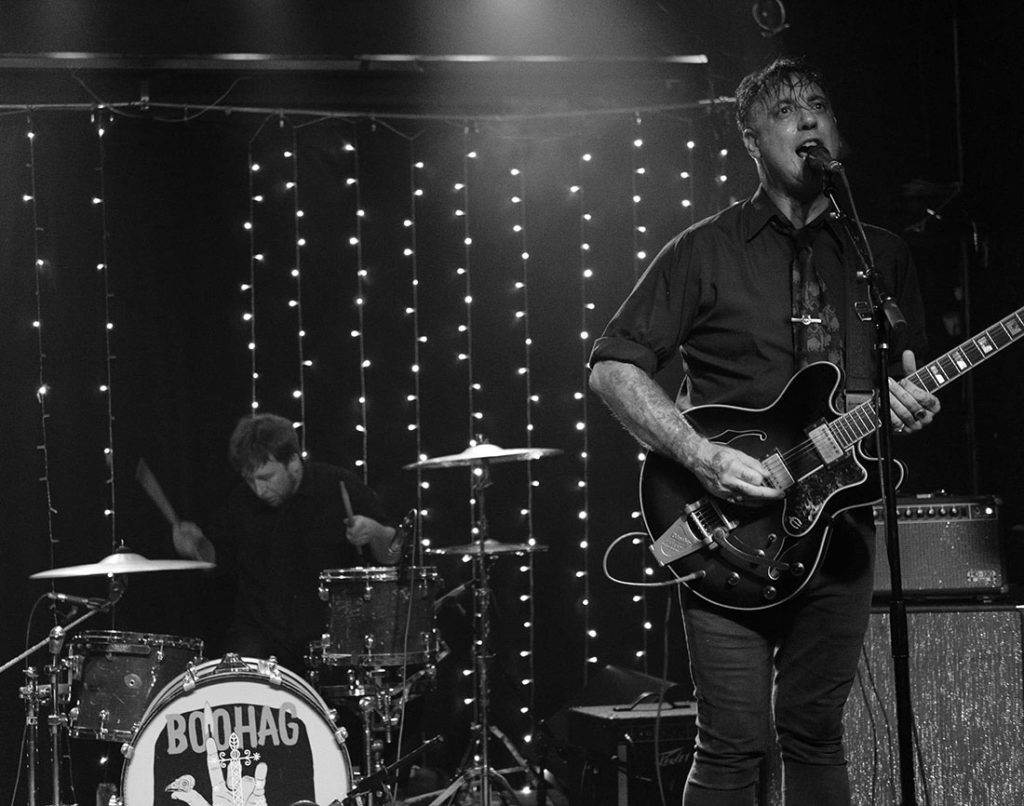 SNACK PACK: Gainesville, FL label Put It On A Cracker has been steadily putting up much of its catalog and, as one of the handful of out-of-town labels that was always friendly to Athens and area bands, there're probably a few of you who would dig knowing this. More specifically and to the point, though, the label recently did a digital release of the 7" record they made with Five Eight in 1995. The two-song record ("Accessorize" b/w "Doubter") also features then-budding filmmaker Lance Bangs on its cover. You can cop the download for a mere two bucks, so why not, right? Start copping over at putitonacracker.bandcamp.com. 
GOING BLANK AGAIN: Mux Blank (Joker Joker Gallery, Rat Babies, Mr. Blank Toys) has been running new episodes of his JOKERJOKERtv live stream show each Thursday evening for several weeks now. It's a variety show and, as such, features performances, artist interviews, toy reviews and more. Also, if you'd like to be involved in some way, Blank told me, "We also want to spread the call to all our talented artistic friends out there who are performers, artists, filmmakers, vloggers and toymakers, because we are accepting submissions." To this end, drop a line to tvjokerjoker@gmail.com. Be sure to check out the stream each Thursday evening at 6:30 p.m., too. Head to jokerjokertv.com to tune in or, better yet, get there early to check out some of the older shows, too.
SING US A SONG: It's been a few months since Saint Syzygy (the songwriting outlet and increasingly main-focus project of Ian Hemerlein) released a song. Well, last month the project's first song since May came out and is named "All I Want." It's a shift into traditionalism in some ways in that its melody is both immediately discernible and anticipatorily logical. Which is just a snob's way of saying that it's pretty dang catchy. Its tunefulness is built via simple piano and acoustic guitar. While it remains to be seen if this is a new, clear direction for Saint Syzygy, it's perfectly nice for now. Hemerlein reports, too, that a full-length record is forthcoming, so we'll keep our ears open. To check out this new one and catch up on others, please see saintsyzygy.bandcamp.com.
HUNKER DOWN: Athens' favorite musical costume party, the annual Wild Rumpus, is decidedly not happening this year in its traditional form. That said, you'll have plenty of opportunity to rumpus from the comfort of your home. The traditional art show (Oct. 7–31 at tinyathgallery.com) and fundraising auction (details TBA) will both happen online, and the annual parade happens via a virtual psychic way in your own yard or setting. In the words of the organizers themselves, "You parade in your home, in your yard, in your neighborhood, in Nature! Open your heart and feel it… We will be apart in distance, but together in the Spirit of Rumpus!" However, there will also be an online spectacle broadcast Oct. 31, and if you've got a cool, wacky or creative video idea that should be included in the programming, please consider submitting something. Video submissions can be handled via wildrumpus.org/submitvideo, and for all other information please just trim that URL down to wildrumpus.org.
Like what you just read? Support Flagpole by making a donation today. Every dollar you give helps fund our ongoing mission to provide Athens with quality, independent journalism.