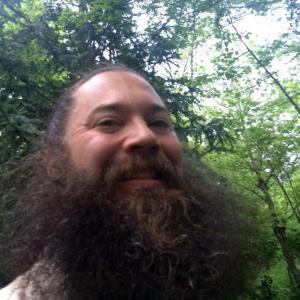 R.I.P.: The sad word spread around town last Thursday evening that Carl Lindberg, a well known and highly respected Athens musician known for his work with groups like Grogus, Old Skool Trio and Squat, had died. Carl was celebrated in words and music Sunday in the UGA Chapel by his friends, who put on a rousing show in his honor. Our thoughts go out to Carl's family and his many friends. [Gabe Vodicka]
STAY HUNGRY: For the past several months, Hunger Anthem guitarist/vocalist Brendan Vaganek has mentioned to me that the infectious, guitar-driven band was working on a new record. I wasn't holding my breath, because it's been four years since the group's last full-length, and that's as long as high school was, and like Prince says, that's a mighty long time. But two weeks ago, Hunger Anthem made good on their promise and released the five-song Cut the Chord. It bursts with urgency and is packed with jaw-droppingly great tunefulness. If I'm forced to pick a favorite, it's "Soul Of Clay." Everything anyone ever loved about Archers of Loaf, Superchunk and those early Five Eight records is wrapped up in that one song like it's a brand new concept. And that's exactly what a great song is supposed to do: make the listener feel like he's never heard any of this before. The record was recorded by bassist Jesse Stinnard (Tunabunny, Antlered Auntlord), and I'd be remiss in my duties if I didn't also mention the rock-solid backbeat of drummer Cameron Kelly. Dig it at hungeranthem.bandcamp.com. Visit the band at facebook.com/hungeranthem.
TOTAL POP SHOWDOWN: Arriving on the heels of the most disappointing bout to ever call itself the "fight of the century" comes our own Athens tussle of Gonzalez vs. Gonzales on Friday, May 22. In this corner, wearing Trucker trunks, is Jay Gonzalez, celebrating the release of his newest EP, The Bitter Suite, which came out in April. In that corner over there is Andy Gonzales, wearing his Marshmallow Coast trunks and wielding his band's latest release, Vangelis Rides Again. Please arrive at the 40 Watt Club early for ringside access, and note that gate time is 9 p.m., with the bell ringing at 10.
MONEY TALKS: One of these days, I'm gonna get a job that lets me spend lots of money at things like rare-record fairs, legitimate antique markets and decent grocery stores. When this happens, I'll probably feel satisfied with life in general and want to share that feeling by participating in online auctions for objects I like and which benefit causes I think are worthy. To this end, I beseech all life-winners with decent bedtimes and more than one kind of toothpaste to check out this year's Gretsch guitar auction hosted by AthFest Educates. Bidding is live from right now until the final day of this year's AthFest, June 28, at noon. The guitar is a Gretsch Tennessee Rose, and will be autographed by members of Widespread Panic. A press release indicates that the guitar without signatures has a value of approximately $1,700, and the bidding opened at $750. If you want, you can just buy the dang thing now for $3,000 and shut it all down. Since the funds raised by this activity are going toward the grant-giving activities of AthFest Educates, there's no reason to feel any shame if you go this route. For more information and bidding links, see athfest.com.
CHOSE OR LOSE: The poll has been open for a week-and-a-half in Flagpole-land, and we're itching to get our hands on all your ballots to see which local artists you think are worthy of one of this year's Flagpole Athens Music Awards. There are multiple opportunities to support your favorite local musicians spread across the 18 categories, but keep in mind that you do not have to select any of the nominated artists. If your favorite act isn't included, feel free to write them in. Actually, we totally encourage this. Just don't be obnoxious and write them in for each category, because that'll totally void your ballot. Also, keep in mind that you don't have to vote in any category you don't want to. Can't pick your favorite "Jam/Funk" artist? Hell, who could? Don't sweat it. Just pick where you're comfortable, uh, pickin', and join us at the awards show Thursday, June 25 at the Morton Theatre. Vote at musicawards.flagpole.com.
COUPLE O' LEAKS: Although the recording is basically a year old, New Wives, currently hard at work on a new album, made a single version of its song "Laurels" available for last season's Moeke Records Summer Singles compilation, and you can stream it at newwives.bandcamp.com. Speaking of Moeke, back in April they posted a song named "Inside Pig" by Deep State. It's a good little rocker of a number, and I never mentioned it before, because I'm just lame sometimes. Since you're already clicking around on the Internet, go ahead and hit moekerecords.bandcamp.com while you're at it.
Like what you just read? Support Flagpole by making a donation today. Every dollar you give helps fund our ongoing mission to provide Athens with quality, independent journalism.