Wax and Wane: The new album by Athens' synth-pop hope, Wild of Night, came out last week. It's titled Arte Aerosol, and listeners can stream-'n'-download via wildofnight.bandcamp.com. A limited cassette version numbering 50 and featuring purple cartridges will ship sometime toward the middle of the month, so drop a line to wildofnight@gmail.com to see if you can grab one. I've always enjoyed Wild of Night as a live band, in which setting the keyboards are much too percussive to be characterized as "ethereal." Recorded, however, Elysia Empyre's undeniably Elizabeth Fraser (Cocteau Twins)-influenced vocals seem to fight for breath with this heavy-handed style of playing. Hats off to the group, though, for having an actual, proper album introductory track ("Awakening") that is truly composed as opposed to the bits and bobs of noise so may artists use to fill space. Give a listen.
Listen Without Prejudice: It's been a year-and-a-half since Juna released any new music, so it's fitting that the opening track on its new album, On Courage, is titled "On Patience." The self-proclaimed "heavy and sad" group is still pretty sad, but rocking a tad heavier than before. Unfortunately, the term "emo" has gone through so many permutations that to use it in reference to Juna is both a disservice to modern audiences and a terribly blurry, backward-looking ideal that sonically positions the band squarely in the mid-1990s. Same thing with "post-rock." So, let's just say that Juna excels at composing deliberate, forceful music that, even when it's slow and quiet, is rarely actually tender. Rather, it teeters between a cloak of bluster and broken shards of brittleness. Of course, for all my dismissal of the term "emo," it really doesn't get much more emo than that. Jam on it via juna-music.bandcamp.com.
Hello, America: Arriving straight out of the "oh, come on" file is the Kickstarter campaign to revive the Macon-based television show "Georgia Jam Session," which previously aired for exactly one year (1995) on public access cable TV. While the show did gain a reasonable regional audience between Macon and Savannah in those days before the Internet as we currently experience it, the producers are seeking a whopping, incredible $25,000 for its reboot. Those funds are earmarked for the archiving of the 1995 episodes and the production of three new ones. As of this writing, GJS founders Andrew Ikner and Mark Storey have raised a little over $200. Part of the problem is they spend their entire Kickstarter video extolling featured groups from 20 years ago that were, in all honesty, mostly bar-rock bands of marginal importance and of absolutely zero lasting impression. Now, of course, Stuck Mojo and The Healers had solid audiences before and after GJS, and surely the producers must count these as feathers in their cap. But I promise you 1,000 percent that not one viewer's life was enriched by putting Knucklehead, The Roadcrew, Gypsy Train or White Buffalo on television. If you disagree, and have a bucketful of money burning a hole in your floor, then visit facebook.com/GJStv.
Subject Matter: The folks behind new Athens art space Noun Factory are taking over Go Bar Saturday, Oct. 11 and have a host of cool stuff happening. Featured musical performers include Jacob Morris, Little Bothers, Powerkompany, Ginko, Oak House, Acapoco and k i d s. Spoken-word performers include Rob White, Patrick Joseph Conley, Showyn Al-Gorjus Buddha Walton, and Juliet Easton. There will also be a short film by Dominar, Ltd. This set of performances is part of the 2014 Athens Art Crawl organized by the Athens Area Arts Council. For more information on Noun Factory and all it does, drop a line to nounfactoryathens@gmail.com or check out facebook.com/BHCNounFactory.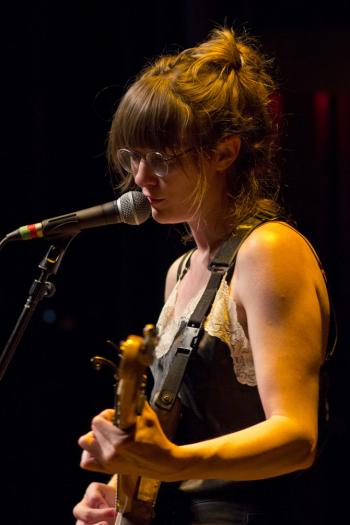 Photo Credit: Joshua L. Jones
Three for Three: Erin Lovett, the heart and brains behind Four Eyes, has released three Halloween-themed EPs on a single cassette tape. The tape compiles the previously released Creepy (2012) and Little Creeps (2013) with her newest release, Creep On, which was just released last week. The tapes are limited to an edition of 25, are all hand-numbered by Lovett and come courtesy of Teen Sleuth Cassettes. Why should you bother? Because Four Eyes is one of those Athens-based projects that has continually improved in both depth of subject and quality of composition in a town where so many projects remain stagnant. Also, it's really more accurate to describe these folky gems as "autumn-themed," because they're not in any way stupid or a novelty, and the overwhelming majority of Halloween-themed junk is both. Check it out at foureyesathens.bandcamp.com.
Like what you just read? Support Flagpole by making a donation today. Every dollar you give helps fund our ongoing mission to provide Athens with quality, independent journalism.