Over There: For the past week, expansive instrumental rockers Maserati have been touring China. The group is visiting Hong Kong, Taipei, Nantong, Nanjing, Beijing, Wuhan, Gangzhou and Shenzhen. Interestingly, tickets for these shows range from approximately $20 U.S. for students to $40 for walk-up purchases. Which means I never want to hear another word of complaint that you just had to spend a measly 12 bucks or whatever to see Maserati at the Georgia Theatre. In a lot of ways, you have no idea how good you've got it. Early in the tour, drummer Mike Albanese reported there were some problems accessing Facebook because of the Chinese government blocking the social networking site, but keep checking facebook.com/maseratiband, anyway, because if any band can find a work-around, it's these guys. The tour ends May 31.
Keep On Shufflin': Time really does fly, and in the case of Little Kings Shuffle Club, a whole decade has passed. Yep, the former bank warehouse/police substation that singlehandedly introduced cornhole to a new generation and reinvigorated patio life for downtown Athens is celebrating its 10th anniversary this week, and of course they're gonna celebrate in true Little Kings style. Friday, May 30 will feature a "10 Years of DJ Mahogany" dance party starting at 10 p.m. Saturday, May 31, a marathon celebration, beginning at 4 p.m. with DJs The King and MC Cord. Then there will be performances from Dave Marr (6 p.m.), Daniel Aaron (6:45 p.m.), Ruby the Rabbitfoot (7:30 p.m.), The Darnell Boys (8:15 p.m.), a record release performance by Eureka California (9 p.m.), Cancers, Exotic Functions and Skin Colour (9:45 pm), Incendiaries (11 p.m.) and a two-hour blowout with DJ Easy Rider from midnight–2 a.m. Incidentally, this is the final show for Incendiaries. It will serve as a nice way to wrap up the band and also give 'em a chance to release the Firestorm EP, recorded with engineer Joel Hatstat last fall.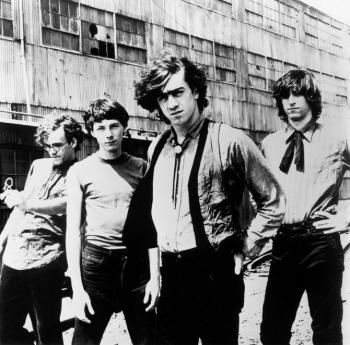 Rabid Ear Monuments: R.E.M. fans got a triple shot of their baby's love last week when the CD version of Unplugged: The Complete 1991 and 2001 Sessions was released. These are, of course, the sessions the band did for the wildly popular MTV show "Unplugged." Significantly, these two sessions don't just showcase the two shows, 10 years removed from each other. The first session closes a door of sorts on the band's first era, and the second introduces its final era. These bookends are very loose, though, so feel free to adjust them at will. Also new is the 50-track compilation Complete Rarities: I.R.S. 1982–1987, which seems like a weak pastiche of I.R.S. Records-era album tracks, needless alternate versions and weak demos of a bunch of material that's been collected already. Pretty inessential stuff here. But buck up, pard'ner, because there's also the hella-mega 131-song (!) Complete Rarities: Warner Bros. 1988–2011, which has lots of the same type of material. The main difference is that the Warner-era stuff is actually kinda rare. Either way, your R.E.M. palate should be plenty satiated for the rest of the summer, if not the whole year. What's that sound? Oh, that's the bottom falling out of the bootleg/collector scum market. For that, we can all be thankful. Keep up with all things R.E.M. over at remhq.com.
After Hours: In other R.E.M. news, the 18-year-old fan site murmurs.com shut down last week. Nothing really dramatic. It was closed quietly by its founder Ethan Kaplan, and had already transitioned a few years ago from a lively fan discussion forum to a general band news site. What's always been impressive, though, is how Kaplan grabbed hold of the power of the Internet before the band itself did, creating a place for fans worldwide to connect with each other. Almost two decades later, living in a world so hyper-connected that it feels we never weren't, it's difficult to remember how revolutionary this type of thing was. So, many kudos to Kaplan—who never failed to post pretty much any and all R.E.M. coverage published here in Flagpole—for seeing a need, filling it and doing it all from the perspective of a true fan.
We Re-Built This City: This is still a ways off, but I'm very pleased to let you know that, as reported on flagpole.com the week before last, Athens' own dance music duo I Am the World Trade Center is reuniting during AthFest for a show at the Georgia Theatre Saturday, June 21. Also on the bill, appropriately enough, are Programs and Turquoise Jeep. You know how older people always say things like, "Well, back in my day" and, "You kids don't know how easy you have it" and all that junk? Well, if you get the chance, feel free to corner IATWTC's Dan Geller and ask him about the joys of creating entire albums using a first-generation soundcard in a 1990s-era Gateway laptop. Go ahead. Ask him. I dare you.
Like what you just read? Support Flagpole by making a donation today. Every dollar you give helps fund our ongoing mission to provide Athens with quality, independent journalism.