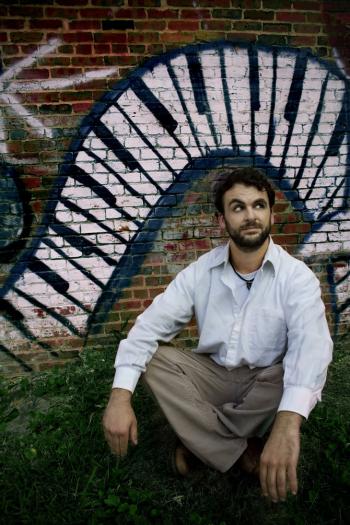 Ebonies And Ivories: If you're shuffling down Hull Street Thursday, May 30 and you hear what sounds like a mixture of an ultra-civilized Dr. John and a pile of Michael McDonald demo tapes, well, you've stumbled upon Lefty Hathaway. He'll be playing that night at The World Famous along with his full band who are, I suppose, alternately called Lefty Hathaway. It's never really been made clear, but it's not so pressing that we need to worry about that now. The Welfare Liners share the bill, and Hathaway (the person) reports that Lefty Hathaway (the band) will be playing a big chunk of its set with the members of the Liners. It's not all that confusing, really, but if you're still head-scratchin', you can tune in to WUOG 90.5 FM's broadcast of "Live In The Lobby" at 8 p.m. that same evening when Lefty Hathaway (man and band) will perform and perhaps explain their goings on. Oh, if you're one of the first to arrive at The World Famous Thursday night, you'll get a free copy of Lefty Hathaway's 2012 album, Shacks. For more information, see leftyhathaway.com.
Two For Flinching: Dead Confederate will finish its initial promotional tour for its latest album In the Marrow this week. The eight-song album is hands down the most comfortable I've ever heard the band in its own skin, and as such, it's a real nice listen and comes fully recommended by me. That said, Audition Tapes, the debut solo album by Dead Confederate's T. Hardy Morris that will see release on July 30 courtesy of Dangerbird Records, is among the most musically and lyrically eloquent solo albums ever released by an Athens frontman. Hardy's songwriting had, to me, fallen into something of a predictable pattern over the past few years, but I remember quite clearly the first night I heard him play selections from this new solo album. I was taken so far aback as to not even know how to describe it. It's a wonderful document of maturity, strength and vulnerability. And if your heart doesn't bend to the point of breaking when listening to the title track, then I can only assume you're made of stone. For all you non-stones out there, keep up to date over at deadconfederate.com.
A Thirsty Thursday: Although the official opening of the art exhibition "The World All Around" was last month, Hotel Indigo will host a toast to the exhibit Thursday, May 30 at 5 p.m. As part of the hotel's "Live After Five" series, the musical guest this night is Kyshona Armstrong, whose acoustic music fits seamlessly with her Aretha Franklin-level vocal talent. The art exhibit features works by Meg Aubrey, Chris Bilheimer, Alex Murawski, Robert Walden, Dayna Thacker, Adriane Colburn, Justin Plakas, Michael Oliveri, Michael Marshall and Jim Fiscus. For more information, head over to facebook.com/IndigoAthens but, personally, I'd spend more time at kyshona.com.
Final Notice: OK, folks, this is it. Choose-or-lose time. The absolute final deadline for casting your votes in the 2013 Flagpole Athens Music Awards is Friday, May 31. If you've not checked out the ballot yet, I think you'll find the categories to be reworked in a highly satisfactory manner with minimal, if any, overlap. Go find it at musicawards.flagpole.com and see what you think. And while you're thinking, why not go ahead and fill it out? There's really no need to double your workload, so think and vote at the same time. Remember to head down to the Morton Theater on Thursday, June 20 for the awards show to see whether or not your faves made the grade. But they won't stand a chance without your help. So help, already.
Spinnin' Wheel Got To Go 'Round: The release show for the 2013 AthFest compilation CD will happen Saturday, June 1 at The World Famous. As always, the CD is a Ghostmeat Records release, in conjunction with AthFest and its parent organization AthFest Educates. Doors open at 8 p.m., the show starts at 9 and featured performers are King Of Prussia, k i d s and The Darnell Boys. And it's free, too. The compilation, both physical and digital, won't see official release until June 18, but beginning on that date it'll be available worldwide via iTunes, Athfest.com, Ghostmeat.com, local record stores and, of course, during AthFest, which runs June 19-23. Sales from the compilations support AthFest Educates.
Bits And Bobs: We're keeping our eyes peeled on developments with new Athens label Arrowhawk Records and its first release, which is the vinyl version of Bambara's new album DREAMVIOLENCE. Pre-orders are being accepted right now for the white vinyl LPs at arrowhawkrecords.com, so go give that a look… Spin Magazine recently recognized the late Jerry Fuchs (Maserati, et al.) as one of the "100 Greatest Drummers of Alternative Music." Although such lists are wildly subjective and, as such, always an exercise in futility, it's still nice to see Fuchs remembered and recognized. And on that note, go hug everyone you love right now.
Like what you just read? Support Flagpole by making a donation today. Every dollar you give helps fund our ongoing mission to provide Athens with quality, independent journalism.