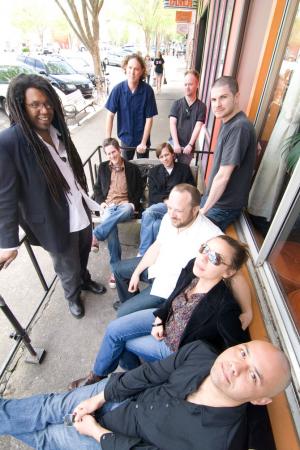 A hearty "happy birthday" goes out to hardworking rocker and all-around super good guy Bryan Howard on the occasion of his 40th. Since it wouldn't be Athens if a local musician didn't have to work on his birthday, Howard will ring his bell in style when all of his bands play the Melting Point on Saturday, Apr. 20. You read that correctly. The HEAP, Free Mountain and the specially reunited Slackdaddy will all play this night. Oh yeah, Howard's other band, The Spinoffs, will open the whole thing. The show is $6 in advance, $8 at the door and is a benefit for Nuçi's Space. Hat's off to, ya, Bryan! Here's to many more years of thumpin' that bass and keeping the faith. For more information, see meltingpointathens.com.
Stop, Look, Listen: The Georgia Museum of Art is hosting another edition of its popular Museum Mix. The late-night—at least for the GMOA—event starts at 8 p.m. on Thursday, Apr. 25. All the galleries will be open, and music will be provided by Reptar's Jace Bartet and William Kennedy, who will spin tunes. This is easily one of the most popular things the GMOA does all year; it's casual, free and not a bad way at all to get your night started. For more information see facebook.com/GeorgiaMuseumofArt and georgiamuseum.org.
Jumble Weeds: The Athens Cowboy Choir will play Flicker Theatre & Bar Tuesday, Apr. 23 with the Orange Twin Family Band. Inspired by mid-20th Century pop vocal legends the Norman Luboff Choir, the Cowboys feature a cast of Athens all-stars, including JoJo Glidewell (Modern Skirts), Nicholas Gould, Matt Hudgins, James Huggins III (James Husband), Bryan Poole (Of Montreal), Joe Rowe (The Glands), Davey Wrathgabar (Visitations) and Matt Yelton. Billed, as expected, as "a group of men who sing the songs of the West," the Choir will also play four days earlier (Apr. 19) at The World Famous with Kishi Bashi, but tickets for that show are long gone. See Calendar Pick for more info.
School's Cool: The Best Communities for Music Education Program, administered by the National Association of Music Merchants Foundation, set a crown atop the Clarke County School District as one of its 2013 award winners. This recognition was due to the system's commitment to arts education, in partnership with AthFest Educates. That local nonprofit provided $40,000 in musical instruments last year, as well as facilitating after-school music programs and scholarships. In other CCSD arts news, Threats & Promises would like to give a hearty shout-out to Clarke Central High School student Tyler Redmond, who will represent the county in the Music/Voice (Bass) category at the Governor's Honors Program in Valdosta this June.
Ground Floor Opportunity: Start keeping your eyes peeled for gigs and appearances by one of Athens' newest upstart groups, Monsoon. Led by guitarist Sienna Chandler—and buffed up by Joey Kegel and Sascha Smith—the indie-pop trio has been playing regularly for several months. There are several live videos over on YouTube but, sadly, the most prolific uploader, NeoBandsOfAthens, has neglected to add his or her username to the URL, so it's just this stupid string of letters and numbers unfit for print. But if Google is your friend, then have at it. Monsoon next plays this Saturday, Apr. 20 at the Caledonia Lounge as part of Wuxtry Records' Record Store Day showcase. (See Calendar Pick for more info.) Please note the early door time of 6 p.m., and remember that all proceeds go to benefit Nuçi's Space. For more Monsoon information, see facebook.com/monsoonathensga.
Short Stack: The new EP from Werewolves is now streaming at werewolves.bandcamp.com. As reported earlier, it's titled Beat With Modest Nature, and it wouldn't hurt anyone to click over there and check it out… Squishy love-punks The Fuzzlers have a new split 7-inch with Indianapolis circus punks Mr. Clit & the Pink Cigarettes, whose name might be smirk-worthy if it weren't so self-evidently idiotic. The band reports that Wuxtry will have some copies available on Record Store Day (Apr. 20) and that they'll be packaged with comics and "weird surprises." Please, no surprises. I can't take any more… Michael Wegner from Beatles tribute band Abbey Road Live reports the band has been swapping off between new guitarists Chris McKay (The Critical Darlings) and Jason NeSmith (Casper & The Cookies), with McKay playing the band's most recent Melting Point gig. In recent times, the group has also been augmenting its prefab-four format with guest players like Caroline Aiken and Mike Mantione (Five Eight). Although both McKay and NeSmith are supremely competent players, each with an encyclopedic knowledge of this material, the band is calling for "any interested Beatle-friendly guitarists who can sing a mean John Lennon." If that's you, drop a line to info@AbbeyRoadLive.com.
Got local music news? Send tips to threatsandpromises@flagpole.com.
Like what you just read? Support Flagpole by making a donation today. Every dollar you give helps fund our ongoing mission to provide Athens with quality, independent journalism.