Come On, Pilgrim: Local rockers Pilgrim have launched a fund-raising campaign via Indiegogo so they can manufacture LPs, CDs and download cards for their new album. Recorded over the past year with Drew Vandenberg at Chase Park Transduction, this debut just needs a little help getting out there. It's slated for a fall release. The band's goal of $3,000 seems a little ambitious, but Indiegogo, unlike similar platform Kickstarter, allows fundraisers to keep everything they've raised even if their goal is not met, so the band will definitely get something out of this. For more information on the campaign, see www.indiegogo.com/pilgrimmusic. To learn more about Pilgrim in general, check out www.facebook.com/pilgrimmusic1.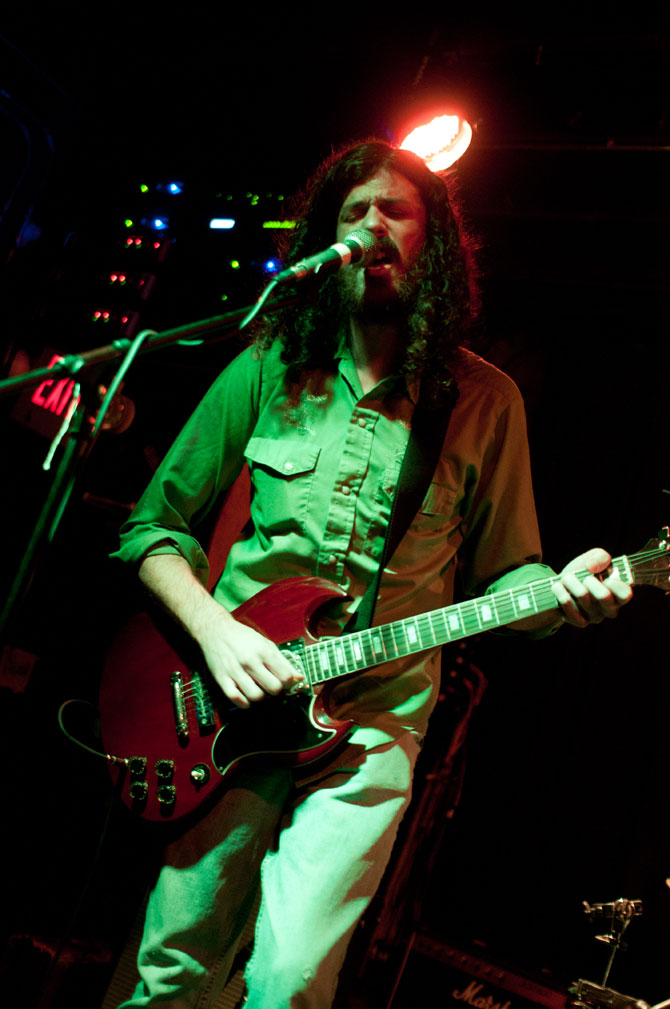 In a Different Light: The debut EP from Grass Giraffes showed up online last week. It's titled Transportation and features five tracks. Each is instantly recognizable to those who have been populating the band's shows over the past several months. It was recorded by member Steven Trimmer with Chase Park Transduction's Drew Vandenberg, who also handled mixing duties. (So far, readers might think Vandenberg is recording everything happening. Well, not exactly, but he is recording a lot and has been for a while. Keep an eye on him.) You can download the EP for $5 over at www.grassgiraffes.bandcamp.com.
All Signs Point to Yes: One of the neatest bands to emerge in the past year, Helen Scott, will release its debut EP Saturday, May 19 at Flicker Theatre & Bar. The band (Emileigh Ireland, Dena Zilber, Lindsey Jane Haddad and Hannah Weyandt) recorded the four-song release titled Flattery & Bright Lights with AJ Griffin (Laminated Cat). The show will feature a solo performance from Griffin as well as a set from The Goons. So far, only one song ("Listen Leoâ€) is available to preview over at www.helenscott.bandcamp.com, and it's a cool pop number that obscures its classic girl-group leanings with a layer of gauzy echo. The vocals are lushly rendered and totally nail that thin line between winsomeness and sad nostalgia. It's entirely possible I've not enjoyed music like this so much since I first heard The Softies a million moons ago. Put it on your calendar.
Over the Rainbow: The news shot 'round the world like a slowly pitched softball last week when it was announced (by, um, me) that Athens PopFest has closed up shop. Yes, I was one of the organizers of this event, coming on board in 2008. The festival was founded by Mike Turner (HHBTM Records) and Eric Hernandez (Los Meesfits) back in 2004. After several years of growth, we decided to shut down the event after taking a good look and deciding to reorganize some things. One thing is for certain, though: the name "Athens PopFest†is officially retired. Since you were likely already making your plans to attend this year, please be advised that, as Wooderson said in Dazed & Confused, "There's another fiesta in the making as we speak.†It will be smaller, at least at first, and largely centered around the Caledonia Lounge, but will still take place Oct. 10–13. Part of closing the door on the old organization will be the distribution of our promised scholarships to both Camp Amped at Nuçi's Space and the Athens Girls Rock Camp. If you were ever involved in Athens PopFest as an attendee, an artist or a sponsor, please accept my hearty thanks. Hope you had as much fun as we did. All specific questions regarding this news can be directed to me via gordon@athenspopfest.com or athenspopfest@gmail.com.
Who Works on Friday?: The Broad River Watershed Association will host its 2012 benefit on Friday, May 18 from noon-10 p.m. It takes place at the Broad River Outpost (7911 Wildcat Bridge Rd., Danielsville). The all-ages day o' fun will feature kayak races, a water slide, live music and more. Featured bands include Pilgrim, Moths, Outer Spaces, Timmy Tumble and the Tumblers and Tom(b) Television. The whole day costs just $5. Food will be available for purchase from the Wildcat Grill. Need more info? Well, just call (706)795-3242 or drop a line to info@broadriveroutpost.com.
Like what you just read? Support Flagpole by making a donation today. Every dollar you give helps fund our ongoing mission to provide Athens with quality, independent journalism.