Tryin'-N-Buyin': The new full-length album by Reptar, Body Faucet, is available for streaming. Although it'll be out officially by the time you read this, it's already causing this massive amount of love vs. "they-were-so-much-better-before†teeth-gnashing in the comments section underneath the stream. A couple of weeks ago the band returned from a ridiculously huge U.S. tour and will hit the road again immediately following its record release party at the 40 Watt on May 4. Grape Soda and Grass Giraffes share that bill. Advance tickets for that show are on sale now for $10 or $15 for admission plus an album download. For either of those, see www.40watt.com. For the full-album stream and a place to add your two-cents' worth of commentary, head to www.youtube.com/user/reptarmusicathens. For all other information, please see www.reptarmusic.com.
Spin Out: Man-about-town Kurt Wood is hosting another edition of his famous Front Porch Record Sale this weekend. The event takes place at 1080 Oconee St. (literally on Wood's front porch), and the hours this time are Saturday, May 5 from 9 a.m.–6 p.m. and Sunday, May 6 from noon–6 p.m. He's got tens of thousands of LPs and singles available, and prices start at a mere $1. Go take a look around.
Tickle Those Ivories: Athens jazz pianist Rand Lines is doing a solo residency every Tuesday in May at the Flicker Theatre & Bar. These happy hour shows will run 5–6:30 p.m. He'll be playing, as he says, "that rickety old piano†inside Flicker, so maybe he'll scare some ghosts out of it or something. If you miss any of these or just can't make 'em, he'll still be doing his regular gig at Highwire Lounge every Friday night at 8–11 p.m.
Giddy Up: Fresh off another successful installment of the Athens Americana Festival, Adam Klein will undertake a residency at Hendershot's Coffee Bar every Wednesday night this month. He and his band The Wild Fires will perform a different album of his each night, along with special guests. They'll perform Wounded Electric Youth on May 2, Distant Music on May 9 (with guests David Blackmon and William Tonks), Western Tales & Trails on May 16 and on May 23 Klein will perform under his Malian name, Lassine Kouyate, as the band tackles selections from his Mande music album, Dugu Wolo. On the final night, May 30, Klein and friends will break out some "new songs and dusty oldies.†For information on all these albums and Klein in general, please see www.adam-klein.com.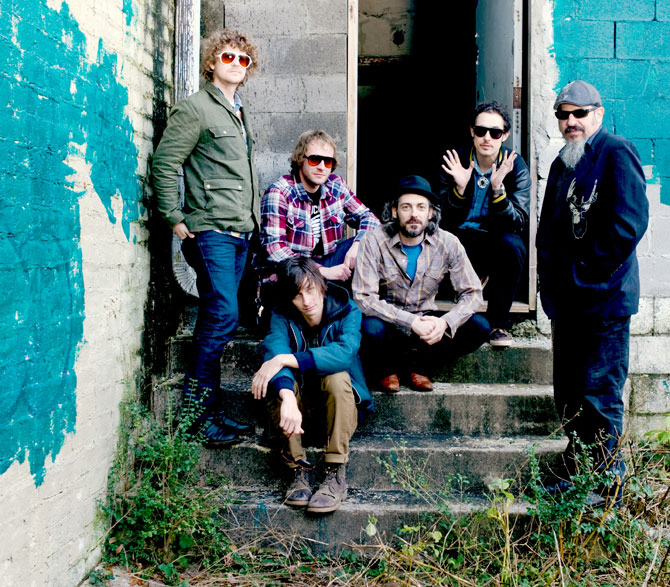 Taking a Lap for the Locals: Fans got a treat when members of Diamond Rugs—the super group composed of Hardy Morris (Dead Confederate), Robbie Crowell and John McCauley (both of Deer Tick), Steve Berlin (Los Lobos), Ian Saint Pé (Black Lips) and Bryan Dufresne (Six Finger Satellite)—played an unadvertised show at the Georgia Theatre the day after their self-titled debut album hit the streets. Although the group seems like it would have an easy sailing time out on the road, there's no tour announced yet. Thus far, the only additional dates are both in New York City with one of them being "The Late Show with David Letterman" on June 25. The pre-order for the album had a ton of different configurations available. Head to www.diamondrugs.net to check those out. You can't miss 'em, as they're all right on the front page. Also, if you wanna sneak a little streaming action, head to www.soundcloud.com/partisan-records and just listen to everything that has the little blue "Diamond Rugs†album cover next to it.
Keepin' On: Nick Robbins of Velveteen Pink has had an awful month, but he is thankfully on the mend and looks to be well on his way to poking around town and playing again in the very near future. I got in touch with Nick last week to see if he had any words for friends and fans, and he did. He said, "It's been a rough month, but I'm on the up and up. Had a common flu virus that quickly escalated into a severe flesh-eating lung infection. Three surgeries, six units of blood, and and a ton of antibiotics later (four weeks), I'm finally home on IV antibiotic treatments and feeling lucky to be alive. The Athens community, Athens Regional, and Landmark Hospital have all been extraordinarily helpful in my recovery, and I'm so thankful for all the love and support from my work, friends and family. Although I can't remember the last time I gave blood, it's something I'd like to do more. After all, I owe six units back. I'd also love to encourage others to donate if or when they can. My treatment ends May 5, but I've already started easing back into things, so don't be surprised to see me around soon." Good luck, Nick, from all of us at Flagpole! Glad to know everything's going to be OK.
Like what you just read? Support Flagpole by making a donation today. Every dollar you give helps fund our ongoing mission to provide Athens with quality, independent journalism.