Out of the Cocoon: Local nonprofit label Mazarine Records will host a free block party on Friday, Mar. 30. With two free shows happening concurrently, the label—founded by Kai Reidl, Suny Lyons and Clay Jordan—hopes to raise its profile in town. Kicking off at 9:30 p.m., Flicker Theatre & Bar will host Emergent Heart, powerkompany, Young Benjamin and Dare Dukes. Starting at 10 p.m., there will be screenings of new videos from pacificUV and Electrophoria at the 40 Watt Club, followed by live performances from each band. Hope for Agoldensummer shares this bill. The concept behind the label is basically, " Why give money and control to a traditional label who is doing a lot of things you can do yourself?†To this end, each artist on the label is responsible for a certain number of label tasks, and any money made is retained by the artists. Mazarine will be distributing sampler CDs at this event, so look for them. For more information, please see www.mazarinerecords.com—which happens to be one of the best looking and well laid out websites for any local project in recent memory.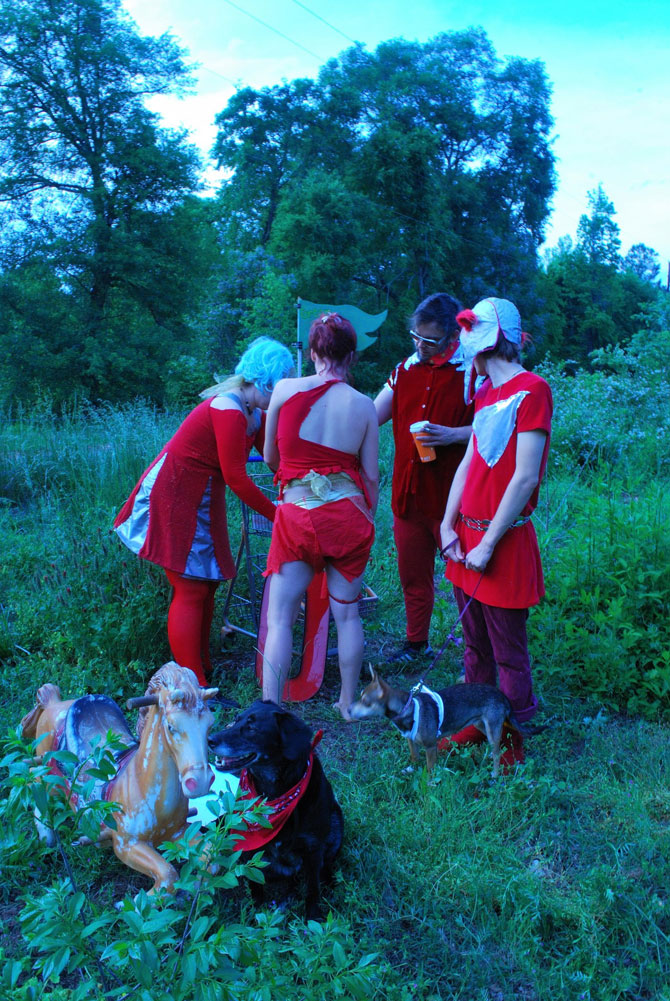 Slap and Tickle: Athens jazz combo The Odd Trio will release its second album, Birth of the Minotaur, at Hendershot's Coffee Bar on Thursday, Mar. 29. Composed of Todd Mueller (Asheville Symphony), Brian Smith (Georgia Guitar Quartet) and Marc Gilley (The HEAP), the group explores a mixed bag of groove with some seriously pop underpinnings. That is to say that although the group explores several styles developed since the 1950s, they seem to have a commitment to accessibility and thus are perfect for anyone interested in jazz but perhaps turned off by pure experimentation. I can't hang with those guitar solos, though. Check out The Odd Trio's first album, Lo-Fi Hi-Jump, over at www.oddtrio.bandcamp.com.
Kids Today: Both The Fuzzlers and Green Thrift Grocery released albums online this month. The Fuzzlers' record, Porch Life, is the last thing the band will do as a purely Athens group now that they've scattered to Florida. It plows through its 11 tracks of 1980s-ish catchy punk in under nine minutes, and sometimes it really sounds like they wrote and recorded the whole thing on the spot. Green Thrift Grocery's record, Buy It Back!, is more nuanced and artsy. Its use of free jazz freakishness, plodding and menacing rhythms and Alice Bag-worthy vocals make for a decent listen. The band has distributed some CDs with these tracks on it, but now it's all nicely organized online. Check out each album via www.thefuzzlers.bandcamp.com and www.greenthriftgrocery.bandcamp.com.
Be Alert: Longtime Athens musician Eric Friar (D.A.R.C. Studios, Down with the Woo, Heros Severum) had hisentire house cleaned out by burglars recently. Taken in the heist were a 2001 Raw Power Les Paul guitar, aLenovo laptop computer, a Macintosh G5 computer, a Roland JX3P synthesizer, several horns and all of his microphones. To add insult to injury, the thieves also took an Xbox game system, several games and even a microwave oven. A list of items is already making its way through area pawn shops, but if you could please keep your eyes open for any of this stuff, Friar would appreciate it mightily. He can provide serial numbers if you drop him a line at eric.l.friar@gmail.com. If you happen across any items at flea markets, shops, etc., you can also contact the Athens-Clarke County Police directly via (706) 613-3330 and reference case number 01-12-03-0707. People, please be mindful of securing your belongings as best you can, and remember that not every member of the community is as nice as we'd like them to be.
Short Takes: AthFest announced its 2012 headliners: Atlas Sound, The Glands, Reptar and Yacht Rock Revue. All four will play the free outdoor main stage June 20–24. Visit www.athfest.com for more info. Patterson Hood & the Downtown Rumblers will play a two-night stand at the Melting Point on May 24 & 25. Tickets are on sale now and will run you $15 in advance. Technically tickets are $18 at the door, but, let's face it, there's not going to be any tickets left at the door. So, act now if you want in. Get 'em at www.meltingpointathens.com… Ancient Whales will return to town Thursday, Mar. 22 at the Caledonia Lounge. The band, pretty much the founding group of Enoch Bledsoe'sOwlphabet Records label, has been operating out of town for a while but returned to record its latest record,Ancient Whales Birthing, with engineer Joel Hatstat. You can stream the record at www.music.owlphabet.com. What was "alternative†music before that term existed? This is that. Label mates Nuclear Spring share the bill that night as well as Modern Man and Vestibules.
Like what you just read? Support Flagpole by making a donation today. Every dollar you give helps fund our ongoing mission to provide Athens with quality, independent journalism.