No Payne, No Gain: Athens musician Adam Payne is raising money via Indie Go Go for BreastFest. This year's event will happen Mar. 24 at the Terrapin Brewery, and Payne's campaign has a variety of incentives priced at $25, $60 and $125. You see, Payne was blessed with a big, bushy head of hair and he's vowed to shave it all off in support of BreastFest. He's gonna do this no matter how much money is raised. The first level gets you both of his CDs. The second level reserves a spot on a sign in front of the stage where you can honor a breast cancer survivor or victim of your choosing. The third tier lets you place that name on the sign and on a t-shirt which Payne will wear onstage while shaving his head. Although this all may seem a little goofy, it's exactly the type of cool, community-oriented thinking that we can always use. Good show, Adam. For more information, please see www.indiegogo.com/Adam-raises-money-for-BreastFest-Athens.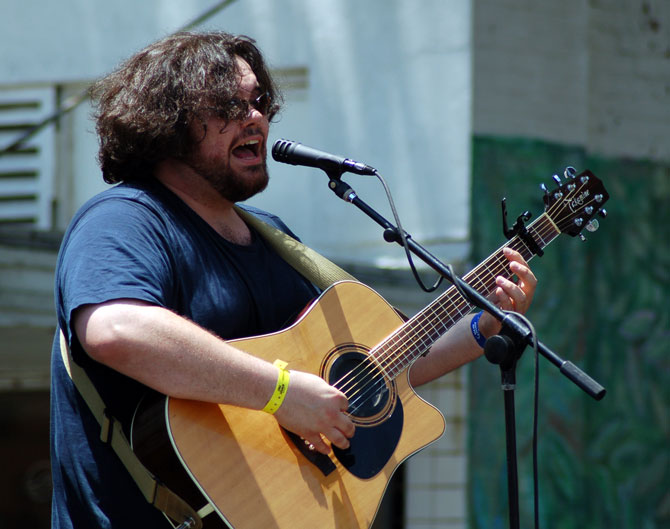 Viewers Like You: Fresh on the heels of the band's 35th anniversary show at the Classic Center, Georgia Public Broadcasting will premiere The B-52s: With the Wild Crowd! Live in Athens, GA on Thursday, Mar. 8. The film, shot in 2011 at the Classic Center, will be released for purchase on Mar. 20. Audio downloads of the individual songs have been available since last October.
Happy Birthday: The weekly "Blues Night" at the Office Lounge celebrated its one-year anniversary last week. Hosted by The Shadow Executives, the event happens every Thursday, and a tip of the hat is due them for their tenacity in keeping this weekly event going. In a scene where so many ambitious moves seem to just fizzle out after a few months, it's certainly an achievement to keep something going this long. The shows start at 9 p.m. with The Shadow Executives playing some classic blues numbers, and then the band is joined by a rolling cast of guests. Want to be one of those guests? All you have do is show up and sign up. As the band says, "Come one, come all! It's a community, not a competition.†Damn straight. For more information, please see www.facebook.com/theshadowexecutives.
Saddle Up: The Athens Horse Party label has been steadily releasing CDs over the past few months including Pleasure Puncher by El Hollín, Serf City by Titans of Filth and Reach Out by Seattle, WA's Cowlick. The label is preparing to release the new full-length by Werewolves titled Georgia. Although that record won't come out until May 1, there are two tracks available for streaming now at www.werewolves.bandcamp.com. In related news, label coordinator Wyatt Strother of Werewolves is on a solo tour this month. Sample everything over at www.athenshorseparty.bandcamp.com.

A Decade of Defeat: Since we've already spoken of Titans of Filth, now would be a good time to let you know that the band has placed all of its recordings from the past 10 years online at www.titansoffilth.bandcamp.com. Everything is being sold at the level of "name your price,†but you'd have to be a big bully to not pay anything. Although I've enjoyed pretty much all of the band's output to varying degrees, including the indie-pop sugar of the new Serf City, I'd have to say I like the tracks on Wake Me Up If You Can from 2002 the best. That record is 99 percent Sam Grindstaff by himself, and it's sad, funny and touching in a way that the band-format Titans haven't really ever replicated.
Full-Length Debut: Local sunny dream pop band The District Attorneys recently released the first single off their upcoming album, Slowburner. The song, "Confusion of Trust," is streaming now on Flagpole's music blog Homedrone at Flagpole.com. Slowburner was recorded at Chase Park Transduction with Drew Vandenberg, and it will be released Apr. 24 via This Is American Music. The District Attorneys are off to SXSW in a couple weeks, but they'll be back on stage in Athens Apr. 9 opening for Centro-Matic at The Georgia Theatre. [Michelle Gilzenrat]
Like what you just read? Support Flagpole by making a donation today. Every dollar you give helps fund our ongoing mission to provide Athens with quality, independent journalism.