These Are Nice Boys: I know that most of y'all bought tickets to the Camper Van Beethoven Camp-In (40 Watt, Mar. 1–3) simply for the pleasure of catching Matt Hudgins and His Shit-Hot Country Band opening the second night of events. But did you know they'll also be playing Highwire Lounge for free every Tuesday in March? Since the band is trying to raise money to release a record in April, they'll probably be mighty thankful for any donations made at these free shows. And they would more than likely be over the moon if you headed over to www.hudginscountry.com and checked out their new assortment of merchandise, including shirts and silk-screened posters as well as their first album. If you're on the fence, which is unlikely, you can stream it first.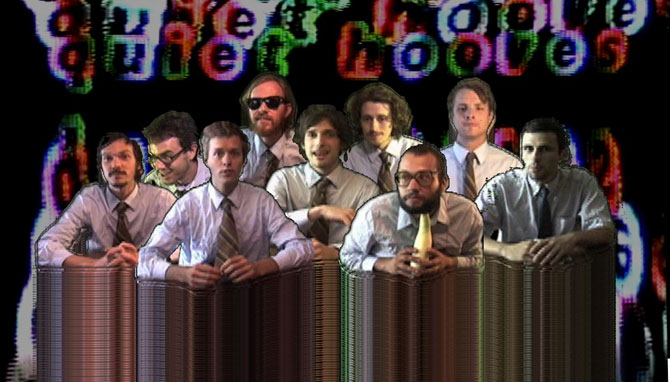 This Film Is On: Film Athens, the organization behind the popular Sprockets Music Video Competition, has sent out its call for entries for this year's event. Now in its seventh year, this annual competitive showcase is a highlight for musicians, filmmakers and those who love them. The early deadline is Apr. 15, and the late deadline is Apr. 30. What's the difference? Glad you asked. The submission fee is $25 until Apr. 15 and $35 from then until Apr. 30. The videos in this year's competition will be screened at the Sprockets Music Video Show on June 16, and the winners announced at the Flagpole Athens Music Awards on June 21. All relevant information, entry forms and information can be found at www.filmathens.net/sprockets. If you have any specific questions not answered here, just drop a line to sprockets@filmathens.net.
Blow Your Allowance: There hasn't been anywhere on the east side of Athens to buy records since Vinyl & Videos closed down several years ago. Now there is. The Record Booth just opened inside the Weekend A'Fair shop (located at the Charmar Antique Mall at 790 Gaines School Rd.) and is open Wednesday–Saturday, 10 a.m.–5 p.m. Specializing in only used records, they're selling all LPs for $3 and all 7-inches for a buck. They've got posters, songbooks and other ephemera, too. Drop them a line at olderecord@yahoo.com if you've got any questions, or check out www.therecordbooth.com. Or if you really want to speak with someone about all this, just call 706-850-5945.
Gotta Raise a Little Hell: The folks behind the Ozark, AR Wakarusa Festival have been traveling around the country hosting their Waka Winter Classic Tour in search of regional talent. At each stop, a handful of bands will perform, and, based on audience reaction, one from each showcase will get to play the big festival held at Blueberry Mountain. The tour reaches New Earth Music Hall on Friday, Mar. 2, and the Athens showcase will feature performances from Dank Sinatra, Sumilan, Radiolucent, Noise [Org] and Betsy Franck & the Bareknuckle Band. More information on what you'll be helping these folks get into can be found at www.wakarusa.com.
Short Takes: Athens label The Mylene Sheath launched a new website complete with a new webstore, in-depth artist info, etc. Visit them at www.mylenesheath.com… Two-time national banjo champion Charles Wood brings his combo Nitrograss to Terrapin brewery on Friday, Mar. 2, 5:30–7:30 p.m… Terrapin will also host this year's BreastFest, the annual benefit to support the battle against breast cancer, on Mar. 24. Full details to come… Tunabunny will return this week from its first U.K. tour. Let's hope they come back with slight accents and new cuss words. Follow the action intermittently via www.facebook.com/tunabunny.… Reptar's debut release for Vagrant Records will come out May 1… Pretty Bird released a virtual 7-inch this week—meaning it's digital for now with vinyl hopefully later—named Tower, and it's a solid step further into the sonic psychedelic sitting room they've built. Go grab it at www.thebirdhouse.bandcamp.com. And while you're there, spend some time digging around into the other releases from The Birdhouse Collection. They're worth your time.
Mercer Goes West: It's tour diary time, boys and girls. Last week Quiet Hooves departed on a national tour with Reptar that will take them all across the country over the course of two months. Mercer West will be blogging from every city, posting words and photos about their travels at the (new and improved) Flagpole.com. [Michelle Gilzenrat]
Free Music: Organizer Melissa Link says The Rally for a Better Athens at 3 p.m. Saturday, Mar. 3 on the steps of City Hall will have The Better Athens String Band. "Joe Willey wrote some awesome traditional-style protest songs, plus there's Timi Conley with his Hendrix-style rendition of 'The Star Spangled Banner…'" [Pete McCommons]
Like what you just read? Support Flagpole by making a donation today. Every dollar you give helps fund our ongoing mission to provide Athens with quality, independent journalism.