Give a Hoot: The Athens office of The American Red Cross is seeking solo and duo acts to play its monthly "Happy Hour Hootenanny.†Before you ask, yes, you should be an acoustic act—or at least be able to perform acoustically. The commitment is simply two half-hour sets over the course of a couple of evening hours at the Red Cross' Athens Donor Center. All interested parties should contact coordinator Stephen Cramer via cramerse@usa.redcross.org.
Wake Me Up Before You Go-Go: Local rockers Vincas will release their album Blood Bleeds Friday, Feb. 24 at the Caledonia Lounge. The bill this night is shared with The Darnell Boys and Gentleman Jesse & His Men. Drummer Joe McMullen recorded the album via a four-track recorder in the band's practice space between 2010 and 2011. Kyle Spence handled mixing and mastering. Matt Cherry (Maserati) did the spooky pink-and-red cover art, and the first 100 copies of the vinyl are nicely screen-printed. The darkly psychedelic album is reminiscent of The Gun Club, Halo of Flies and that heavy-lidded sensation of just-administered sedation before tooth extraction. Consider it recommended. Sample it all over at www.vincas.bandcamp.com.
Flip on Over: Tickets are on sale now for a pancake breakfast at Fatz Cafe (4115 Lexington Rd. ) on Saturday, Mar. 3. The proceeds will benefit The Cedar Shoals High School Concert Choir and will help finance their trip to sing at New York's Carnegie Hall this April. Tickets are $7, and kids under 6 eat free. For tickets and more information, please contact choral director Linda Moon at moonli@clarke.k12.ga.us or choral booster club parent Angela Johnson at ang_johnson@bellsouth.net.
They Got Something to Say: Athens premier salsa-infused Misfits tribute band, Los Meesfits, finally laid down some tracks after threatening to record for a couple of years. The band recorded and mixed nine songs with Matt Tamisin (Japanski Studios) and had them mastered by Daniel Collins (PigPen Studios). Now the plan is to release the whole shebang on a limited 100-copy run through Florida's Whirling Cloud cassette label. There are loose plans to throw them all on CD, 7-inch and/or LP, but nothing is solid in that area yet. Los Meesfits have upcoming shows around Georgia and South Carolina in the near future and hope to tour Florida in April. ¡Olé!
One Thing at a Time: Nicklaus Andersen has sorta revived his now-semi-dormant Whiff Trophy project. It's not clear if the lack of action on his part has been a crisis of confidence or just a pure case of the blahs, but, either way, he didn't really do much music last year. At any rate, he's clearing the decks of old Whiff Trophy tracks that have been sitting around, and this latest collection is titled End of End. It has the honor of being the 28th release from Whiff Trophy since 2008. With that track record, I think it's OK he took a break. As expected, End of End is a bit more subdued—and perhaps slightly less inspired—than previous titles, but it still occupies the same guitar-'n'-electronics landscape as Andersen's previous work. I once spent a whole day listening through his entire catalog. Take a baby step and check out End of End over at www.whifftrophy.com. Then work your way backward.
Pack a Lunch: If you dig punk, ska and hardcore and have a solid 10 hours to spare on Saturday, Feb. 25, then head down to the Caledonia Lounge for the Dirty South Gnar Fest. Doors open at 4:30 p.m., and the event will feature sets from Lowdive, Karbomb, Bastard Suns, Hermits of Suburbia, Taj Motel Trio, Burns Like Fire, Soul Radics, Blame Sydney, Triangle Fire, El Chupaskabra, the aforementioned Los Meesfits and Stuck Lucky. Admission is hella cheap ($5 for over 21 and $7 for ages 18–20). The whole thing was organized by Brett James from Hermit of Suburbia, so if you need more information, go ask him whatever over at www.facebook.com/hermitsofsuburbia.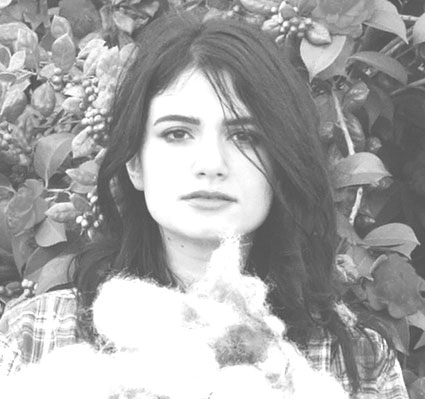 Every Little Counts: Thayer Sarrano is running a combined album pre-order and Camp Amped at Nuçi's Space benefit through the fundraising website Indie Go-Go. Her new album, Lift Your Eyes to the Hills, is slated for release on Mar. 20, but you can only pre-order it through the site. When you do, you'll have several options to purchase ranging in price from $5–$1,500, and the rewards you get with purchase are commensurate with the amount you spend. Sarrano is really donating a lot of stuff to bigger spenders, and the profit from every package sold goes straight to Camp Amped. She is only retaining the production costs for each rewards package. The more packages sold, the more raw costs go down and the margin for Nuçi's increases. At the very basic purchase level of $10, $9 will go to Nuçi's. And it goes up from there. Sarrano has worked with Camp Amped as an instructor for the past four years, and this project is pretty special to her. You can preview the new album over at www.thayersarrano.com, and the fundraising site is www.indiegogo.com/thayersarrano.
Like what you just read? Support Flagpole by making a donation today. Every dollar you give helps fund our ongoing mission to provide Athens with quality, independent journalism.