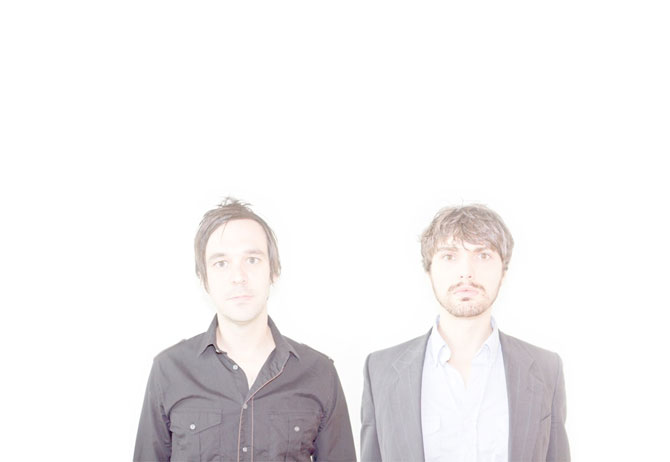 Welcome back, everybody. Hopefully, your year is going swimmingly or at least going tolerably. Either way, most of this week's news is about records that are coming out in the near future, and those always serve to amplify a good time or alleviate a bad time. I mean, mostly, right? Right? Anyway, start getting OK below…
Calendar Marking Time: AthFest has a couple of deadlines coming up that interested parties should be aware of. First, the deadline to submit your music for consideration for this year's compilation CD is Feb. 15. You can submit multiple tunes on one CD, but you've got to fill out a separate submission form for each song. Submissions should be dropped off at the AthFest office (inside The Fred Building at 220 College Ave., Suite 318) between 10 a.m. and 6 p.m., Monday through Friday. This opportunity is for Athens bands and musicians only, and by "Athens bands and artists," I mean those who actually live here. Applications are also being accepted via online submission platform SonicBids for those interested in playing the festival. The fees are $5 for Georgia artists and $10 for those outside of Georgia. The deadline for live performance applications is Apr. 1. Apply via www.sonicbids.com/athfest. This year's event will happen June 22–24, and any additional information you need can be found at www.athfest.com.
A Sleepy Company: Pacific UV, whose name is generally stylized as "pacificUVâ€, will release its newest album, Weekends, on Jan. 31. It will be released on Mazarine Records—the label founded by bandmembers Clay Jordan and Suny Lyons, along with Kai Reidl. Pre-orders are being accepted now, with all sorts of bonus goodies for those who go that route. Pacific UV—whose self-penned descriptor "narcotic space-pop" pretty much nails it—will play Go Bar on Saturday, Jan. 28 with Reidl's new band, Electrophoria. Expect a proper record release show for Weekends sometime in February. For streaming audio, video and more information, visit www.mazarinerecords.com.
Standing on the Shoulders of Giants: Unpredictable Athens group Cars Can Be Blue will start recording its new album at Gypsy Farm Studios under the oversight of Zeke Sayer (The Humms) at the end of this month. These sessions are for what will be the third CCBB album, tentatively titled Trace the Tension. Although CCBB will forever be known for the often harsh and mutually insulting interplay between founding members Nate Mitchell and Becky Brooks, this new album will also feature the group's new bass player, Jeremy Dyson. As luck would have it, the most interesting thing about this bit of news isn't the who or the what, but the where. Gypsy Farm Studios is located at Clem's Shoal Creek Music Park in Lavonia, GA—named thus after Sayer's father, Hartwell bluegrass musician Clem Sayer, who, along with his wife and some friends, purchased and renovated the place in 1989—and it's got a hugely fascinating story behind it. Johnny Cash, Dolly Parton, Conway Twitty, Jerry Lee Lewis and loads more passed through its gates. Go read all about it over at www.facebook.com/clemsshoalcreekmusicpark. For more info about Gypsy Farm, please see www.gypsyfarm.net.
The Mali of Georgia: The tireless Adam Klein will finally get to release his first world music album, Dugu Wolo, next month. Recorded way back in early 2010 in Bamako, Mali, the album will be released under Klein's Malian name: Lassine Kouyate. Klein first traveled to Mali several years ago as a Peace Corps volunteer and returned there to make this album, which he named after the village he lived in. Pre-orders are being accepted now at www.adam-klein.com, and he'll celebrate its release with a multifaceted program (reading, film and music) at Avid Bookshop on Feb. 23.
Third Shift: Local stars of Montreal will play "Late Night with Jimmy Fallon" on Feb. 8 in celebration of their latest album, Paralytic Stalks, which will have been released the day before. The first single, "Dour Percentage,†was released last week, and presumably that's what the band will play on "Fallon" but, who knows, maybe they'll pull an Elvis Costello. If you can't wait to grab your copy, head to www.polyvinylrecords.com and pre-order it now, and you'll get an instant download of the record as well. Clap your hands and say yeah(!) for instant gratification.
Short Takes: Holy Liars will release their album Heat Lightning Friday, Jan. 20 at the Georgia Theatre… Chris Ezelle's album Summertime Bleeding Heart won't be out until Apr. 1, but he released a video for the track "Going Back†last week. For more info, see www.reverbnation.com/chrisezelle… Entertainment released a beautiful video for its track "Confusion of Senses†a couple of weeks ago. Shot in Philadelphia by David Garcia, it's a must-see from one of the only super dark bands we can claim. Check it at www.youtube.com/user/EntertainmentATH…
Like what you just read? Support Flagpole by making a donation today. Every dollar you give helps fund our ongoing mission to provide Athens with quality, independent journalism.