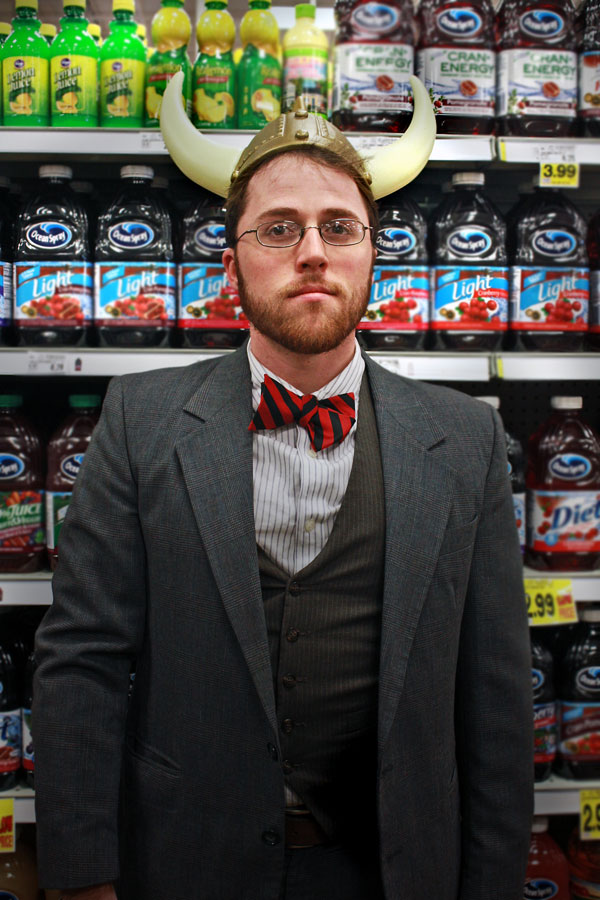 Welcome to the first edition of Threats & Promises for 2012. Without getting too sappy about it, here's to a great year full of new records, new bands and exciting, worthwhile events in the Athens music scene. Now let's jump in…
Help Him Row the Boat Ashore: The award for the first Athens music Kickstarter campaign of the year goes to Patrick Morales and his The Viking Progress project. Named thus after the two separate commercial fishing boats he worked on during 2008—The Viking and The Progress—Morales has an album in the can that explores the concept of the end of the world from various points of view. Recorded with Suny Lyons at Pop Heart Studios, the only thing it lacks is mixing and mastering. It's even got a title already: Whistling While the End Is Near. Morales has a conservative goal of $2,500, and, of course, the graduated tiers of support each bring their own particular set of rewards. There are about three weeks left in this campaign, so head over to www.facebook.com/thevikingprogress and see what you think.
Gotta Hear It: After months of waiting to hear Zack Hembree's new band, Tarnation, it seems we're getting close. Although initially taking shape while Hembree was still in Stone Mountain Freeway, the project became fully loaded last summer. Composed of Hembree (vocals/guitar) Taylor Norland (banjo/washboard) and Jack Reinhart (guitar/vocals) at the core, the band has been augmented by others during live shows and recording. Notable contributors include AntiSeen's Jeff Clayton (!) as well as Noah Ray and Erin Stagg from Music Hates You. The band's debut record, There's a Fine Line Between Neck and Break, was recorded by Mark and Vaughn Moody (both of In the Lurch) and should be done by March. Hembree is splitting his time evenly these days between Athens and Sarasota, FL. For lack of a better descriptor, this all seems to add up to outlaw country in the truest sense. Hembree agrees and adds, "[There's] also a very healthy dose of "fuck you"-style punk rock in there, à la Music Hates You-style with acoustics and banjos. There is a major dark element to what we do as well… not really any happy-go-lucky undertones… songs about suicide, homicide, heartbreak, alcoholism, anxiety attacks… the basics. Ha!†Although no Athens shows are planned so far, Tarnation hopes for a record release show here sometime this spring. Keep up to date over at www.facebook.com/TARNATIONnation.
Stand Up and Shout: Tandi Murphy-Hall (Triangle Fire) has organized the "Up Your Athens Punk Festâ€â€"proving that some folks still get a giggle out of punning "Athens†with "assâ€â€"and it's gonna happen at Little Kings Shuffle Club on Saturday, Jan. 21. Doors open at 4 p.m., and the music starts at 5 p.m. The entirely local event will host performances from Triangle Fire, Gnarx, The Fact, Cloak & Dagger Dating Service, The Fuzzlers, Gripe, Crun Pun, Rottgut, Wrist Bandits, Shehehe, Kater Mass, Ethan Ogletree and You're Mean, I'm You. It's all free, too.
Breathe In, Breathe Out: Indigo Girl Amy Ray will play the Melting Point on Wednesday, Jan. 18. Her latest solo album, and sixth overall, will be released in February on her own Daemon Records imprint. If you can get past the clumsy tongue-twister of a title—Lung of Love—you can then be thankful that it presumably beat out other potential titles like, perhaps, Thyroid of Hate or Rib of Indifference. Seattle's Lindsay Fuller also performs this night. Tickets are $12 in advance, $15 at the door. Please see www.meltingpointathens.com for more information.
A Moveable Fest:  The folks behind the rock and roll Gypsy Farm record label and collective will run a three-day house show Jan. 13–15. Appropriately billed as "3 Day House Show," the  event will present 26 bands and three decently well known house venues in town. Find out exact locations over at www.gypsyfarm.net. Featured bands include Ol' Smokey, Figboots, Glupist, Shoal Creek Strangler, The Rodney Kings, The Dead Zebras, The Fuzzlers, Bubbly Mommy Gun, Koko Beware, Timmy Tumble & the Tumblers, Pretty Bird, TaterZandra, The Humms, Black Moon, Nurture, Sleeping Friends and more. Cross your fingers that someone remembered to keep the heat turned on, and go have a ball.
Steal of a Deal: David Barbe's music production class, a course in the UGA Music Business Program, is seeking a band or artist who would allow the class to produce a song for them. This project was done last year, too, and looks to be at least a yearly occurrence. The deal is this: submit one (1) MP3 of an original song to the program, and, if yours is chosen, you'll get to record that song at Chase Park Transduction on Jan. 31. So, time really is of the essence. The track will be produced by the students under the supervision of David Barbe. By participating you will grant the students the right to use the song for projects (remixes, etc.), but you will own the track itself and can do with it whatever you please. If you're interested, submit your one and only one MP3 to dbarbe@gmail.com.
Short Takes: Titans of Filth released a new four-song EP last month cleverly titled Serf City and featuring a relatively new lineup of stars from bands such as Gemini Cricket, El Hollin and Werewolves. Find it at www.titansoffilth.bandcamp.com… The Corduroy Road entered The Glow Studio to begin work on its second full-length album. The group next plays locally Mar. 23 at the Georgia Theatre… Film Athens (the folks behind the Sprockets Music Video Competition) is seeking a lead graphic designer to handle the creation of all materials related to this year's competition. More details available at www.filmathens.net.
Like what you just read? Support Flagpole by making a donation today. Every dollar you give helps fund our ongoing mission to provide Athens with quality, independent journalism.