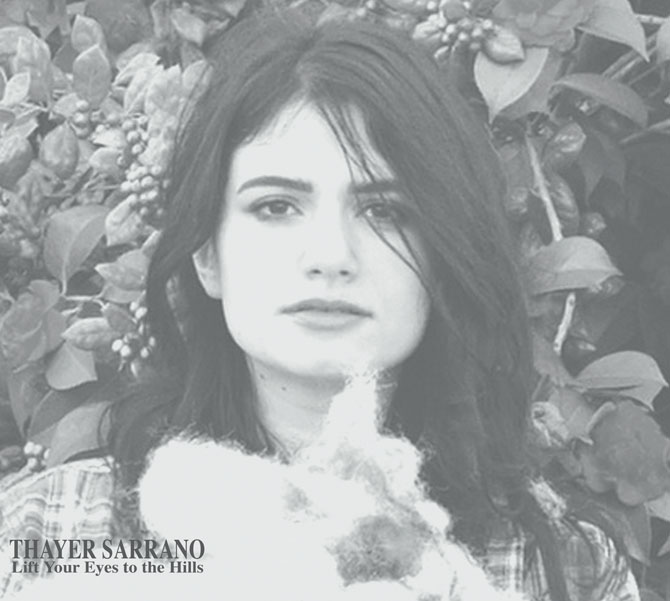 It's refreshing to hear singer-songwriter Thayer Sarrano, who has accompanied an impressive list of bands (including Dead Confederate, of Montreal and Kuroma) on keys and pedal steel in the past, reverse roles and take the spotlight on Lift Your Eyes to the Hills.
Although the album incorporates organ, Mellotron, pedal steel, guitar, bass and more drums than previous works to create a full-band sound, the fairly sparse arrangements keep the focus centered on Sarrano's lonesome and haunting voice. The melancholic melody of "They Are All Used to Your Beauty,†for example, sounds as if it's flowing out from a wavering, underwater organ with tranquil vocals rippling in from far off. While the vocals are generally even-toned and composed, they occasionally dip into slightly dissonant layering and uneasy atmospherics.
Many of the tracks use repetitive lyrics to reinforce an image or message, reiterating the same few phrases over and over. "I Miss My Lord†is one such song, full of solemn chanting and revealing a strong influence of Southern folk and gospel.
Released with a pre-order campaign through which all money aside from production costs was donated to Nuçi Space's Camp Amped, a rock and roll summer camp and after-school program for teens at which Sarrano is a counselor, Lift Your Eyes to the Hills is a well-intentioned album full of spirituality and purpose.
Thayer Sarrano is playing at the Caledonia Lounge on Friday, Mar. 30.
Like what you just read? Support Flagpole by making a donation today. Every dollar you give helps fund our ongoing mission to provide Athens with quality, independent journalism.