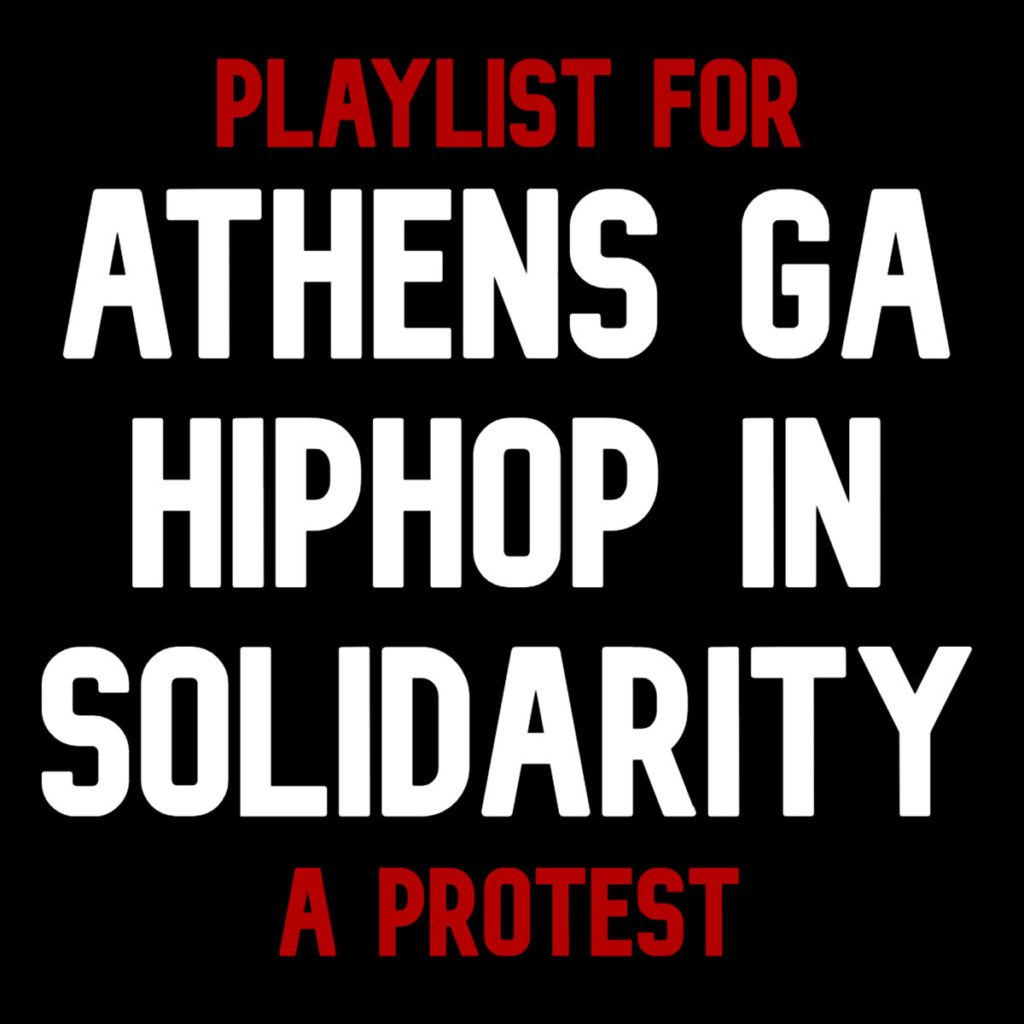 A timely response to our current cultural climate, Athens GA Hiphop In Solidarity has just released "Playlist For A Protest," an album of two dozen original, previously unreleased tracks from local artists.
From Drek da King's "Protect and Serve" and KC's "I Can't Breathe," to Ruby Fyre's "Killin Me" and Keefie's "No Peace No Sleep," these songs fearlessly articulate experiences and reflections on racism, rioting, police brutality, inequality, injustice, activism and reform. Strengthening a sense of community, half of the tracks are collaborations between artists, like Caulfield and Elite tha Showstoppa, Ishues and Carlos Fisher, and Stella Groove and LG. Also take note of SheSpeaks' (Celest Ngeve) impassioned, goosebumps-inducing spoken word piece, "Mother Africa is Not OK."
The compilation was recorded by Jay Rodgers of Full Moon Studio in Watkinsville and mastered by Joel Hatstat of High Jump Media. After watching video footage of last Saturday's peaceful protest turn sour, Rodgers was appalled by what he saw.
"My friend Caulfield posted about it a few days later, and mentioned that the hip-hop community should come together for the next protest that Mokah and Knowa Johnson are organizing on Saturday," says Rodgers, referring to the Justice for Black Lives rally organized by the Athens Anti-Discrimination Movement at City Hall on Saturday, June 6 at 2 p.m.
"My first thought was that I missed the last protest being at home with my son, but I wanted to participate and maximize without overstepping my place in it. So, I began texting local hip-hop heads to come and record songs for a thrown together compilation project/playlist to be released the day of the protest. I just wanted to offer my services as a vehicle to the local hip-hop scene."
"Hopefully it gives a venue to this town's voices that are so often affected by the issues at hand."
Here's a bonus video, which compiles footage from last week's protest, for the song "Bad Things" by YOD featuring Kxng Blanco.
Like what you just read? Support Flagpole by making a donation today. Every dollar you give helps fund our ongoing mission to provide Athens with quality, independent journalism.