In recent years as the Athens music scene has steadily revived from the blow of the pandemic, an outlier genre has emerged as a contender for music communities that put the local storied scene on the national map: dubstep. One of the responsible entities for this is Nightshade Family, the deep dubstep record label, DJ collective and promotion company led by husband-and-wife duo Dado and Curst.
Nightshade Family was officially created by artist and producer Dado in 2021 with the goal of providing guidance and support to fellow artists, building community through sound system events, and pushing the roots of deep dubstep. As a promotion company, the collective hosts three different types of events: resident DJs Izzy and Karezza run a free, all-skills-level Open Decks night every other Thursday at Mai Kai Kava Bar; Homegrown is a free, monthly community building event showcasing different local and regional producers and DJs of various genres; Nightshade Family Presents are ticketed, curated events showcasing national and international deep dubstep producers.
Bringing this vision together, specifically in Athens, has been a journey for Dado, who grew up here with family in the music scene. Dado worked at local venues and built a resume around running sound and the technical side of live music, but he was unable to break through as the artist he wanted to be. After Curst graduated from college, the couple moved to Seattle when she received a job opportunity, and Dado quickly fell into work that aligned him with the DJ culture there.
"When I got to Seattle, I was ready to play, and I was ready for a shot," says Dado. "The people that empowered me out there were people of color. It was different than it was here. There was a lot more diversity. And so there was an opportunity for me to be myself."
In Seattle, Dado gained a working knowledge of how to build a sound system and a vast network of national and international dubstep artists. One such artist that he considers a mentor is Joe Nice, a DJ from Baltimore, MD who is recognized as the ambassador of the dubstep sound in North America and was the first person to host dubstep nights in the U.S. Educating both the wider community and the artists about the roots of dubstep, the difference in UK-style deep dubstep from what's common in the U.S. and the rich culture behind the music is an important goal of the Nightshade Family, and figures like Joe Nice are integral to this understanding.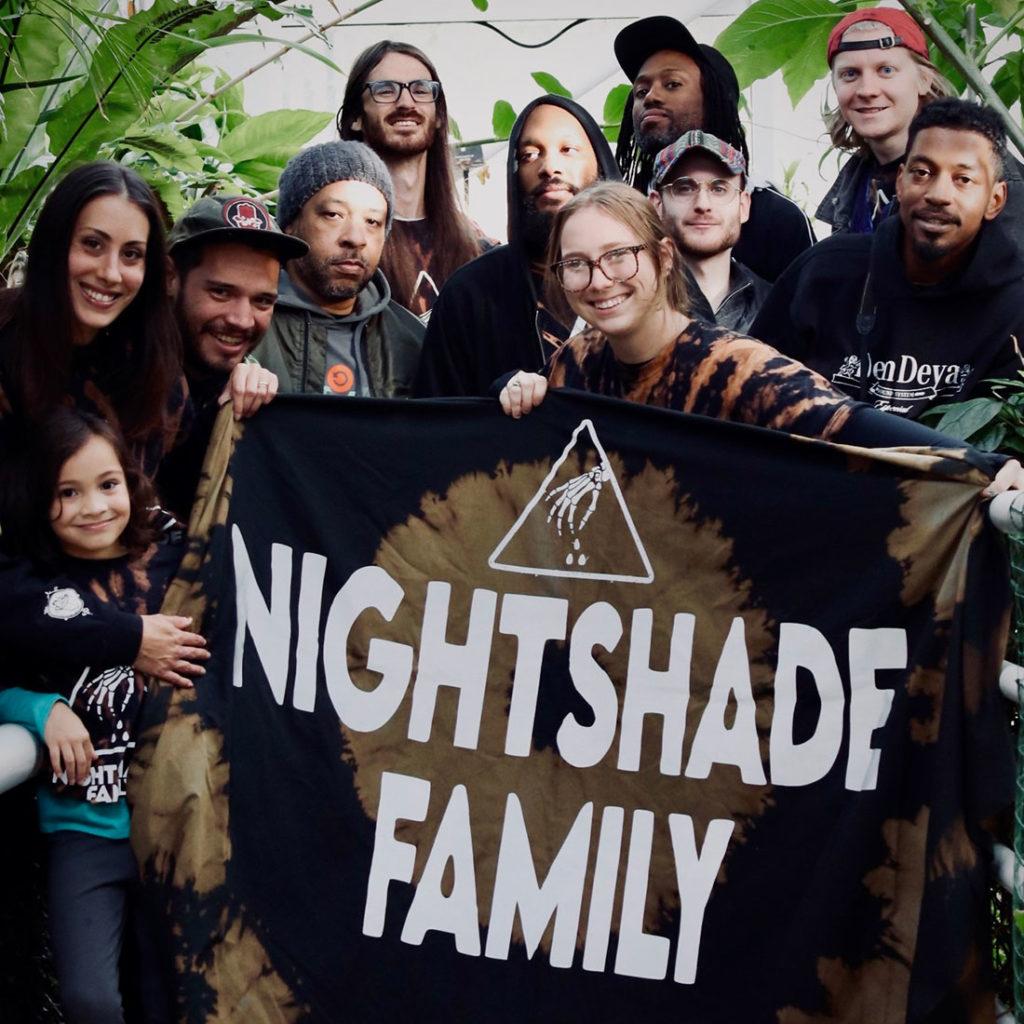 The next Nightshade Family Presents event is this Saturday, Dec. 3 with Joe Nice as the headlining DJ. Of the collective's three types of events, this one is specifically curated as an exploration of the deep dubstep sound and culture with the intent of connecting the Athens community to those around the world through notable DJs. The most important element of authentically portraying deep dubstep is using proper sound systems that emphasize the minimalist side of its production and how it's meant to be heard.
"The biggest misconception is that this North American genre of music that pejoratively has been called dubstep is what dubstep actually is," says Joe Nice. "Dubstep is bass, pace and space. [It] is a sound system genre of music that is designed to be heard on loud sound systems with smart speakers. I've seen considerably more sound systems popping up that properly present the music and properly represent the cultures."
Sound system culture originates from Jamaica, where dub (a precursor of dubstep, which came out of the UK) grew out of late 1960s reggae as a new electronic music style. Dubstep itself is a multicultural creation that has experienced offshoots and whitewashing that have created misconceptions about the genre or new genres entirely removed from its origin. On a local level, Nightshade Family is working to create a community built on the foundation of the genre in a city where dubstep has previously lacked any organized support.
"Part of cultivating that culture is giving people an opportunity to feel as if they are a part of something that is bigger than themselves and something that they can feel personally invested in. That's how you create a culture, and that's ultimately how you create a sustainable community," says Joe Nice. "The dance music experience was never meant to be just a one way transaction where it's 'I'm the DJ, you're the customer.' When I play and when I sit at my desk and create, it is an extension of me."
Beyond event production, Nightshade Family is a record label that releases albums from artists under the collective umbrella, each featuring album art based on a different nightshade family plant chosen by the artist. The Dec. 3 show at the 40 Watt Club will be an album release party for Qilin's Clear Your Corners recent release, with support from Ellwin and Guille. Limited edition Nightshade Family merch will also be available.
Building camaraderie and healthy competition is at the core of Dado's vision for Nightshade Family in hopes of creating a platform that elevates everyone involved. Curst, who is new to producing, sees the future of Nightshade Family involving more educational opportunities for those interested in learning how to produce or don't have the proper equipment to practice with, which is costly and often a barrier to entry for the genre. This year the collective has created a growing connection to the Atlanta scene as well, running back-to-back nights of shows in each city with touring artists, and strengthening ties with resident artists who have moved from Athens to Atlanta during that time.
"I realized I had done all this work to become an artist and empower myself, and all these people that I had connected myself with and my network, that I could actually help artists that didn't have structure or somebody to speak for them here in Athens," says Dado.
WHO: Joe Nice, Qilin, Ellwin and Guille
WHEN: Saturday, Dec. 3, 9 p.m.–2 a.m.
WHERE: 40 Watt Club
HOW MUCH: $10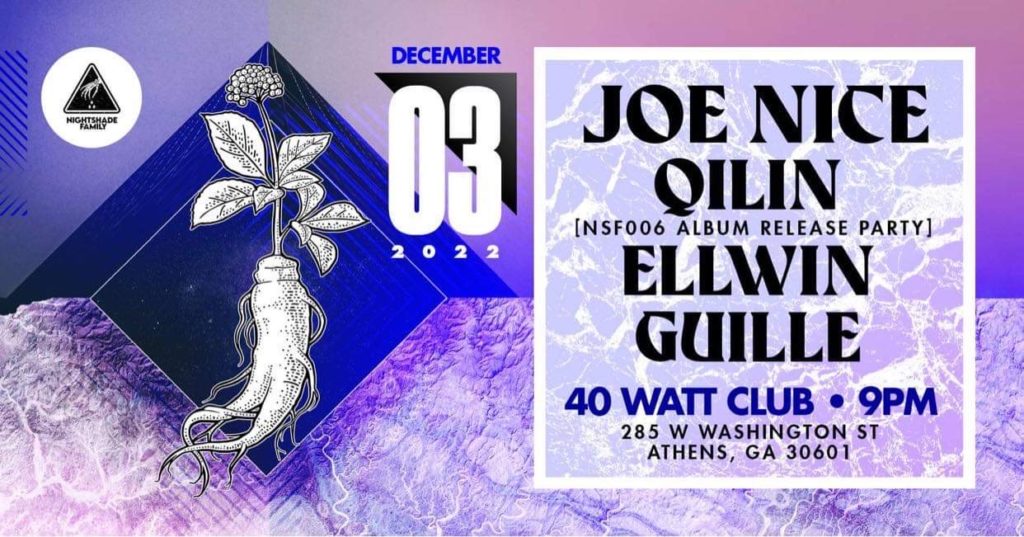 Like what you just read? Support Flagpole by making a donation today. Every dollar you give helps fund our ongoing mission to provide Athens with quality, independent journalism.