Nuçi's Space, the local mental health nonprofit and musicians resource center, launched Athens Uncovered in 2018 as a live music event held on "Giving Tuesday" featuring prominent Athens musicians playing their favorite cover songs. However, this year the event has taken on an even bigger purpose with Athens Uncovered: Steeple Edition taking place on Sunday, Nov. 27 from 12–10 p.m. and celebrating Athens' multi-generational music legacy.
At the center of the full-day festival's entertainment remain local bands covering local music, with performances spanning from musicians with deep roots like Pylon Reenactment Society, Bloodkin and Squalls to young bands that are part of Nuçi's Space's Camp Amped program like Women in STEM and Panic Wave. The full line-up includes Monsoon, Jay Gonzalez, John Fernandes, Good Grief Trio, David Lowery, AD Blanco, Sex Cells and newly formed The Bad Ends, composed of R.E.M.'s Bill Berry and Five Eight's Mike Mantione. There will also be food trucks, beverages and activities commemorating Nuçi's Space and the uniqueness of Athens' music scene.
As "Steeple Edition" suggests, a primary motivation for the change in celebration this year was the completion of Nuçi's Space's St. Mary's Steeple reconstruction campaign. The nonprofit acquired ownership of the steeple, most famously known as the place where R.E.M. played its first show in 1980, in 2013 before launching the Steeple Campaign and a building expansion project in November 2014. The reconstruction and expansion were completed at the beginning of 2020, but due to the pandemic, an official celebration and tour were indefinitely postponed.
"We see the Steeple as this lighthouse of sorts that kind of guides the arts and music scene. It's not just a monument or a landmark," says Abigail Winograd, public relations and communications manager at Nuçi's Space. "We wanted to save the Steeple forever and also don't want the symbol of that to get lost as generations get older."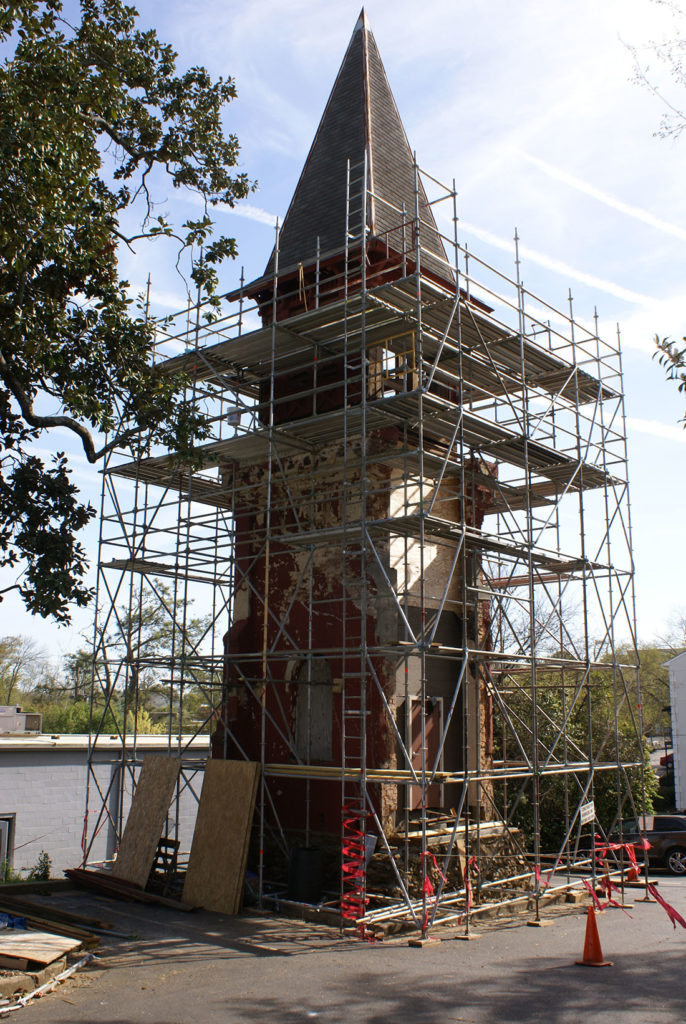 During the Steeple reconstruction, a portion of the brickwork had to be replaced. Two thousand of the removed bricks from the original church have been and are currently being sold with an attached authenticity medallion, a paper certificate of authenticity and name recognition on the steeple's donor wall. During Athens Uncovered, the community is invited to view the updated steeple and donor wall, and remaining bricks will be available for purchase. All proceeds from the event and the brick sales are in benefit of Nuçi's Space continuing its mission, and previous brick sales contributed to the reconstruction costs. There is also an online auction currently running with special collector's items, donations from local businesses and contributions from local musicians.
This year's Athens Uncovered event is meaningful as Nuçi's Space's first opportunity to invite the community and public back into its space since COVID began, to share in the main building's revitalization efforts and honor the city's music history. This year also marks the 40th anniversary of R.E.M.'s Chronic Town album release. Because of R.E.M.'s connection to the steeple, Winograd explains that it felt like the perfect time to plan an event around the reconstruction, and the Athens Uncovered series already represented similar values of intergenerational connectedness.
"The way we've been saying it is kind of like passing the torch. Letting people in the younger generations feel like the torch is being passed to them and that they're important and that they're part of this history. And having the older generations know how much we love them and value them, and how much their music still means to everyone," says Winograd.
Although Athens Uncovered will continue on as an annual event, this year's planning is a unique, one-time opportunity before the event returns to its "Giving Tuesday" tradition.
WHO: Athens Uncovered: Steeple Edition
WHEN: Sunday, Nov. 27, 12–10 p.m.
WHERE: Nuçi's Space
HOW MUCH: Donations suggested
Like what you just read? Support Flagpole by making a donation today. Every dollar you give helps fund our ongoing mission to provide Athens with quality, independent journalism.