Since its launch four years ago, Historic Athens Porchfest has steadily expanded to now include a lineup of musicians that is over twice as large as the original. On Sunday, Oct. 2 from 1–8 p.m., 156 different acts will perform at just as many homes and businesses across six historic neighborhoods: Boulevard, Buena Vista Heights, Cobbham, Newtown, Normaltown and Pulaski Heights.
Modeling itself after a tried-and-true format used by porchfests held across the U.S. and Canada, Historic Athens Porchfest invites residents to volunteer their porches, patios and lawns as impromptu venues for performances of every genre. The 501(c)(3) non-profit took on Porchfest as its flagship event as part of its mission to develop community-wide understanding of the value of historic buildings, neighborhoods and heritage. With roughly 25 artists playing simultaneously per hour, it's recommended that attendees make a small wish list of priorities to see, then let their ears and feet carry them wherever the rest of the day may lead.
Naturally, there are many heavy hitters with established followings on the lineup, such as Nana Grizol, Linqua Franqa, T. Hardy Morris, David Barbe, Kenosha Kid, Monsoon, Beto Mendoza, Shehehe, Vision Video and Convict Julie. As per tradition, a finale performance with Athens Mayor Kelly Girtz and Winterville Mayor Dodd Ferrelle will close out the evening at Stan Mullins' surreal, sculpture-studded home and studio on Pulaski Street—an unofficial thumbs up that suggests local government supports this sort of communal activity, so long as city ordinances are respected.
Just as significant, however, are the dozens of bands whose names you might not recognize. Unlike traditional performance venues that often require evidence of a fanbase when ticket sales are on the line, Porchfest is open to anyone willing to donate their talent. In a landscape of disappearing DIY and house venues—important incubators of experimentation injured by rising rents, gentrification and general pandemic burnout—Porchfest lends its platform to emerging musicians and invokes the magic of a good old-fashioned house show.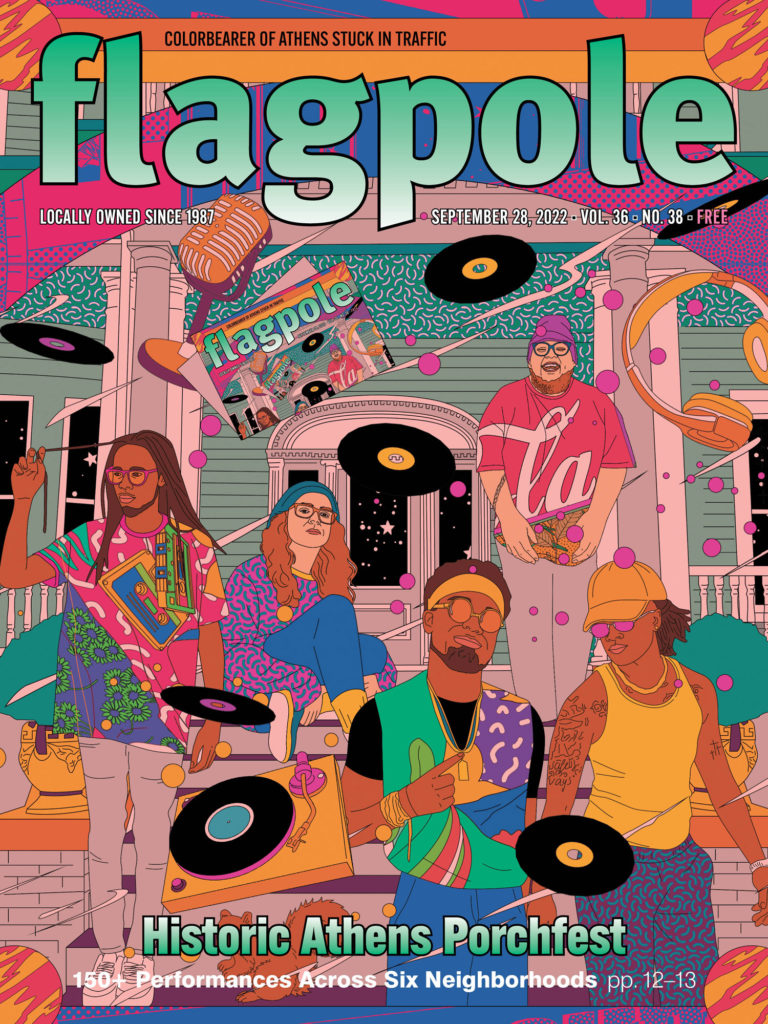 As artists, musicians and industry workers are gradually priced out of the same neighborhoods they once helped to make so distinctive and desirable to homebuyers with deeper pockets, Porchfest provides an opportunity to reconsider how everyone can better support and protect the creatives who contribute vibrancy to the fabric of the community.
While this family-friendly, pedestrian-based event is completely free to guests, attendees are strongly encouraged to make donations directly to the bands. Porchfest provides a thorough list of accounts at linktr.ee/athensporchfest.
If the idea of wandering around in search of street numbers induces any headaches, there are also several participating neighborhood businesses readily identifiable from the road. Presented by Volumes Hip Hop, Flagpole's headquarters on Prince Avenue will host Anime Zayy, Afro Kenobi, Mack2Tone, djbobfish and an acoustic set by Trvy and the Enemy beginning at 2 p.m. Town & Gown Players will take the opportunity to introduce the cast of its current musical comedy Sister Act (5 p.m.), and The Studio will similarly offer an open house with dancing by the adult performance companies (5 p.m.). Other highlights at local establishments include Beast Mode at Pulaski Heights BBQ (2 p.m.), Dire Wolf at Puma Yu's (3 p.m.), Molly's Lips at Flat File Print Shop (4 p.m.), Quiet Evenings at tiny ATH gallery (4 p.m.) and Bichos Vivos at Heirloom Café (6 p.m.).
Let's also not forget the loyal guardians who patrol for squirrels and messy little roommates who help make a house feel like a home. The annual Boo-le-Bark on the Boulevard costumed dog parade will coincide with Porchfest to officially kick off Athens' month-long celebration of Halloween. The costume contest will be held at 3:30 p.m. at 425 Barber St., the former Jittery Joe's Roaster location. At 4 p.m., the parade will begin prancing and pulling its way along a route connecting Nantahala Avenue, Beulah Avenue, Boulevard and Barber Street.
The community is invited to pre-game for Porchfest during the Athenticity Release Party at Athentic Brewing Co. held Friday, Sept. 30 from 6–11 p.m. In addition to debuting Athenticity, a new helles lager—a portion of the sales will go to Historic Athens—the event will include Athens-centric trivia and a playlist of the festival's performers. The brewery will additionally host Moon Bloom (2 p.m.) and Eremos (4 p.m.) on Sunday.
For a schedule of performers, locations and set times organized by neighborhood, see p. 10. To view an interactive map and discover more about the artists, visit historicathens.com/porchfest.
Like what you just read? Support Flagpole by making a donation today. Every dollar you give helps fund our ongoing mission to provide Athens with quality, independent journalism.