Gracing the stage of the 40 Watt Club an astounding 64 times during their heyday, Squalls played an essential role in cultivating the fledgling alternative music scene of Athens. The band's exuberant, bright melodies provided the perfect invitation to jump onto the dance floor, and echoed the creative experimentation and wild abandon of the time. Slated to be released on Aug. 19 by Strolling Bones Records, a subsidiary of New West Records, Live From The 40 Watt unearths the effervescent, you-had-to-be-there energy of an '80s dance party with Squalls at the helm.
Founded by singer-songwriter-guitarist Bob Hay and guitarist Ken Starratt, Squalls was rounded out by Diana Torell (vocals/keys), Al Walsh (bass), Mark Cooper Smith (drums) and Mig Little (vocals). During its tenure from 1981–1989, the band released four recordings and took its idiosyncratic pop on the road across the South, into the Midwest and up and down the East Coast.
Appearing alongside hometown contemporaries such as The B-52's, R.E.M., Flat Duo Jets and Love Tractor, Squalls are forever preserved in local music lore through Athens, GA: Inside/Out, a 1986 documentary film that placed the creative underbelly of a sleepy Southern town in front of a national audience.
"As time has gone by, our inclusion in the movie has made Squalls a fixture in the early-'80s Athens scene, which we were," says Hay. "We were lucky to be in the right place at the right time."
The seed for Live From The 40 Watt was planted back in 2020, when New West Records was in the midst of archiving Pylon material in preparation for a comprehensive box set. Hay, who is married to Pylon vocalist Vanessa Briscoe Hay, had come to the office to assist, and brought along a compilation of live Squalls tracks to give label owner George Fontaine Sr. At the time, Fontaine was itching to launch an additional label, and it wasn't long before he fell in love with the songs and chose the track title "Strolling Bones" to double as the new business name.
"Squalls were primarily a live dance-club band," says Hay. "We played live for almost three years before we set foot in a recording studio. Fortunately, Pat Biddle, 40 Watt sound man, recorded many of these live shows. With this particular album, I wanted to highlight the early years of Squalls with Al Walsh on bass when we were basically just doing it for fun."
Live From The 40 Watt travels back in time to revisit five different shows held at the 40 Watt between 1983–85. In addition to live versions of the band's earliest studio recordings, the new 24-track double LP features roughly a dozen previously unreleased songs that Hay says were staples of the live shows yet never made it to the studio. Restored and mastered by Jason NeSmith at Chase Park Transduction using the original cassettes made by Pat "The Wiz" Biddle, the album will be available on townie turquoise vinyl, CD and digital platforms.
"It is gratifying to have this record released, especially since these songs are from 40 years ago," says Hay.
Fittingly, the 40 Watt Club will host a celebratory show on Thursday, Aug. 18, the evening before the album's official release date. After performing a solo set of tunes by Robert Burns, Hay will be joined on stage by Wild Jordan Tonk-Cats to play a selection of Squalls songs. The all-star backing band—Rick Fowler and Todd Burton (The Wildcats), Tommy Jordan and William Tonks (MrJordanMrTonks), Neal Priest, Eddie Gliken (Klezmer Local 42), Greg Veale (Normaltown Flyers) and Mark Cooper Smith—will then share some of their own material. Pylon Reenactment Society will play original Pylon songs from 1979–83 as well as new compositions.
WHO: Bob Hay, The Wild Jordan Tonk-Cats, Pylon Reenactment Society 
WHEN: Thursday, Aug. 18, 7 p.m. (doors)
WHERE: The 40 Watt Club 
HOW MUCH: $10 (adv.)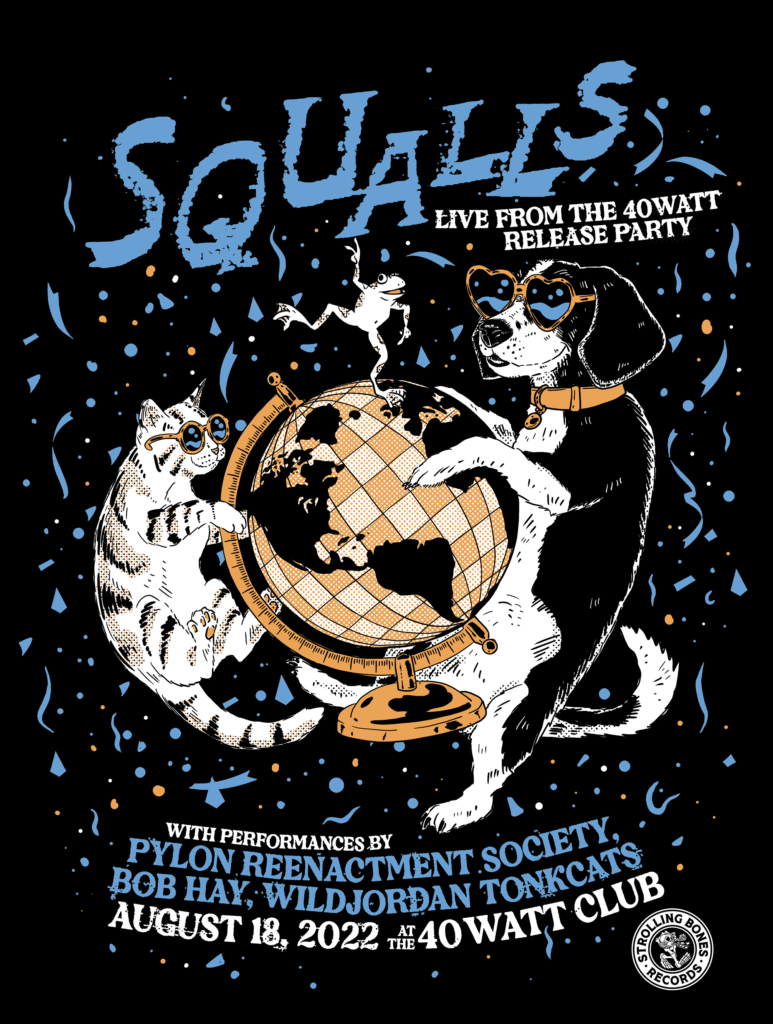 Like what you just read? Support Flagpole by making a donation today. Every dollar you give helps fund our ongoing mission to provide Athens with quality, independent journalism.