Decades after its 1987 release, the influential music documentary Athens, GA: Inside/Out survives as required viewing for anyone looking to familiarize themselves with the history of Athens music.
Directed by Tony Gayton with producer Bill Cody, the 16-millimeter film captures the creativity and self-made spirit of an alternative scene of artists and musicians who were quickly coalescing under the radar into something that would soon gain national recognition. Youthful performances by Limbo District, R.E.M., Kilkenny Cats, Dreams So Real, the Bar-B-Que Killers and Time Toy are interwoven with interesting characters such as visionary self-taught artist Howard Finster, poet John Seawright and painter Jim Herbert. The slice-of-life, hazy daydream feels like one big party where making music and art feels not only possible, but important.
"I think the first film resonated with a lot of people because a lot of people could see themselves in the people we put on film," says Cody. "You have to understand that in the '80s there was always a lot of talk about image, and here were some really interesting and creative people who were not all caught up in that kind of thing."
Over 30 years later, Cody returns with the sequel Athens/Inside-Out 2: Red Turns Into Blue, this time sharing directorial credit with Tony Brazier. Completed just before the pandemic's onset and officially released last fall, the film highlights a new generation of artists and activists who are shaping the culture and political climate of a small town with a reputation of being "a blue island in a sea of red."
Before grabbing some popcorn and settling in to view Red Turns Into Blue, it's important to consider the extent to which the film aims to serve as a sequel. Though several of the musicians who appear in the 1987 film are still active today—such as Love Tractor, Squalls and Dex Romweber of the Flat Duo Jets—Red Turns Into Blue is not a "where are they now" type of follow-up film. R.E.M. is nearly portrayed as a historical relic in a scene where children attending Oglethorpe Elementary learn that the brightly painted murals hanging along the walls were once the backdrops for the "Shiny Happy People" music video. The film does, however, kick off with vignettes of Vanessa Briscoe Hay of Pylon Reenactment Society and Cindy Wilson of The B-52's as they excitedly share details of their current projects, thereby establishing a connection to Inside/Out.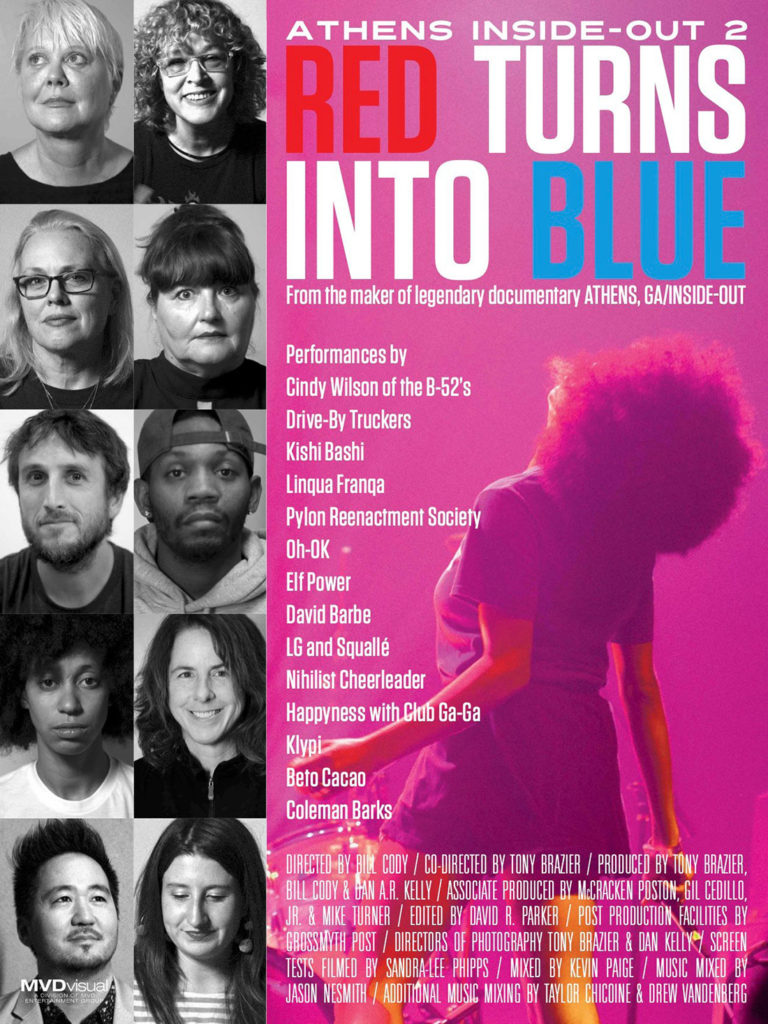 "We specifically opened with those two because I wanted to show how vibrant these two strong women are today," says Cody. "We didn't want to wallow in nostalgia. There is enough of that in the world. Nothing wrong with it, but what is happening today was a lot more interesting to me. The first film is still available if you want to see what Athens looked like in 1986."
Initially operating under the working title of Athens, GA: 30 Years On, a name change became necessary as the filming and post-production process eventually stretched into four years. As the new title suggests, Red Turns Into Blue observes the intersection of music and socio-political change.
"Ultimately, the title and the themes of the film were more about the changes I saw happening in the city and the music and arts scene," says Cody. "Athens has always been a very welcoming city, but I could see a big difference as soon as we started filming, both in the music scene and downtown especially when it came to racial equity. More people of color in bands, more women in bands, and especially fronting the bands. I believe that if you're making a documentary film, you should follow where the film leads you. If not, you should write a script and film a feature."
Interspersed between live footage of artists such as Oh-OK, LG and Squallé, Nihilist Cheerleader, Klypi, Beto Cacao and several others, viewers hear from community leaders such as Knowa Johnson of the Athens Anti-Discrimination Movement, Lemuel "Life" LaRoche of Chess and Community and Montu Miller of ATHfactor-Liberty Entertainment. Through interviews with Mariah Parker (Linqua Franqa), Patterson Hood (Drive-By Truckers) and Kaoru Ishibashi (Kishi Bashi), the film specifically illustrates how music can be a tool for reflecting on injustices and inspiring change.
Far from the whimsical and leisurely portrayal of yesteryear, Red Turns Into Blue catches Athens during a period of uncomfortable and difficult, yet necessary, recalibration. After 30 years of development, the arts and music scene unsurprisingly moved away from the DIY spaces that dominated the first film and more towards established infrastructure. While collectively seeming more mature and self-aware, the town's hardened weariness becomes apparent as persisting inequities are brought to the surface. Still, it's a music community that has visibly become more inclusive, accessible and diverse—between races, genders and ages—and is on a path to continue doing the hard work.
Coinciding with this weekend's AthFest Music & Arts Festival, Ciné will screen Inside/Out on Friday, June 24 at 2 p.m. and Red Turns Into Blue on Saturday, June 25 at 2 p.m. If you miss the in-person screening, both films are available to stream online.
Like what you just read? Support Flagpole by making a donation today. Every dollar you give helps fund our ongoing mission to provide Athens with quality, independent journalism.