What has always distinguished the Drive-By Truckers from so many other acts falling within the alt-country and Southern rock genres—apart from simply outliving most with a career that has already endured 25 years—is an incredible gift for storytelling. While some songs surely carry universal themes like finding and losing love, just as many brazenly hold a mirror up to society's ills, like institutionalized racism and the rural-urban divide. In his new book, Where the Devil Don't Stay: Traveling the South with the Drive-By Truckers, music journalist Stephen Deusner approaches the band's biography not chronologically, but geographically, tracing roots back to the pivotal places and real-life events that inspired and informed their songs.
Deusner considers discovering the Truckers to be one of the most profound listening experiences he's ever had. He had just relocated away from his hometown of Selmer, TN—a small town whose crimes happened to inspire multiple tracks—to Delaware, where his wife was attending graduate school, and he was grieving the death of his father.
"To be that far from home and mourning my dad was tough, but the Truckers made it easier, I think," says Deusner. "They allowed me a little room to be homesick, to figure out who I was as a Southerner who no longer lived in the South. I think it made me a little more comfortable in the world, a little more of an adult. And it gave me permission to really look hard at where I came from, to acknowledge the ugliness of Southern history as well as the beauty of the place. It's home."
In addition to writing most of the Drive-By Truckers album reviews for Pitchfork, Deusner has covered the band through the Washington Post, Uncut, Stereogum, Village Voice and Paste. It wasn't until he was living across the pond in Birmingham, England while his wife pursued a fellowship in 2016 that the idea of writing a book began to take shape. The distance and time apart from his current home of Bloomington, IN gave him the opportunity to listen to the band with fresh ears—which he would do regularly on his mile-long walks to and from the closest coffeeshop—and continue contemplating his own regional identity and relationship to the South.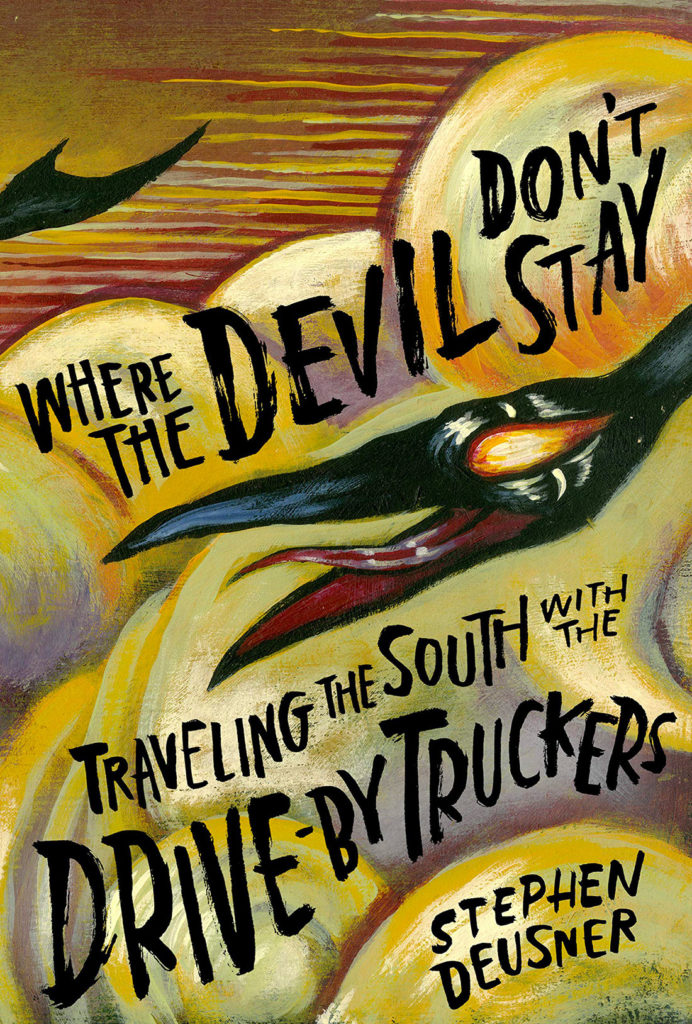 "I started to pick up on all the different place names they mention in their songs, and I realized just how important the idea of place was to their songwriting," says Deusner. "Especially those places. These aren't the typical locales that come up in rock songs. It's not about LA or New York. There aren't many artists out there who are mapping out that terrain like the Truckers."
Where the Devil Don't Stay's road trip begins in Muscle Shoals, AL, where Patterson Hood and Mike Cooley first wrote music together as Adam's House Cat. Between traveling to Memphis, Athens and Birmingham, the book visits Richmond, VA, to spend time with Wes Freed, whose dark and unusual paintings anchor the visual culture of the band, as well as just outside of Gillsburg, MI, the plane crash site of Lynyrd Skynrd, who inspired the Truckers' concept album Southern Rock Opera.
Peppered with relevant musical references, each of these chapters vividly describes the historical, social and cultural complexity of each location. These descriptions illustrate what Hood often refers to as "the duality of the Southern thing," that a place mired in racism and trauma can simultaneously be full of humanity and redemption.
"I think music—art in general, but music specifically—is crucial to showing what a more progressive South might look like," says Deusner. "It piques the imagination in just the right way; it settles into our lives in just the right way, and so it shows us all these possibilities we might not even think to imagine. Before I heard the Truckers, I couldn't have imagined that a band like the Truckers could even exist–a liberal redneck band? That would have seemed like science fiction. Those two things seem like completely oppositional forces, but [the band] just approached it like it was the most natural thing in the world. Because to them it was. That to me is so powerful and makes them not just unique in rock music, but incredibly subversive in ways that maybe even they don't realize."
Avid Bookshop will host Deusner for an author talk and book signing at Flicker Theatre & Bar on Saturday, Apr. 9 at 4:30 p.m. Deusner will be in conversation with David Barbe, who, in addition to owning Chase Park Transduction and directing the UGA Music Business Program, has been the band's trusted producer since the early days. Next door at the 40 Watt Club, the Drive-By Truckers will return to the stage for their annual HeAthens Homecoming, a sold-out, four-night stand running Apr. 6–9.
Like what you just read? Support Flagpole by making a donation today. Every dollar you give helps fund our ongoing mission to provide Athens with quality, independent journalism.