This year's awards model for Flagpole's annual Athens Favorites competition is none other than Dusty Gannon, whom many readers may recognize as the frontperson of local goth-pop, post-punk band Vision Video. When he's not dancing on stage donning fishnets and leather, he's in uniform as a paramedic and firefighter in the metro Atlanta area. After leaving active Army duty in 2016 as an infantry officer, the veteran of the war in Afghanistan returned to his hometown of Athens and soon discovered that writing music was the cathartic outlet he needed for unpacking trauma experienced through his past and present fields of work.
"The job directly ties to music for me in intrinsic ways now," says Gannon. "I write a lot of music based on my experiences with mortality and existentialism. I've seen some of the worst and best parts of humanity due to this job. Music now serves as catharsis for some of the worse things I've seen."
Gannon credits social media as one of the most essential tools used by Vision Video to build an international audience over the past two years while the pandemic largely kept the entertainment industry as a whole in limbo. He estimates that he likely spends around 30–40 hours each week creating content and engaging with listeners.
"I used to believe there was some magic trick to getting your social media to grow, but honestly, you've just got to put in the work," says Gannon. "I view what I do with the band on social media as part of my career in music. The other half of it is just conveying vulnerability through what you post. I tell stories about who I am and what I stand for, and that has resonated with people. But I'm also a cringey, dad-joke laden goofball that is horror-movie obsessed and listens to too much '80s music. I show both sides of myself regularly in our content, and that's why it works. If I am capable of doing this, anyone is, because I feel like I can barely tie my shoes properly each morning."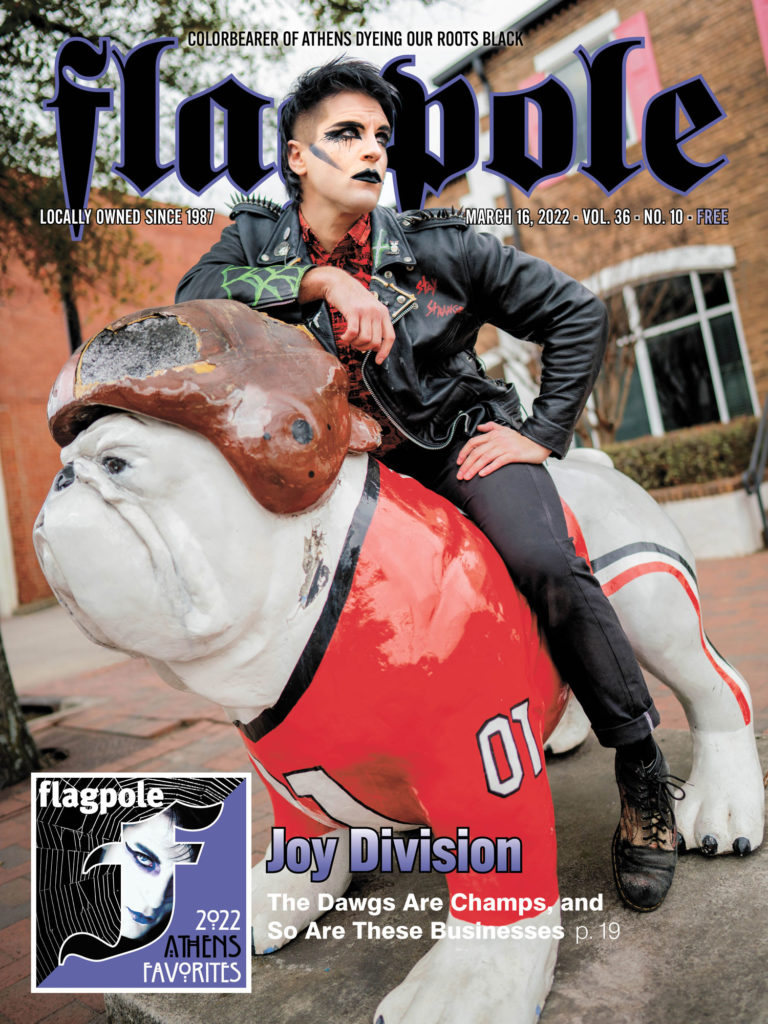 Beyond band-related announcements, Vision Video's social media serves as a positive place to aggregate intricate makeup and fashion experiments, motivational messages and the occasional PSA, like a recent video aiming to raise funds for the veteran-run organization Global Medical and Surgical Group that is currently providing humanitarian assistance in Ukraine. His sense of humor shines through a series of short clips starring "Goth Dad," an endearingly wholesome character with a Midwestern accent who delivers goth-inspired jokes with groan-inducing punchlines. Often addressing his viewers as his "baby bats," the character was inspired by his own dad as well as bassist Dan Geller's parents, who live in the Midwest.
"I was writing placeholder lyrics for a riff, and it just randomly popped into my brain: 'Wouldn't it be funny if there was like an almost Mr. Rogers kinda guy who wore a cardigan, was obsessed with The Cure, had really badass makeup and told horrible jokes?!'"
His persona was so well-received that it led to a 2022 "Goth Dad Thirst Bat" calendar full of stylized, cheeky portraits. He's even available on Cameo to request custom videos with personalized messages.
"Athens is such a special town," says Gannon, who named his band after the offbeat and dearly departed Vision Video rental store. "I am and will always be in love with the magic that is our music scene. There is such an outrageous abundance of talent in this town that constantly intersects and exchanges sounds, ideas and friendships."
Vision Video is currently on tour through Apr. 11 for the second half of its Inked in Red tour, making stops at both South by Southwest in Austin, TX and Treefort Music Fest in Boise, ID along the way. The band plans to hit the road again come late June, and is currently putting the finishing touches on its second studio album, which is expected to be released in November. To keep up with upcoming tour dates, music news and Gannon's other antics, check out @visionvideoband on Instagram and TikTok.
Like what you just read? Support Flagpole by making a donation today. Every dollar you give helps fund our ongoing mission to provide Athens with quality, independent journalism.