Clifton West Delk, "Wes," is a name that every sound engineer in the Athens music scene and elsewhere knows. He was known for his skills behind a console, kind heart and quick-witted humor. Wes was born in Athens and was a staple for many venues. He designed and helped set up the sound systems for the Georgia Theatre and The Melting Point, training and mentoring many young engineers along the way. 
I met Wes while working at The Foundry (formerly The Melting Point) in 2019 when he came to visit friend and engineer Kevin Sweeney. Everyone there that night was whispering about how the legend Wes Delk was coming to the show. I knew I had to meet him and hear some of the many stories he had to tell. He came to the box office desk and threw down some cash for his ticket, even though he knew he was on the guest list. "I'm Wes and I hear I need to meet a cool young woman named Jessie." I immediately hugged him and walked him in to see Sweeney, where he spent the evening behind the console, in the same place he trained a young Sweeney many years prior. Delk spoke to me like he'd been my pal for years and even though going out had gotten harder for him at this point, he made the most of it and stayed for hours. That was the last time Wes was in that space, not too long before COVID began. 
The list of artists and engineers Wes has worked with is endless: Chubby Checker, David Allan Coe, Sea Level, Indigo Girls, Widespread Panic, Waylon Jennings, Travis Tritt, Brittany Spears and Dawes to name a few. He even mixed for two presidents, George H.W. Bush and Bill Clinton. 
Delk was 64 when he died peacefully at his home in Colbert, GA on Sept. 25 after battling a long illness. He was preceded in death by his grandparents, West and Helen Mosteller, his mother Miriam Delk and his dogs Scooter and Sassy. He is survived by his sister NeeCee Delk and her family, Stevey and Abbey Hulsey; his niece Helen Hunsinger and her family, Ron, Isabelle and Lydia Hunsigner; sister Misty Delk Ashton and sister-of-the-heart Heather Byrd Boles. [Jessie Goodson]
A memorial and benefit concert, Wes Fest: Celebration in Sound, will be held on Sunday, Nov. 7 from 1–6 p.m. at Southern Brewing Co. Hosted by Lisa Mende and David Strickland, the lineup includes Cosmo Jr., Timi and the Wonderland Rangers, Caroline Aiken Trio with Adam Poulin, The Rick Fowler Band with Fester Hagood, Randall Bramblett, Tommy Townsend (of Waymore's Outlaws), Pylon Reenactment Society, Squalls, Cindy Wilson and Nolan Bennett, and NeeCee Delk. Funds raised in excess of medical expenses will be divided among the Madison-Oglethorpe Animal Shelter, Athens Area Humane Society and Artist2Artist.
Below, read words from friends and family of Wes: NeeCee Delk, Dave Schools, Horace Moore, Colm O'Reilly, Kevin Sweeney, Tom Ryan, Matt Recchia, Corey Fields and Noel Ford.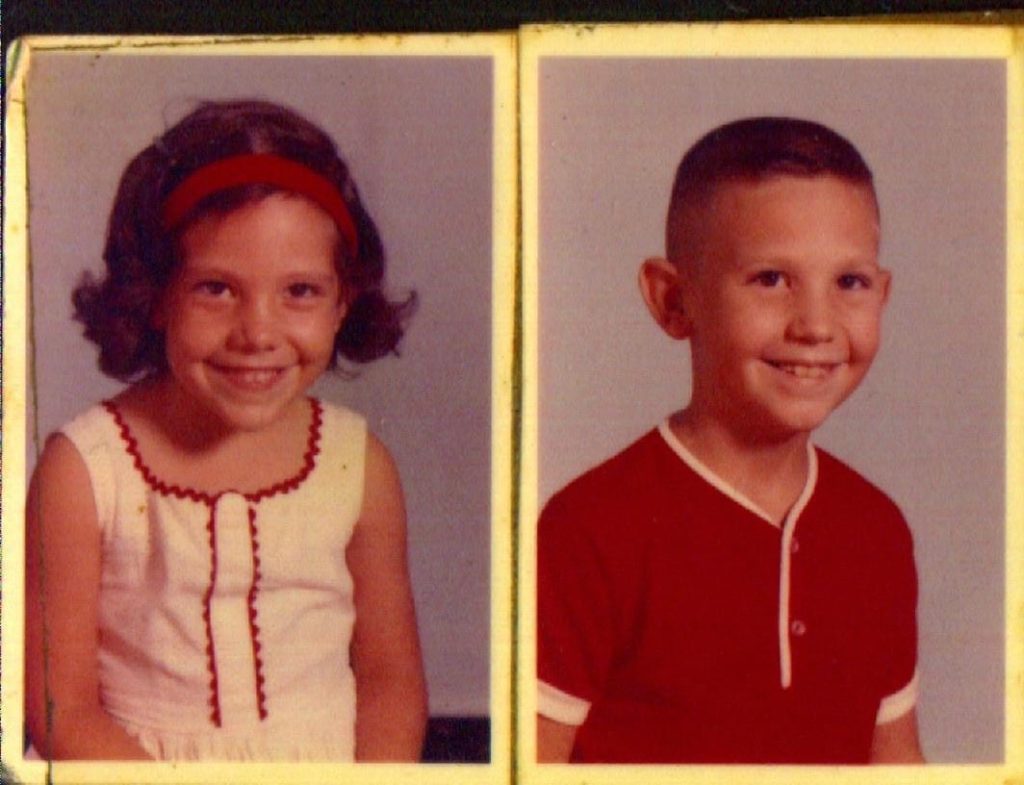 NeeCee Delk
Wes and I have been extremely close since childhood. Our mom was a single mom; our dad was never in the picture. We spent a lot of time playing together, just the two of us.
My favorite memory from that time was playing bride and groom in the backyard. I would put a sweater or a T-shirt over my head like a bridal veil and make him play "Here Comes the Bride" with me. But he would march me around the backyard while I sang "Here Comes the Bride" at the top of my lungs. Ironically, when I actually got married, he was the one who gave me away. It was so amazingly poetic. We both were tearing up. Breaking the tension, he leaned over to me and said, "Just be sure he knows that there are no givesy-backsies!"
After college, he was on the road for most of his career. He was only home during holidays and a short time in the summer, so any time he was close with the show, we would try to go to the venue. When he was working with Widespread Panic, the tour always closed on Thanksgiving day at the Fox Theatre. After the show, they had a Thanksgiving dinner for all of the "family." Wes made sure that we brought Momma to the show and dinner each year. She was so proud of him. Those Thanksgiving dinners in the basement of the Fox are some of my most precious memories.
Wes didn't have a nuclear family of his own, so my girls were his girls. Helen was the light of his life from the time she was born until the moment he took his last breath. I will always be grateful that she was the person in the room with him when he left us.
Toward the end of his life, after his stroke, there were so many doctors appointments and hospital stays. He hated being dependent, and he longed for the day that he could drive himself to McDonald's just to get a hamburger. Those of us closest to him heard the sorrow. But doctors, nurses, hospital staff, anybody else who ever came in contact with him was treated like a long lost best friend. "Thank you, kind sir" was often heard coming from his lips. He treated everybody with dignity and respect. He was just a good man.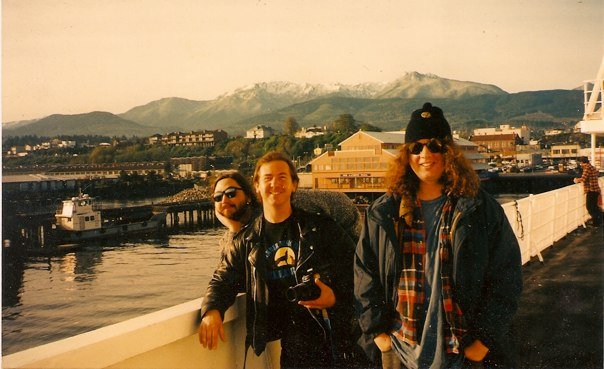 Dave Schools
When I first met Wes Delk I was working the door at The Uptown Lounge and he was one of a small cadre of house soundmen who rotated in and out, night after night, oftentimes merely babysitting the house sound system while the band's own soundman ran the mix.
It was in these babysitting times and the long hours between soundcheck and doors that Wes and I became friends. The man had a warm and friendly nature that some might call charming. I would call it absolutely necessary in our line of work as we often had to deal with stressed out national touring acts who had no idea what they were getting into on a nightly basis. Meeting a friendly face upon arrival seemed to calm them down, and then once they heard the monitor mix Wes would dial in for them onstage, they knew everything was going to be alright and it would be a great gig for one and all.
Other than the charming nature Wes possessed he also had a razor sharp sense of humor as many of us do. One could compare it to the way that surgeons use dark humor to lighten up the mood in the operating theater. The jokes were constantly flowing, and it was from Wes that I learned some of my favorites. I still use them to this day: "Q: What do you call a bass player with a pager? A: An optimist."
But perhaps more importantly than all the warmth and humor was the fact that the man could really mix sound. From the loudest most inexperienced groups in the Uptown to household name touring acts at the Georgia Theater, Wes made them sound great. He created sonic soundscapes that had dimension, dynamics and spaciousness. The drums always sounded beautiful and punchy, vocals were always natural and the lyrics intelligible. It was this skill set that eventually landed Wes the front of house mix engineer role with Widespread Panic.
Wes brought the same warmth and charm to the tour bus. The jokes… oh boy, I sure as hell can't repeat them in print. Most importantly the mixes he pulled out of our incredibly loud and ponderous band, often in terrible sounding college basketball arenas and gyms were fantastic. It was during Wes's tenure with Widespread Panic that the audience taping scene grew by leaps and bounds—much to the chagrin of our label Capricorn Record—thanks to his great mixes.
We had a good run with Wes on the road. We loved him and the fans loved him too… often posting pictures of him with his own circle of fans on early Panic internet bulletin boards and fan broadsheets. We were sad to see him go after a few years, but the show must go on.
When I heard he was working with The Melting Point venue, I knew it would sound great there. When I heard he was working with Dawes, I knew that they too would reap the audio benefits he would bring them through his experience. I am sure they learned a lot about rendering their craft and maintaining a life on the road just as Widespread Panic learned from Wes.
Athens is a small town where everyone knows each other, and it is no different on the road. People like Wes Delk are few and far between and affect so many of us in a positive way that I know I am not alone in the sadness of missing his warmth and humor. He was truly a sweet man and he was a giant at the mixing console. Godspeed Wes… I hope you are mixing the house band in God's Bar where so many of our lost friends continue to perform.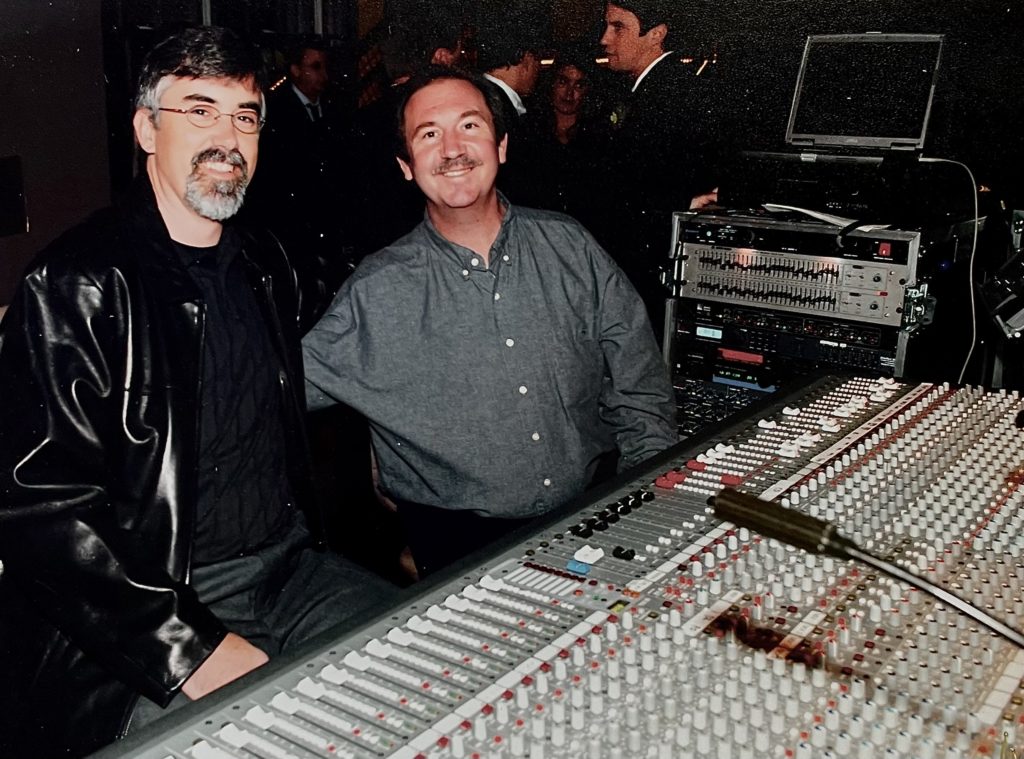 Horace Moore
My favorite picture in my music room is not of a traditional musician, but of Wes Delk, a soundboard musician. Over his lifetime, Wes took a mountain of raw sound from so many musical genres and through his sound engineering wizardry, touched so many lives with what I'll just describe as his genuineness… in his craft and with people.
From the beginning, I watched as Wes brought it all to the table. Not expecting him to be the model corporate employee, I always enjoyed watching Wes test the limits of the company fences. Everyone soon learned that Wes made his own fences and moved them back and forth accordingly. Before the Georgia Theatre even had a stage, Wes was selecting and setting up the sound system and dealing with so many changes from the owner it boggles the mind. Then, upon opening, he was dealing with veterans, up-and-comers and even local youngsters finding their way. I watched as dozens of acts came through and, with each one, Wes was there to greet them and attend to their unique needs with his sincere Southern hospitality. Whether he knew them from his past or not, Wes always knew how to get the show on the stage without stepping on toes even though he often was.
One certain night comes to mind… the band, a veteran one, missed their late afternoon sound check as they decided to have some extracurricular fun in the green room instead. Wes was his usual calm self. I wasn't usually calm, but took his lead this time and just observed. The band did make it to the stage at showtime, but, of course, the sound wasn't dialed in until the first set was almost over. The band's spokesperson immediately made his way over to the soundboard after the last note… and with just the bare minimum of respect, asked Wes what the hell that first set was all about; that it sounded like shit. Never missing a beat, Wes calmly said, "That, sir, was your soundcheck that you decided not to attend earlier this afternoon. The second set should sound fantastic. Now, you have yourself a great set break." There was a certain directness in his eye, a slight tilt of his head and a big grin that just didn't seem to match the real message being conveyed. The rest of the night ended up going great and later on, Wes got a well-deserved, heartfelt apology. I watched how he took a tough situation and handled it with a certain sort of grace that you just don't come across very often in the music business. That was Wes.
Whenever we were together, we were always trading stories about music, family and food. All the way through every topic. Interruptions were made only to cement the details and felt more like a dovetail exchange of stories and ideas. Tangents were welcomed. I think similar experiences were commonplace for Wes' friends. Wes' only intention was to know you better so he could love you more. That was certainly the way he made me feel. Over the years Wes' body grew weary and his steps shorter, but his bright spirit was always there… behind that devilish grin and that raised eyebrow, the sparkle in his eye said it all. That look is captured forever in my favorite picture in my music room.
Thank you, Wes. You made this world a better place and made your friends better people. Rest easy, sir.
Colm O'Reilly
My wife Christy has known Wes since she was a little girl. After years of touring, we moved to Athens 24 years ago, and Wes and I became fast friends. We helped start the local stagehands union and did so many shows together.
Wes was a mentor and friend to so many. His calm demeanor and wise yet funny comments kept everyone in good spirits. His stories were unmatched. His breadth of experience came through in those stories and the way he could mix a show. The first time I saw Dawes at the Melting Point it was magical and they knew they had found their guy.
Wes, thank you for all you taught me. I will always treasure our times together. Wish I could hug you on the neck now buddy. Love you always, brother.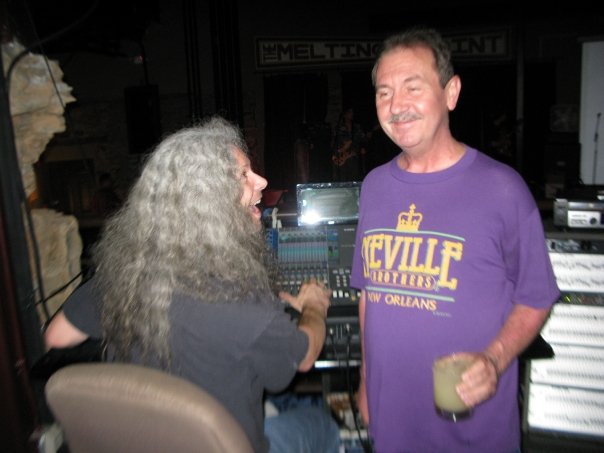 Kevin Sweeney
I met Wes in the fall of 1987, very soon after I arrived in Athens. He was running sound at the Uptown Lounge, and he noticed me checking out the console. He motioned me over and asked, "Do you want to see a trick to running sound?" I said, "Of course" and he pulled off his headphones to reveal Walkman headphones underneath.
I always liked running into Wes, but we became much better friends years later, when he and Horace Moore hired me to run sound at the Melting Point. It was there that I actually learned his real "tricks" and got to know him well. He was always very helpful as a mentor, not just to me but also to every younger person he met.
Tom Ryan
I was playing with a local country band when I met Wes in 1983. He was working with David Allan Coe and we were the opening band at the Armadillo Palace. When it was our turn to check, Wes began helping us get set up. He took such care and made us feel important. He did his job very well regardless of the status of the act on stage.
I would work with him at various times over the years. We'd run into each other in the oddest places around the country. One time, I was playing with and tour managing country artist Daron Norwood in the mid-'90s and we had been on the road for a bit before arriving in Fort Payne for Alabama's June Jam.
I started loading onto the stage, nervous about the sound situation when I then heard, "Tom?" I turned around, and there was Wes. After big hugs, I relaxed. Wes had us.
Locally, we all got to work with Wes when he was off the road. As a musician, the relief you feel knowing that an engineer sounds great is immense.
Wes worked for some of the biggest touring acts in the country. But whether you had a stack of platinum records or were playing one of your first shows, Wes would treat you like you were important. If you showed respect to him, he would magnify it back to you.
Laughing, he would occasionally remind me of this saying he got from Waylon Jennings: "This is no dress rehearsal, we are professionals, and this is the big time."
Matt Recchia
Song: "The Ways Of The World" Waylon Jennings
Wes changed the course of my life on May 1st, 2009 when he invited me to be a stagehand at the Melting Point for a Chuck Leavell and Randall Bramblett Band concert. At the time I was putting up posters around town for the venue, but as Wes said, "You don't wanna do that." Over the next few years, I spent almost every day I could at the venue with Wes (and Kevin Sweeney) learning how to become a sound engineer. Later, I found myself on the road, visiting the same venues and experiencing the stories Wes would tell me about while we would spend time together.
Whenever I find myself in a hard predicament regarding sound, I often remember the basics that Wes taught me that continue to ring true: "Keep it simple, stupid" or "It's nothing a SM57 or 58 can't fix." And always remember to be "one of the good guys."
You could write a book with the knowledge Wes passed along to all the engineers who were lucky enough to work with him. Whenever a console turns on in Athens, that engineer should be thanking Wes for helping to create a scene where we are able to do what we love for a living. And remember: this is no dress rehearsal; we are professionals, and this is the big time.
Corey Fields
I started mixing sound right around the time Wes retired, and as a young hack sound tech given a chance to learn on the job, many people were coming up to me asking if I knew Wes Delk. He became kind of a legend to me during that time, and I couldn't get around a console anywhere without his name coming up. I looked up to him long before I met the "local legend." I know he would roll his eyes and scoff at me for calling him that, even though we all know it was a well-earned title.
The phrase "don't meet your heroes," is almost always true, but in this case, the hero of our local sound-person ecosystem was the sweetest and most down to earth guy you could ever hope to meet. He had golden ears and a razor sharp wit, and was funnier than hell—all very valuable currency at a console and in life. We became close quickly and would talk often. I would frequently bend his ear for advice on sound related things and just life in general, always excited to get a good story off him or when he'd lay one of his many "tricks" on me for me to use at the board that night.
Nobody, and I mean nobody, had better rock and roll road stories. Thanks for everything, maestro.
Noel Ford
I met Wes at the Savannah Music Festival some years back. We hit it off particularly well when we discovered we both knew Kevin Sweeney. Wes was just one of those guys whom I felt like I had known forever, as soon as I met him. I was very impressed that he had worked for David Allen Coe and Waylon Jennings.
Wes and I kept in touch and a couple of years ago I bought a mic from him. He gave me a great price and went out of his way to ship it to me in New York. I use that mic a lot and think fondly of Wes every time I do. Not many like him left.
Like what you just read? Support Flagpole by making a donation today. Every dollar you give helps fund our ongoing mission to provide Athens with quality, independent journalism.