Rooted in a rich musical legacy, Athens retains its distinctive sense of place, in part through an active nightlife and a community of diverse performers. Whether you're new to town or just in need of a refresher, here are some ways to get up to speed on the scene's past and present.
SURF THE WEB: Without a doubt, the three most loyal and dedicated archivists of the local music scene are Gregory Frederick, Sloan Simpson and Mike White. Frederick is seemingly always out and about at night, bouncing between shows to film for his Athens, GA Live Music channel on YouTube, which has now amassed thousands upon thousands of videos. He often checks out bands he hasn't seen before, making his channel one of the best ways to find new bands just as they debut. Simpson has spent the past two decades capturing live concerts through audio recordings that can be heard at southernshelter.com. White has been around for almost as long with camera in hand, and his photographic albums can be flipped through at deadlydesigns.com.
While their respective archives are overwhelmingly vast, these chroniclers provide limitless opportunities to find what moves you. These three wizards serve as the eyes and ears of Athens, and journeying through their archives feels like some sort of quest into our collective memory.
Additionally, in the abysmal absence of live shows last year, several organizers stepped up to produce high-quality virtual series on YouTube that now serve as entertaining introductions to the current scene. Check out Nuçi's Space's Satellite Series (Convict Julie, Elijah Johnson, Ihlyatt, CannonandtheBoxes, Weaponized Flesh); Eli Saragoussi's Cry Baby Lounge (Avery Leigh's Night Palace, O Key, Annie Leeth, Nicholas Mallis, WesdaRuler and Louie Larceny); and Flicker Theatre & Bar's Flicker Deadstream (Cicada Rhythm, Seth Martin and the Dish Boys, The Pink Stones, Immaterial Possession, T. Hardy Morris).
GRAB THE POPCORN: Long considered essential viewing since its release in 1987, Athens, GA: Inside/Out documents how an offbeat college town made its mark on the national map. See how this musical mecca happened, through interviews and concert footage of seminal groups like R.E.M., The B-52's, Flat Duo Jets, Love Tractor, Pylon, Kilkenny Cats and Bar-B-Q Killers. Three decades later, and after three years of filming, original filmmaker Bill Cody plans soon to release Athens, GA: 30 Years On, a follow up that investigates not only the scene's endurance but its local activism and political shift from red to blue.
Like most college towns, Athens is a fairly transient place, where the majority of students spend only a few years here to grab their degrees before relocating for career opportunities. The upside is that this churn maintains a constant influx of new talent, with social circles coalescing into truly spectacular mixes every so often. Thomas Bauer's 2020 documentary Athens, GA: Over/Under focuses on the DIY scene of the past decade.
Local filmmaker James Preston has released two Athens Rising films that exist as time capsules of the music, art, food, performance and comedy that have made Athens feel unique. The first, The Sicyon Project, is a deep dive into the grassroots infrastructure, with vignettes including The Pity Party, Volumes Hip Hop, AthFest and engineer Jesse Mangum of the Glow Recording Studio. The second installment, Transmittance, shifts to community-oriented organizations like Nuçi's Space, ATHICA and The Wild Rumpus.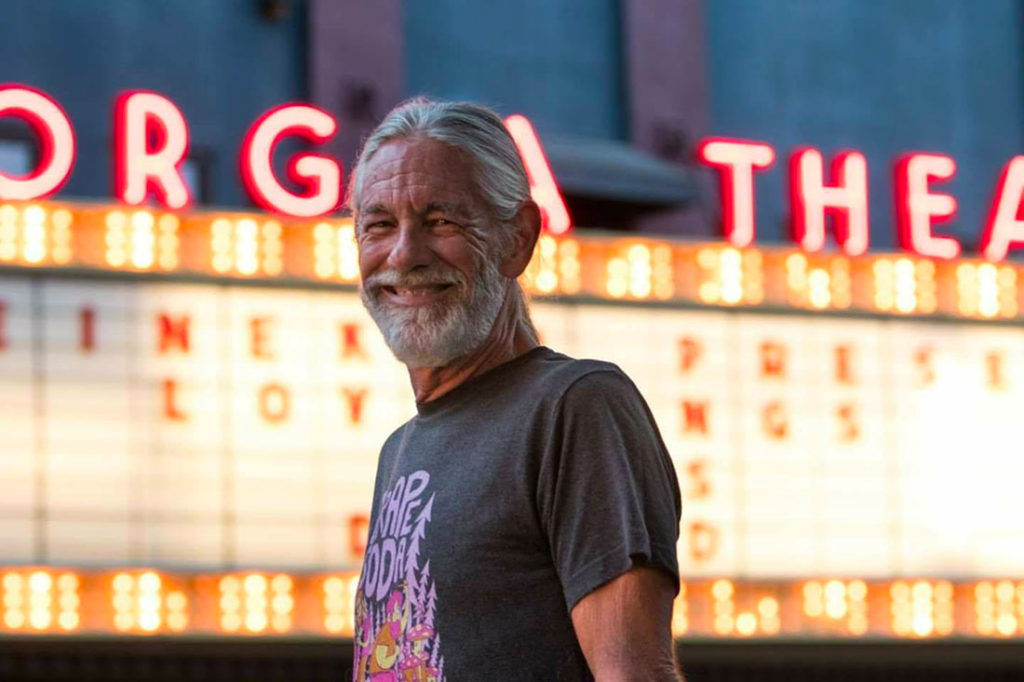 READ UP: For a thorough investigation into how the early college rock days gained momentum, cozy up with Grace Elizabeth Hale's 2020 book, Cool Town: How Athens, Georgia, Launched Alternative Music and Changed American Culture. This in-depth perspective blends personal recollection with historical research to pinpoint the bands, visual artists and characters who helped pave the way for what the scene is today. Cool Town is predated by Rodger Lyle Brown's 1991 cult classic, Party Out of Bounds: The B-52's, R.E.M., and the Kids who Rocked Athens, Georgia, which explores the underground through anecdotes, stories and photographs. Spread heads in particular should also take note of Widespread Panic in the Streets of Athens, Georgia by Gordon Lamb, Flagpole's "Threats and Promises" columnist, who documents the legendary day 100,000 fans packed downtown for an open-air record-release show in 1998. 
WALK THE WALK: The Historic Athens Welcome Center offers a comprehensive Walking Tour of Athens Music History that visits various venue properties, legendary house show hot spots and other sites of interest. This is one of the most efficient ways to prepare for when scene elders inevitably start talking about "back in the day." Currently, the program is offered as a self-guided tour at athenswelcomecenter.com/musichistory.
Launched in fall of 2020 by the Athens Cultural Affairs Commission and the Athens Downtown Development Authority, the Athens Music Walk of Fame is a series of guitar-pick-shaped plaques embedded in downtown sidewalks to honor influential artists and educate visitors about the town's music heritage. Located in a two-square-block area bounded by Pulaski, West Washington, North Lumpkin and West Clayton streets, the walk is accompanied by a mobile app that provides supplementary sights and sounds at each plaque. Visit athensculturalaffairs.org for a map.
TUNE IN: WUOG 90.5 FM is a non-commercial alternative college radio station run by volunteer deejays, many of whom share their niche interests through curated specialty shows (think '60s garage, '80s hardcore, ASMR, Dungeons & Dragons). In addition to new releases by indie artists, the station broadcasts local releases and live performances. Georgia Public Broadcasting public radio station WUGA 91.7 FM and 94.5 FM also incorporates local acts during "Athens 441," "New South Showcase" and "Sound of Athens."
If podcasts are more your speed, get started with the Athens Regional Library System's "Classic City Vibes" (Sacred Bull, Echo Bass Records, Kxng Blanco, Vision Video); Kindercore Record's "Load In/Load Out" (Boo Hag, Jay Gonzalez, David Barbe, Linqua Franqa); and musician Jameson Tank's "The Jameson on the Rocks" (Sarah Mootz, Hotel Fiction, Aspen Anonda, Common Currents).
Tune in. Enjoy!
Like what you just read? Support Flagpole by making a donation today. Every dollar you give helps fund our ongoing mission to provide Athens with quality, independent journalism.