On Apr. 25, Alyssa DeHayes was supposed to host a party at Flicker Theatre & Bar. Arrowhawk Records, the independent label that she owns and operates from an office near Athens' Boulevard neighborhood, turned seven years old in April, and a stack of new LPs, cassettes, T-shirts and stickers are in the queue.
From the blend of psychedelic punk-country melodies of Arbor Labor Union's New Petal Instants and Portland, OR songwriter Jeffrey Silverstein's You Become The Mountain, to the outsider snarl and jangle of Nana Grizol's South Somewhere Else (out June 19 via Arrowhawk/Don Giovanni), DeHayes had laid down all of the groundwork for the label to have a banner year.
But as Georgians began self-quarantining to slow the spread of the COVID-19 outbreak, weeks before Gov. Brian Kemp declared a statewide shelter-in-place order, it was clear the anniversary party was off.
For DeHayes, however, the show must go on. Orders for Arrowhawk Records releases are still coming in every day, and singles such as Shana Falana's "Everyone Is Gonna Be Okay" are still rolling out online. There is social media content to push, and packages to be mailed out.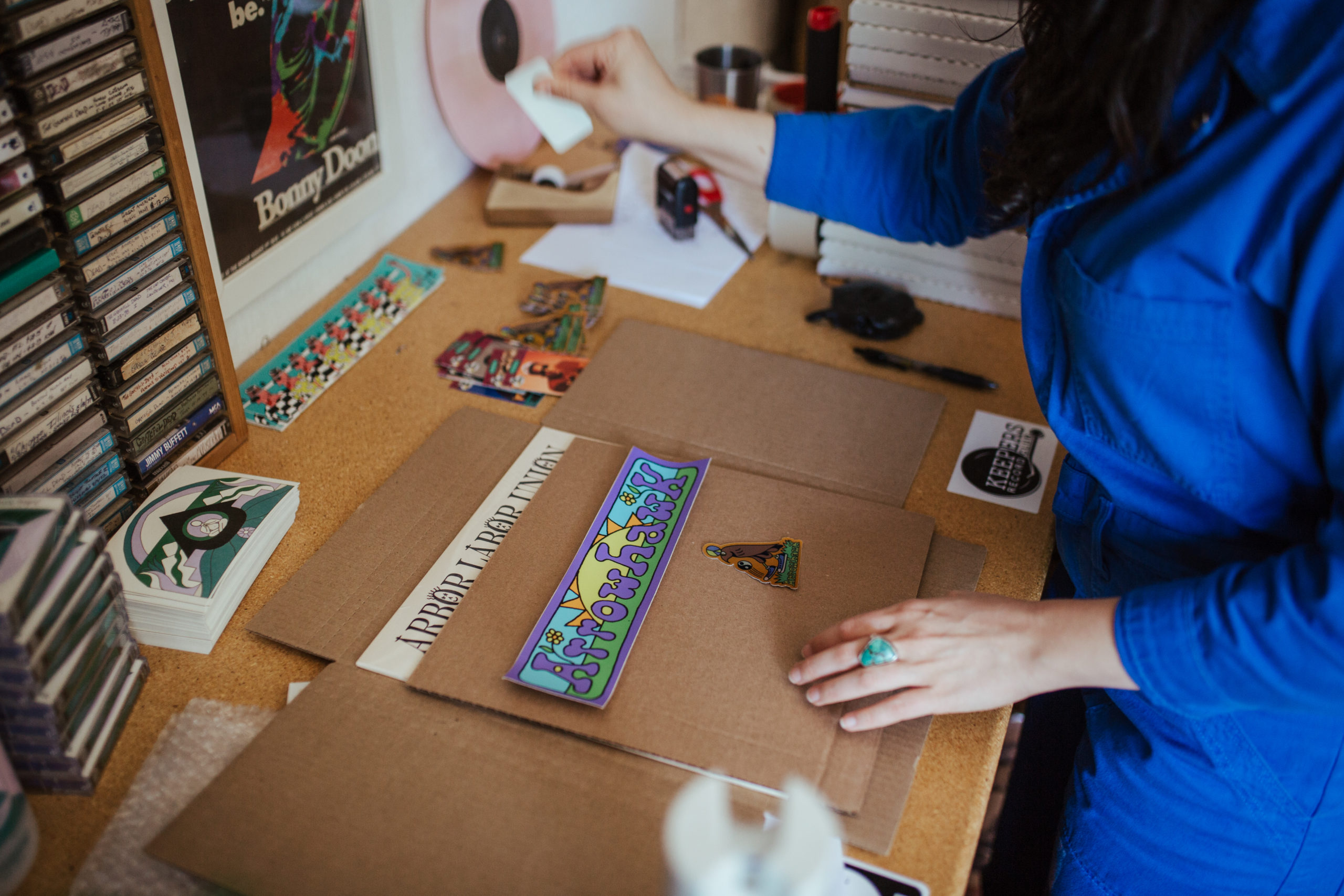 Photo Credit: Kristin Karch
With her hands-on network of part-time staffers and interns staying home as a social distancing measure, DeHayes is working harder than ever. With her tan and white fox-tailed dog Greta to keep her company, Arrowhawk is pressing forward as a one-woman operation, innovating the process one step at a time—and as quickly as possible.
"Handling orders is very different now," she says. "Normally I have interns or part-timers who help pick and pack. Right now our shipping time is delayed, since, for everyone's safety, I'm handling all packing alone at the office at night, on weekends, anytime I can fit in some packing sessions with a mask and gloves and constant hand washing. When I have a small stack, I schedule a touchless USPS pickup rather than going to the post office and putting postal workers at risk," she adds. "I have also been trying to put as many fun extras (stickers, postcards, etc.) into packages as I can, to make up for the wait, and because I think folks could use a shipment that feels a bit like a present to unwrap right now."
DeHayes grew up on the outskirts of Atlanta and moved to Athens in 2005, where she earned a bachelor's degree in public relations at the University of Georgia. She founded Arrowhawk Records in 2013 with the arrival of Bambara's Dreamviolence LP. Since then, the label's catalog has garnered international distribution for releases by Georgia-based acts such as Cinemechanica, Shepherds and Arbor Labor Union, along with Nashville/Los Angeles-based actor and songwriter Chris Crofton, Detroit power pop trio Deadbeat Beat and more.
Each release in the label's catalog defies a singular musical aesthetic. "I'm friends with everyone first," DeHayes says. "As far as a sound goes, it's kind of all over the place—I don't know that I could pin it down, but I know it when I hear it."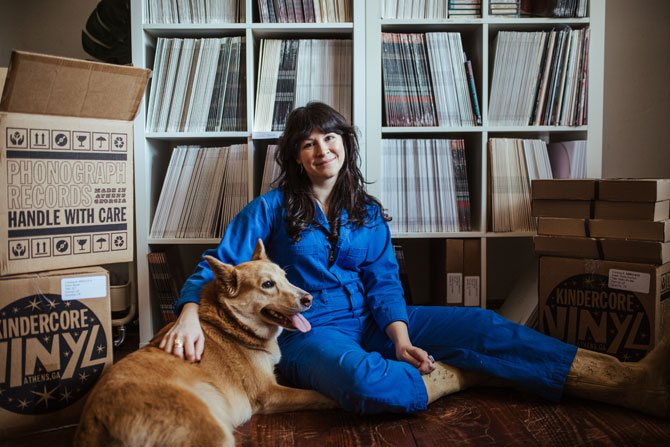 Photo Credit: Kristin Karch
Since founding the label, DeHayes has also settled into roles as a partner and national publicist with Riot Act Media, working on national campaigns for various touring independent artists and record labels such as New West, Captured Tracks, Polyvinyl and Mexican Summer.
In 2015, she also began working as an adjunct professor teaching Publicity and Promotion for Music through UGA's business school. Soon, she will be taking a break to focus on other endeavors as Andrew Rieger of Elf Power teaches the class.
More recently, in 2019, DeHayes took yet another job handling social media marketing for Smithsonian Folkways in Washington, D.C. Each week, she manages Smithsonian Folkways' social media accounts and social marketing. She gets to sift through the historic nonprofit label's digital archives and share older recordings that resonate with newer releases.
DeHayes' ability to manage so many endeavors underscores her profile as a nimble, self-made entrepreneur. It's a skill and a mindset that she has developed since childhood.
"I was an only child, and there weren't many kids on my street," she says. "I spent a lot of time in my room tinkering with projects. I see that come out when I'm at the office packing orders, looking at designs and quantities, adding data into a spreadsheet."
As the label grows, DeHayes keeps most of her business affairs planted firmly within Georgia's creative industry. Arbor Labor Union's singer and guitar player Bo Orr handles most of the design work with Brooklynite Bailey Elder. Vinyl LPs are pressed at Kindercore Records, and all of Arrowhawk's merch is printed at RubySue Graphics, including a Nalgene bottle branded with artwork from Jeffrey Silverstein's You Become The Mountain.
As the pandemic became a reality, Silverstein had to cancel a tour supporting the new release. Shana Falana's first SXSW was canceled, and much of the advance work for Nana Grizol's new album has been disrupted, but the plan is to move forward. In April, Nana Grizol released a video for "Future Version" from South Somewhere Else, in hopes that the world will be moving again by June.
For DeHayes, the seven-year anniversary party will happen later, although it's too soon to say when. In the meantime, her mission is to keep music flowing out to the people who want it and need it most. "We're doing an indie record store exclusive of colored vinyl with the Nana Grizol LP," DeHayes says. "That's something we do with most releases, but it feels more important now to offer something to independent shops that big box retailers won't have. Everyone is pointing to the Spanish flu as our historical model, but that was not in most peoples' lifetimes," she adds. "We're all trying to logistically navigate a situation that is unprecedented in our lifetimes."
Like what you just read? Support Flagpole by making a donation today. Every dollar you give helps fund our ongoing mission to provide Athens with quality, independent journalism.