As we continue to cruise into the new year, there's lots of Athens music either already out or in the works, including albums from heavyweights like Drive-By Truckers and of Montreal. With an eye on the little guy, here are 10 lower profile records slated to drop in 2020 that we can't wait to hear. As always, stay current on local music news and gossip by poring over Gordon Lamb's weekly Threats and Promises column.
Various Artists: Classic City Wax, Vol. 1
Funded by a grant from the Athens Cultural Affairs Commission, mastered by engineer Jesse Mangum and pressed at Kindercore Vinyl, this locals-only vinyl compilation will showcase Athens hip hop in its current, culturally essential moment. Featuring 12 tracks from reliable heads like Ishues, Linqua Franqa, Squalle and Cassie Chantel, plus fast risers like Kxng Blanco, LB, Motorhead 2x and The YOD, the LP drops Feb. 4 and will be celebrated with a show at the Caledonia Lounge Feb. 22.
Wieuca: Untitled Project
After a series of singles, the chameleonic indie boiz return this spring with a proper follow-up to 2018's Local Celebrity EP, which found the band moving in a tripped-out electronic direction. Look for the new record, tracked at Chase Park Transduction with Drew Vandenberg, to be "more polished" than the group's previous releases, says member Will Ingram, adding that it "features our glitchy psychedelia blended with punk, trip hop and dark pop."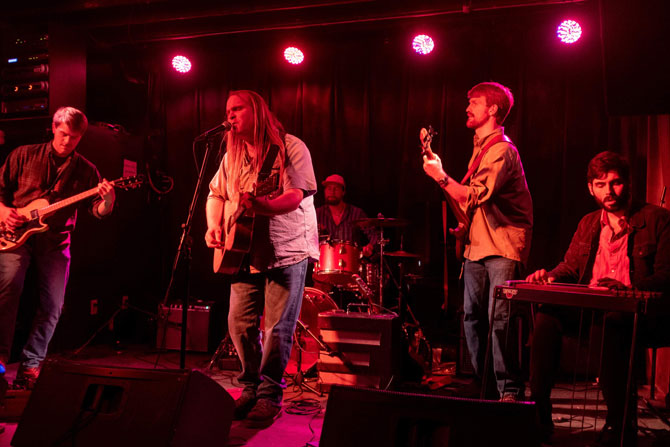 Photo Credit: Sloan Simpson
Georgia Dish Boys: Suitcase of Life
The hardest-working band in Athens plans to record its fifth (!) full-length in February at Chase Park, with Henry Barbe at the helm. The trusty twangsters will release Suitcase of Life in May or June, with yet another national tour to follow. "Terry Allen's art and music has been a big influence on putting [the] tracklist together," says singer and guitarist Seth Martin, adding, "The album will have scenes and songs."
Tears for the Dying: Untitled Project
Local goth lovers will rejoice, darkly, when long-running doomsayers Tears for the Dying release "a six-song mini-album" in February. Recorded at Winterville's SubVon Studio with producer Tom Ashton—a member of influential UK post-punk act The March Violets—expect the record to center on band leader Adria Stembridge's shadowy vocals and buzzsaw guitar incantations.
Vision Video: Vision Video
Named for the sadly defunct local chain of movie rental stores, goth-pop foursome Vision Video has established its live bona fides over the past year and will drop a debut LP in early spring. Also recorded with Ashton, the album "draws heavily from my experience during and coming home from the war in Afghanistan and feeling extremely out of place," says guitarist Dusty Gannon, adding, "It's about collapsing relationships in the context of finding meaning in a post-war reality."
The Welfare Liners: Untitled Project
Featuring members of Six String Drag, The Lures and other bygone faves, bluegrass collective The Welfare Liners formed in 2010 and have remained among the city's most consistent providers of unassuming yet expertly played Americana. The band's upcoming record, due out "sometime in 2020," according to member Rob Keller, will be just its third, after 2012's High on a Hilltop and 2015's Just Stars for Light.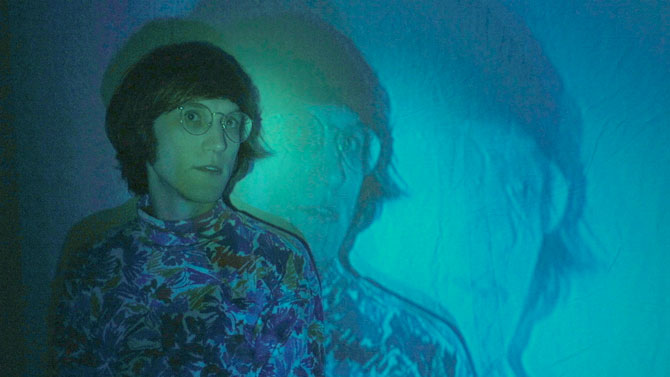 Nicholas Mallis: The Final Station

Athens indie-pop songsmith Mallis will unveil his latest collection of tuneful nuggets in May courtesy of local label Laser Brains. Featuring eight songs that touch on glam, power pop, synthpop and more, The Final Station was tracked at Mallis' home studio and mastered by Mangum at The Glow Recording Studio. Fans of mid-'70s Bowie and Eno will find much to enjoy.
Grayson Hauser: Untitled Project
Hauser's got guitar chops for days, and dude will strut his stuff with a new full-length, slated to come out in late spring or early summer. The successor to last year's The Blues of a Distant Earth will be a more polished effort, says Hauser. "My last album was a much [more] stripped-down affair, since we only had four days to record and mix/master it," he says. Demos like "No Escape" hint at a raucous, Stooges-inspired sound.
The Searchin' Destroyers: The Misery Hang
This local rock supergroup has melted faces at local clubs since 2018 but has yet to release a studio album. That'll thankfully change this year with a record tentatively titled The Misery Hang, which bursts at the seams with "12 tracks of psychedelic garage pop punk spaghetti surf rock," according to band member Patrick Finn.
Andrew Steck: Untitled Project
Steck has put in serious work for the Classic City scene over the years, as a member of Col. Knowledge and the Lickity-Splits, Liberator, Los Meesfits and other groups of various renown. His current project finds him creating original orchestral compositions using virtual sound libraries. If recent tracks like the Dolly Parton reimagination "Jolene Rides West" are any indication, his debut solo LP will be a symphonic stunner.
Like what you just read? Support Flagpole by making a donation today. Every dollar you give helps fund our ongoing mission to provide Athens with quality, independent journalism.