Editor's note: Athens rock stalwart Elf Power toured Europe last month in support of its most recent album, last year's sharp, psychedelic Twitching in Time. In advance of the band's performance at Athens Popfest, which happens this week, Aug. 8–11, we invited frontman Andrew Rieger to share some reflections from the road. Check the music section for lots more Popfest preview coverage.
We had a wonderful, frenzied, exhausting European tour playing a bunch of cool festivals, club shows and even a Croatian sports arena! Here are some of the highlights:
July 5–6: Egersund Festival—Egersund, Norway
It took us around 35 hours to make it from Atlanta to Egersund, thanks to multiple flights, layovers and a lengthy delay due to a freak thunderstorm that caused the power to go out at the Toronto airport, delaying our flight by several hours.
The festival was amazing, with an enthusiastic crowd reviving our weary bodies enough to play a great set. Right before our set, we were treated to a sublimely wonderful performance by Jonny, a band featuring Norman Blake of Teenage Fanclub and Euros Childs of Gorky's Zygotic Mynci—two of my favorite songwriters! The afterparty, in a beautiful old barn on top of a hill, had some of the best fresh salmon and crab legs (not to mention great wine and beer) I've ever tasted!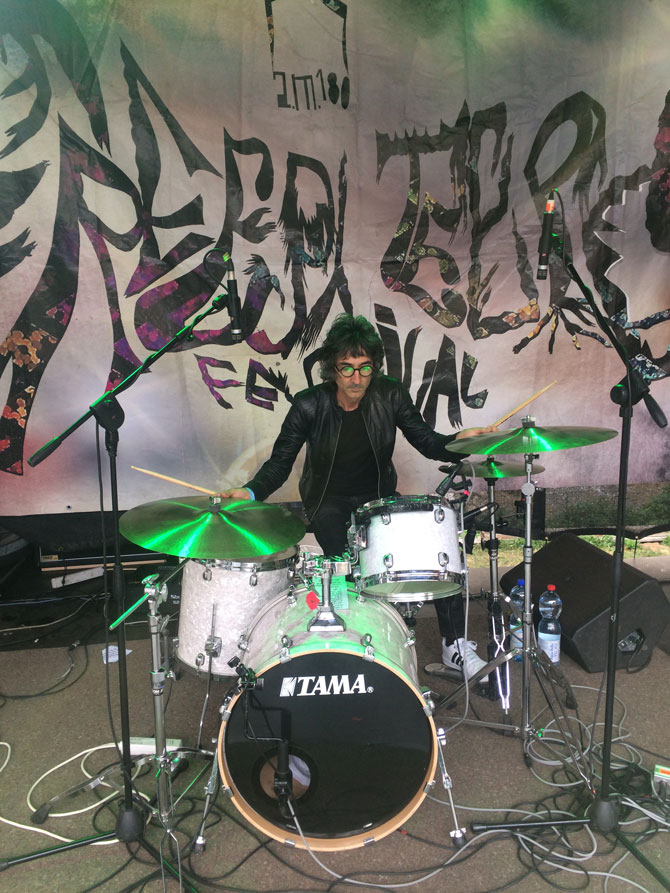 July 7–8: Creepy Teepee Festival—Kutna Hora, Czech Republic
After some much-needed rest, we headed to a local recording studio in Egersund where Teenage Fanclub's Blake was producing an album by the great Norwegian band I Was a King, and we overdubbed some handclaps alongside Half Japanese's Jad Fair. Definitely an unexpected turn of events!
After another exhausting handful of flights to Oslo, Copenhagen and Berlin, we met up with our driver/tour manager Tony, who drove us to another crazy festival called Creepy Teepee, in the beautiful Czech village of Kutna Hora, just outside of Prague. Another great set on a beautiful outdoor stage in an ancient schoolyard. We were impressed with performances by Faka, a queer African electronic duo whose darkly sinister sounding music was new to me, and Calvin Johnson's Selector Dub Narcotic, who both put on great shows.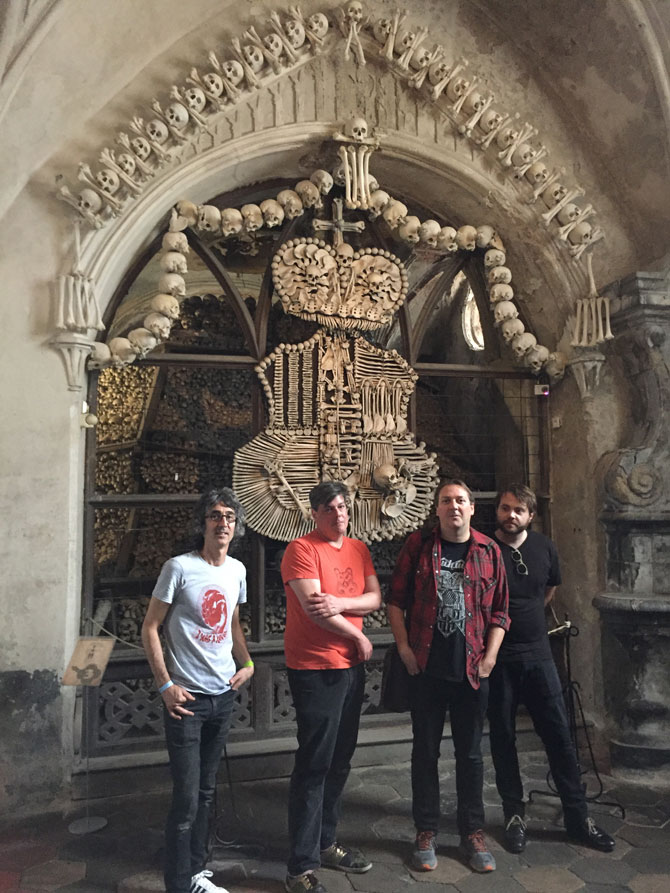 July 9: Das Bach—Vienna, Austria
After a nice breakfast and coffee and conversation with Calvin Johnson at the hotel, we made our way to the infamous Sedlec Ossuary, or "Bone Chapel," a 13th Century chapel in Kutna Hora decorated with artwork made from over 40,000 human bones, including elaborate bone chandeliers and pyramids. I've seen it described as "morbid" and "creepy," but I found it to be quite beautiful. I wouldn't mind having my bones incorporated into such a unique work of art.
We made it to Vienna for another awesome show in a small club with a great crowd and a delicious home-cooked meal of gnocchi, with copious glasses of Austria's tasty Grüner Veltliner wine.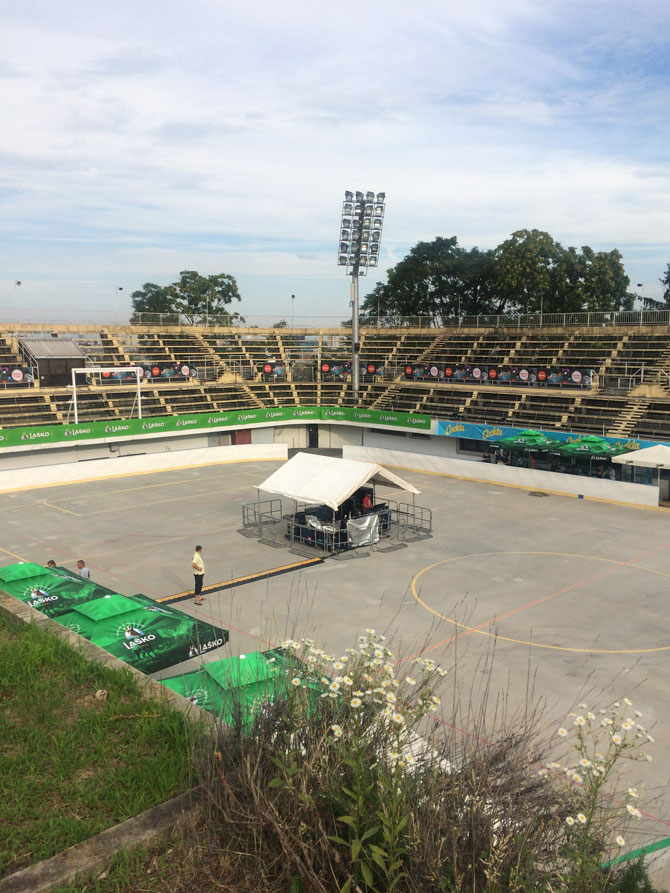 July 10: SRC Salata—Zagreb, Croatia
This was a particularly special show for me, as my dad and grandparents are from Zagreb, and this was my first time playing there. Additionally, it was in a large sports arena opening for American band The National in front of a packed, several-thousand-strong stadium crowd of rowdy Croatians who were pumped up from Croatia doing so well in the World Cup. (This was the day before Croatia's victory over England that led to their finals match against France.)
The show was amazing, and it felt really nice to connect with my Croatian roots and meet a lot of really friendly local folks who were very excited that we were there. It was also our guitarist Dave Wrathgabar's birthday, so we drank some celebratory shots of homemade Slivovitz, a strong local liquor that I was familiar with from stolen sips as a teenager from my dad and grandparents' stash!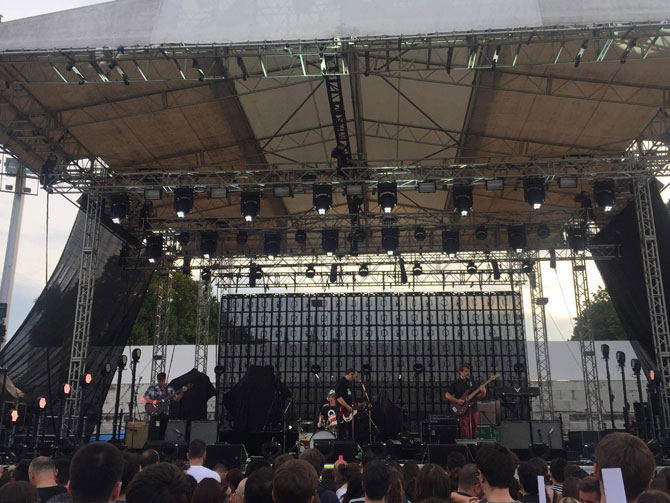 July 11–13: Travel/days off in Munich, Germany
We got a much-needed break with a few days off spent relaxing in Munich and exploring the local beer halls, churches and cathedrals, before making another long drive to Amsterdam.
July 14: Paradiso—Amsterdam, Netherlands
This was our third time playing at the world famous Paradiso, one of the best venues in Europe, open since the late 1960s. Another great show with some friends in attendance, with whom we strolled around the city's lovely canals after the show.
July 15: Hafen 2—Offenbach, Germany
We got up early, as we had to go back to the Paradiso to load up our gear from the night before. As we were finishing loading up, Americana legend Steve Earle unexpectedly walked up, and we had a lengthy chat with him. His bus had just arrived at the venue for his show after driving through the night. I reminded him of the time we ran into each other at the Rock and Roll Hall of Fame 15 years ago, after which he invited us to his show in Cleveland and we hung out together on his bus. Strange to run into him randomly again across the globe all these years later!
Another really cool and unique show in Offenbach, just outside of Frankfurt, at an outdoor community arts space with sheep wandering around, a restaurant and a cinema where people were watching the World Cup final. Once again, we had a great show and unwound afterwards with some friends, drinking delicious apple wine.
After the game, Trump's interview in which he proclaimed the EU to be "one of America's biggest foes" came on the TV and was a hot topic of conversation—much to our horror and chagrin! Everyone to whom I spoke in all parts of Europe considered Trump to be a dangerously inept buffoon, and they were truly incredulous that he was elected and continues to have supporters in America.
After the political discussion died down, we got some sleep in the cozy band trailer on the venue property and woke up at 6 a.m. to fly home. It was a great tour, worth all of the exhaustion and hectic travel required to make it happen.
Like what you just read? Support Flagpole by making a donation today. Every dollar you give helps fund our ongoing mission to provide Athens with quality, independent journalism.