Editor's Note: Athens-based hard rockers Lullwater recently spent two weeks on the road, playing a few dates in support of alt-rock mainstay Candlebox as part of that band's 25th anniversary acoustic tour, then finishing with a stint opening for electro-rockers Powerman 5000. Frontman John Strickland chronicled the trip—which was cut unexpectedly short—for Flagpole.
Apr. 12: Athens @ Caledonia Lounge
We had a pre-tour acoustic show at Caledonia with The Good Looks and Polar Waves. It was a great start to the tour and gave us an opportunity to debut our new acoustic set and sound.
Apr. 13: Atlanta @ City Winery
Atlanta, night one—the official acoustic tour with Candlebox. City Winery was amazing. Great hospitality, and the show was a hit. The beginning of the first Lullwater acoustic tour we've ever done. We had a two-hour wait until the bus arrived, so we all went to a speakeasy and had drinks. First night on the Prevost bus with Candlebox.
Apr. 14: Nashville, TN @ City Winery
The weather was muggy and rainy, but the show went well. After the show, we went out with the band and met a lot of interesting people. Hung out with Candlebox's business manager, Suzi Hyder, whom we love and admire. Craziness ensued, and I got left behind right before bus call. My Uber driver was flying to get to the bus before it left.
Apr. 15: Chicago @ City Winery
Freezing weather, and it was snowing. One of the best nights on the tour, musically and vibe-wise. Great crowd response, and also a very emotional moment watching Kevin Martin and Brian Quinn tell stories about Andy Wood and Chris Cornell. Great night after the show hanging out with everyone.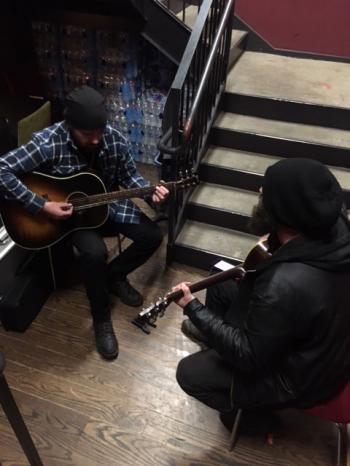 Apr. 16: Chicago @ City Winery
The night before was a better show overall, but we still had a good time. It was hard to beat Chi night one, but night two was special, because I celebrated the anniversary of Temple of the Dog with a performance of "Hunger Strike" alongside Kevin and Brian.
Apr. 17: Day off.
We had the bus to ourselves and acted like kids in a candy store. Went to a bar in Bowling Green, KY to reflect on the last couple days.
Apr. 18: Day off.
Back in Athens, we put the acoustics away and started getting ready for the next run with Powerman 5000. Dialed in our stage sound with our producer/engineer Justin Davis at Live Wire.
Apr. 19–23: Days off.
Rehearsals—and too much booze.
Apr. 24: Atlanta @ The Masquerade
First night of our tour with Powerman 5000. No more bus—back to reality in our van and trailer. Met the band and bonded the first night. Incredible people and super gracious. Catering was delicious. The show was gritty, and the crowd was intense. Saw a guy pound his head against a brick wall, so that's a first for us. Great crowd response, and people were high-energy the whole show.
Apr. 25: Greensboro, NC @ The Blind Tiger

Great show and amazing venue. Lighter crowd, but the room had amazing sound. Our drummer witnessed a woman throwing her boyfriend's belongings in a hotel courtyard and lighting it on fire. Unbelievable, but it happened. Hung out with some of our photographer and journalist friends until we had to leave.
Apr. 26: Wilmington, NC @ The Reel Cafe
Show from hell, but the most amazing seafood. Venue owner John was the coolest and most hospitable person on the tour. The room was small, but the energy was high. The Powerman guys had an intimate show, and Spider had the crowd in the palm of his hands. The crowd appreciated rock music, and we felt like even though it was small, it was genuine. Interesting load-out with weirdness beyond, but we made it out alive. Ray accidentally left Justin, our sound engineer, at a truck stop, so that was something. He then was initiated into Lullwater, because that's happened on previous tours.
Apr. 27: Baltimore @ Fish Head Cantina
Where do I begin? Extremely hungover. Worst traffic ever to get to the venue. Any band who's gone through D.C. knows how horrible it is. Great venue for rock and metal. Sound guy greeted us with remedies. Big crowds and many bands, so we had to throw and go for soundcheck, but it turned out great. We called the crowd Rowdy Roddy Piper, because damn, it got nutty. At one point, I witnessed the drunkest human being in my life running back and forth throughout the crowd. I would say one of the biggest shows on tour.
Apr. 28: Philadelphia @ Voltage Lounge
Best lunch and band tradition is to eat at Paesano's in Philly. Staff was super accommodating. The opener brought silly string, plastic balls and four gallons of KY Jelly for their show—a metal band who created mayhem before our set. If I got hit by one more ball before we even started playing, I was going to lose it. Thankfully, shit got cleaned up, and no lube was dispersed. The show was craziness with a rambunctious crowd. We hung out with Philly friends until well after the bars closed. Quinn from Candlebox, who lives in Philly, and I celebrated "Brotherly Love." I may or may not have lost my Paesano's in a Wawa parking lot… moving along.
Apr. 29: Clifton, NJ @ Dingbatz
Ridiculous traffic. Jersey is not fun for traffic. First hotel room and shower in seven days: much needed. Van cleaned and garbage removed. The venue knows how to take care of bands, and the staff was enjoyable. Our set was electric and full of emotion. We got the news that the rest of the tour was canceled due to a family emergency. That being said, we are now very close with PM5K and will be joining them on the road later this summer. We love those guys, and the whole run was incredible.
Touring bands know how close you get in this circus life. Lullwater has toured nationally and in Canada for many years, and one thing I can say is that it takes a certain type of personality to embrace the lifestyle. Between Candlebox and Powerman 5000, we have stories we can mention and stories we cannot. But all of it is what is makes it worth it. Until next time!
Like what you just read? Support Flagpole by making a donation today. Every dollar you give helps fund our ongoing mission to provide Athens with quality, independent journalism.