A few miles north of downtown Athens sits the two-story house that serves as headquarters for Orange Twin Records, the local label that has recently released albums by Mind Brains and Elf Power. Adjacent to the house is a small, thriving garden, a charming chicken coop and a sizable fenced-in area where four goats graze. Beyond that: more than 100 acres of largely untouched land.
It all comprises the Orange Twin Conservation Community, a "pedestrian-based eco-village" that has been in a state of constant evolution since it was established in 2001.
Just down a dirt road from the farmhouse is a natural amphitheater carved into the side of a grassy slope, which Orange Twin has used for infrequent concerts over the past decade. On Sunday, May 10, the village will host its biggest event to date, when resurfaced Athens megastars Neutral Milk Hotel perform.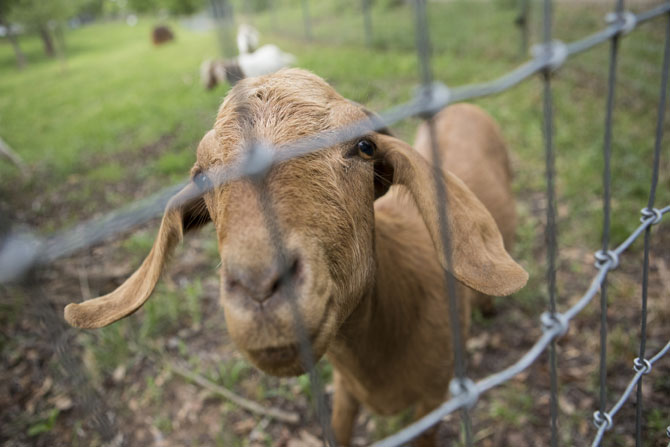 Photo Credit: Joshua L. Jones
Strolling down a wooded pathway, Laura Carter, the Elf Power multi-instrumentalist who is also Orange Twin's co-founder and one of five full-time residents (there are also two Airbnb rental units on the property, including one in an old Blue Bird bus) says the community's origin was something of an accident.
Then a resident at the Grady Avenue house that served as the birthplace for much of the music that would become Neutral Milk Hotel's landmark In the Aeroplane Over the Sea LP, Carter recalls dreaming in the mid-1990s of leaving intown Athens for a small piece of land where she and a group of friends could live communally.
"[Some] of us wanted kids, and we all agreed that all kids should be able to run around the forest," she explains. "We had all this criteria of what the land had to be: It had to have running water. It had to be in bikeable distance of downtown. It had to be less than a certain [price]. And there was no such piece of land."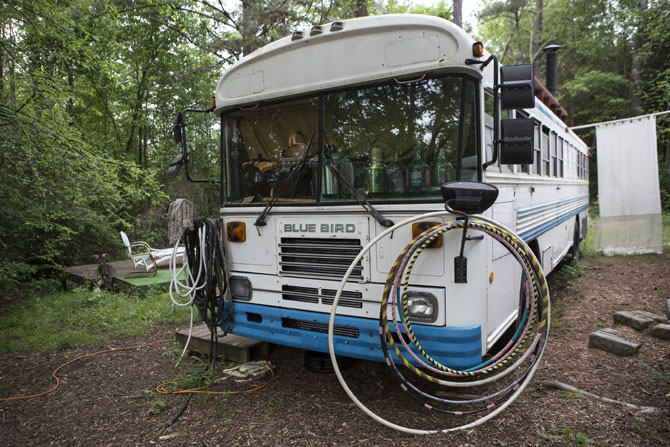 Photo Credit: Joshua L. Jones
Finally, in 2001, Carter spotted a promising real estate listing for a sprawling plot of uninhabited acreage—the area had once been home to a Girl Scouts camp—on the edge of town. Along with pals Laura Glenn and Barbara Denvir, she went exploring and found a wooded paradise. Though it was more land than they had bargained for, the three women fell in love with it.
Carter, Glenn and Denvir scrambled to find $1,000 to hold the property. "I wrote a check to the real estate agent knowing it was bad," Carter says with a smile. "And me and Laura and Barbara each ran and got 333 dollars and 33 cents to put in the account… By the time the closing happened, we had 10 people to invest, and a big loan."
Nearly 15 years later, Orange Twin has paid off a majority of that loan, thanks in part to the efforts of 23 shareholders, each of whom (theoretically, at least) plans to build on the land during the first phase of home construction, which will take place at some point in the near-to-nearish future, says Carter. "It's hard to sell shares when there's nothing here," she admits. "People can't build yet."
Even though Orange Twin's physical growth has been incremental—with road paving and CSA farming made possible by an ambitious water-reuse project among the projects the organization has on deck—it has become an Athens institution, thanks to the label's small but influential list of releases and the village's status as the city's most rarefied and idyllic concert venue.
Although (or perhaps because) Carter and company don't host shows very regularly, the handful of Orange Twin concerts to date have been highly memorable. There was Will Oldham's low-key 2004 performance, where, Carter recalls, the acclaimed singer-songwriter "played on a pile of dirt… I put straw and plants on it the night before."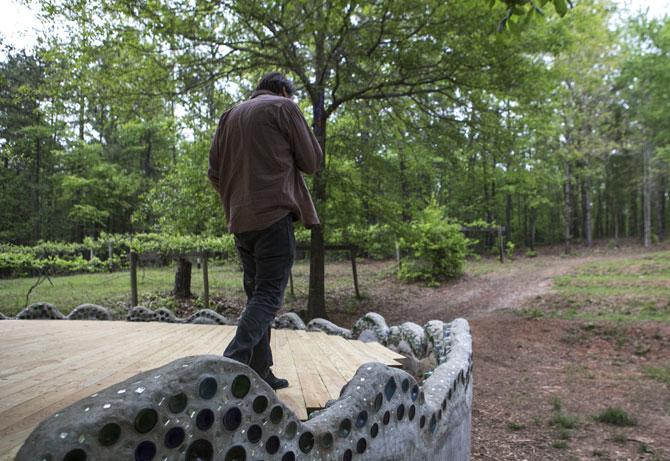 Photo Credit: Joshua L. Jones
In 2009, with a slightly more solid platform in place, the late Vic Chesnutt headlined a "fall festival" that also featured Elf Power, Nana Grizol and comedian Neil Hamburger. Reclusive composer Jandek's 2012 show at Orange Twin had Athens abuzz for months and may have also had a profound impact on the artist himself: Elf Power's Andrew Rieger claims Orange Twin's supply of farm-fresh eggs broke the avant-garde musician from his longtime veganism.
Last month, Flagpole delivered news of the Neutral Milk Hotel show, the planning for which has been in the works for months, though Carter says, "I've been begging Jeff [Mangum] to do a show here for years."
Organizers admit the concert will serve as a test of Orange Twin's limited resources. Nearly 100 volunteers have helped in various capacities to prepare for the event—for example, by clearing brush, arranging shuttle service from the parking area at nearby J.J. Harris Elementary and signing on to help maintain order during the show itself.
Others have donated their professional skills to the project. In a show of Orange Twin's community aspect, Neutral Milk Hotel's Scott Spillane, a carpenter by trade, helped build the brand new stage on which the band will perform.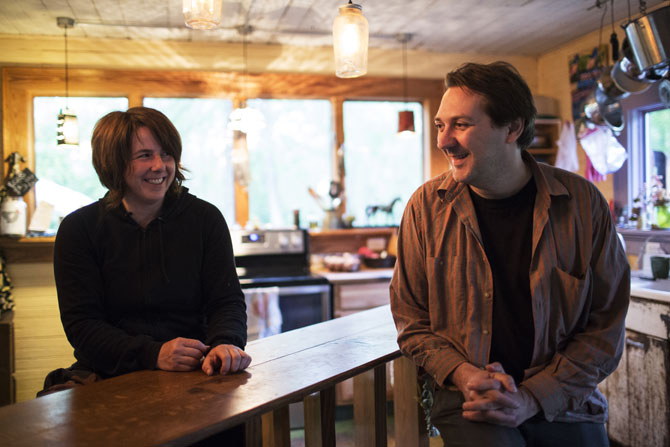 Photo Credit: Joshua L. Jones
That communal spirit has characterized the Elephant 6 collective since its ramshackle beginnings. Sunday's concert is an unabashed E6 blowout, with stalwarts Circulatory System, Music Tapes, Elf Power, Thimble Circus and Apples in Stereo's Robert Schneider set to perform alongside Mangum and his high-profile crew.
As gentle Hawaiian music floats through the farmhouse kitchen, Carter says Neutral Milk Hotel's triumphant return, as well as the local response to the news of Sunday's show—tickets sold out quickly, though Carter hints there may be a few more available closer to the show—prove that the twin spirits of Orange Twin and E6 are alive and well.
"Nothing stays the same," she admits. "People have grown older. There are more wounds to lick." But, she adds, surveying her surroundings: "It's still very magical."
WHO: Neutral Milk Hotel, Circulatory System, Elf Power, Music Tapes, Robert Schneider, Thimble Circus
WHERE: Orange Twin Conservation Community
WHEN: Sunday, May 10, 2:30–10 p.m.
HOW MUCH: SOLD OUT
Like what you just read? Support Flagpole by making a donation today. Every dollar you give helps fund our ongoing mission to provide Athens with quality, independent journalism.