In music circles, March still means one thing only. Tens of thousands of road-weary musicians, Lone Star-swilling revelers, harried club promoters, freebie-seeking media members, sunburnt frat bros and too-eager brand reps will gather in Austin, TX from Mar. 17–22 for the strange dance with the industry beast that is South By Southwest.
Once you get past the pomp and circumstance, SXSW can be a fan's dream. This year's music conference will feature over 2,000 official acts, as well as hundreds of others playing off-the-books shows; most showcasing artists will supplement their sets on 6th Street by also playing day parties and beer-soaked basements. Bluntly: There is a shit-ton of music to see.
As is usually the case, the Classic City will be well represented this time around. Saturday brings the "Athens in Austin" day party, presented by the Georgia Theatre with support from the 40 Watt Club and Flagpole, as well as a bunch of other local sponsors. In total, nearly 20 Athens bands will play SXSW over the course of the week.
Set times are subject to change. For the latest schedule, see the SXSW site.
Tuesday, Mar. 17
Five Eight (Valhalla, 12 a.m.)
Athens' elder (OK, middle-aged) statesmen kick off SXSW's music conference with a high-octane, late-night set. "High-octane," indeed: Have you seen these dudes play lately? It's almost like they've got something to prove.
Wednesday, Mar. 18
Futurebirds (Trinity Hall @ Old School, 12 a.m.)
The Athens/Nashville alt-country collective's working pace is slow as molasses; we're still waiting for Hotel Parties, the long-rumored followup to 2013's Baba Yaga. Good thing the band's live show never fails to impress.
White Violet (The Velvet Room, 12 a.m.)
Another ATH/Music City hybrid, Nate Nelson's White Violet offers up shot after shot of sweet, soulful indie-folk with a chaser of lyrical heartbreak. Last year's Stay Lost was a refinement of the band's introspective dream-pop.
Thursday, Mar. 19
Chief Scout (Maggie May's, 8 p.m.)
Fresh off a recent East Coast house-show tour, expect Trey Rosenkampff and company's set to be rock-solid, airtight, diamond-edged. The buzz on these guys is growing by the minute. Could SXSW send Chief Scout to the top? (…Probably not, but maybe?)
T. Hardy Morris (Red 7, 11 p.m.)
The hardest working man in Athens music will perform his distinctly Southern downer-folk to give the festival crowds a chance to chillax. Look to hear tunes from an upcoming sophomore full-length and more.
Reptar (405 Club, 12:05 a.m.)
We love these guys at home, but their national fan base continues to expand; with their SXSW appearance coming just in advance of the release of the Lurid Glow LP, Thursday's show will surely be one for the ages.
Yip Deceiver (Cheer Up Charlie's inside, 12:45 a.m.)
The best and brightest in eccentric Athens pop perform at Cheer Up Charlie's Thursday, starting with synth-y psuedo-sex freaks Yip D and leading into…
of Montreal (Cheer Up Charlie's, 1 a.m.)
…who recently dropped Aureate Gloom, a sharp post-punk followup to last year's scum-stained Lousy With Sylvianbriar. This ain't the of Montreal of mid-aughts acid-disco lore—the new version's even better.
Family and Friends (St. David's Historic Sanctuary, 1 a.m.)
We expect these uber-posi folkies to gain a whole new faction of diehard devotees in Austin this year, what with all the weatherbeaten flannel, fluffy beards and irrepressible sing-it-with-a-smile 'tude.
Friday, Mar. 20
Lazer/Wulf (Dirty Dog Bar, 10 p.m.)
Get your brain seriously stained by these math-metal oddballs Friday at the aptly named Dirty Dog, where Lazer/Wulf will pummel yet another unsuspecting audience into submission. It's the good kind of pain.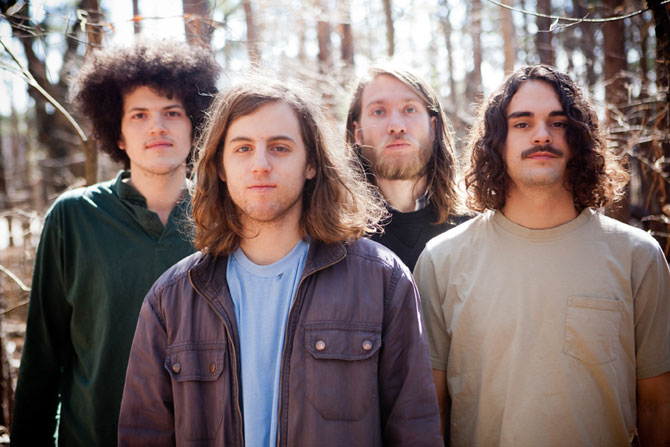 New Madrid (Continental Club, 1 a.m.)
Normaltown Records' flagship act will showcase its weirdly sweet, perpetually stoned rock and roll late Friday night, after which point you should really grab a burrito and hit the sack. It's been a long few days.
Saturday, Mar. 21
"Athens in Austin" (Side Bar, 12–7:30 p.m.)
It ain't over yet, as the real Classic City party starts Saturday at Side Bar, where 14 Athens groups perform on two stages, including the aforementioned Reptar, New Madrid, Family and Friends, White Violet and Chief Scout. Also, look for Flagpole faves Grand Vapids and Pinecones, rowdy punks Shehehe, Kishi Bashi associate Tall Tall Trees, garage miscreants Dana Swimmer and more. Check athensinaustin.com for the full lineup and set times.
The Grawks (The Aquarium on 6th, 4 p.m.; The 04 Lounge, 8 p.m.)
Proto-punk party animals The Grawks play twice Saturday, so if you don't down too many tallboys at the GATH party, you can catch these guys in the evening, instead. Which is probably more appropriate, anyway.
Pinecones (Sledgehammer, 9 p.m.)
After rocking the Side Bar Saturday afternoon, the 'Cones will (figuratively—we think) destroy (again, the aptly dubbed) Sledgehammer with their mighty, meaty psych-sludge assault. Not a bad way to usher out the week, if we say so ourselves.
Flagpole will be posting updates and photo galleries from SXSW all week long on Homedrone. Check in with us, won't you?
Like what you just read? Support Flagpole by making a donation today. Every dollar you give helps fund our ongoing mission to provide Athens with quality, independent journalism.