Editor's note: For the second feature in Flagpole's series of year-end music coverage, we asked local musicians, promoters and other scene folk to reflect on their favorite moments of 2014. We will conclude Jan. 7 with our Top 10 local albums list.
See also: Athens Music in 2014: The Wild, the Wonderful and the WTF
Andrew Rieger (Elf Power):
1. B-53's/Casper and the Cookies, Georgia Square Mall parking lot, Jul. 4: Was great to see the befuddled reactions of random mall denizens expecting to hear some more patriotic tunes… Although, Casper's version of Neil Diamond's "Coming to America" was pretty killer.
2. The Glands at Green Room: Two lengthy sets of old and new songs. Great show!
3. Maserati at Georgia Theatre: New songs were psychedelic and rocking.
4. Shade at Go Bar: Saw them a bunch of times this year, and always love hearing their meandering, melodic concoctions. Simultaneously dissonant and pretty.
5. Neutral Milk Hotel: Seeing them 51 times in 2014 all over the damn place was not too shabby.
Montu Miller (AthFactor Entertainment):
1. Dictator's Circus EP: One of the best projects to come out of the Classic City this year. I love everything about this project. It is diverse, lyrical, fun and something I have not been able to take out of my rotation.
2. Blacknerdninja's #goninjago: What I like to call "contemporary golden-era music." It takes me back to the '90s, yet it still keeps up with everyday slang and culture. I'm loving the whole vibe of this album and how it makes me feel good. There's nothing else like this coming out of Athens.
3. Ace Boon Koonz' Middle of Nowhere: These two legends never seem to disappoint us. This project is everything it was anticipated to be: Southern-fried hip hop that bangs.
4. Tony B's Patience, Time & Money: This album is filled with production that is second-to-none, and club banger after club banger that makes you bounce all night. It's the soundtrack to a movement that grows every week Mr. B hits another city, from Augusta to Knoxville.
5. Chrismis' Committed Vol. 2: I would say Chrismis is one of the best female emcees in Athens, but she is one of the best, period. Committed Vol. 2 picks up where Vol. 1 left off. I can't wait to hear what's next from this young gun.
6. Squalle's No Squares Allowed: This young emcee put together a great mixtape that deserves an honorable mention. It's a breath of fresh air, lyrically sound, a must-hear.
John Fernandes (Circulatory System):
1. Dream Boat's album release show at Ciné for The Rose Explodes. Chilling three-part female harmony, a steady pulse and waves of acoustic and electronic texture. Beautiful, spacey projections by Mark Magnarella!
2. Circulatory System's album release show with Shade and Golden Brown. Packed house at the Caledonia before we left to go on tour opening for Neutral Milk Hotel.
3. Old Smokey's album release show at the Caledonia with Don Chambers, Secret Europeans and Lavender Holyfield. Killer night, great performances all around!
4. Faster Circuits/Hot Fudge/Motherfucker at the Caledonia Lounge. Three great bands on an awesome sound system!
5. Cult of Riggonia/Half Acid/Moths/Madeline at the Broad River Outpost. Great times out in the woods!
Patrick Goral (Werewolves, Katër Mass):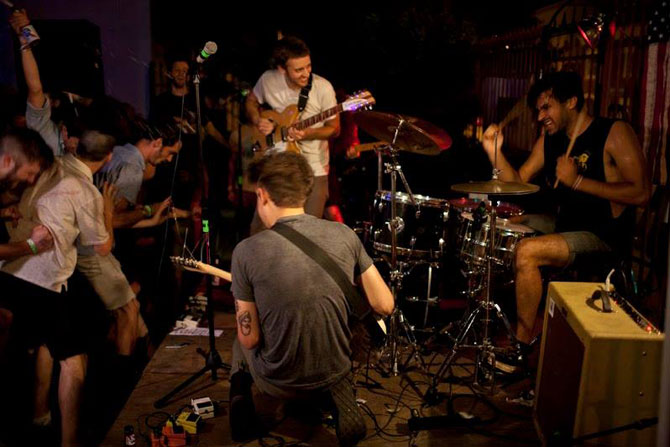 Photo Credit: Joshua L. Jones
1. Deep State at Little Kings during Athfest: Deep State is by far my favorite Athens band right now. This show blew my mind! They were the last band to play, and, honestly, I don't remember who else played. Everyone freaked out; everyone was crowd-surfing.
2. Shade at the Georgia Theatre, Oct. 30: Shade played an all-covers set of a bunch of '70s and '80s metal and post-punk songs. They were wearing these crazy-looking all-black skintight jumpsuits. Phelan looked like some kind of witch demon. I was just standing there looking like some kinda idiot.
3. Little Gold at Hi-Lo, May 29: The touring band, State Champion, was incredible. Then Little Gold took the stage. The room smelled like corn dogs and Colt 45. This was one of those shows where, after seeing the same band a million times, they manage to freak out and play the best set you've ever seen.
4. Nana Grizol at Hendershot's: Nana Grizol is one of my favorite bands of all time. When Theo moved from Athens, I was so bummed that I wouldn't get to see them anymore. This show was magical. It brought me back to my days of house shows and dumpster diving.
5. Dude Magnets at Go Bar: No one was there. Will was wearing that Fugazi tank top. It sucked.
Joshua Smith (Burns Like Fire):
The return of Black Kids was fantastic. Seeing Kishi Bashi for the first time at this year's AthFest blew my mind. Being introduced to Roadkill Ghost Choir at the Georgia Theatre was killer. One of my favorite albums that dropped this year was Katër Mass' Circles. Just brilliant.
Nate Mitchell (Nate and the Nightmares):
The Zombies at Georgia Theatre: I felt everyone in the audience hold their breath when Colin Blunstone went for the high-note vocal break in "I Love You" and then exhale with reassurance, knowing he's still "got it."
The Wailers at Georgia Theatre: It was like watching the components of a masterfully designed clock play endless sing-along tunes.
Superchunk at 40 Watt: Nice to see these ol' duffers movin' around on stage!
Reigning Sound at Georgia Theatre: Solid as always. Nice to not have to drive to Atlanta for once.
Quintron & Miss Pussycat at Hi-Lo: Energetic set from Quintron, who then immediately made a beeline to Athens Regional due to internal bleeding issues.
Blackalicious/Blacknerdninja at Melting Point: Blackalicious was great, and BNN brings an impressive, high-energy set every time I see them. Although, I still feel weird about the recycling of the Vanilla Ice/TMNT "go ninja go" chant.
Thomas Bauer (Sad Dads):
1. During Athfest, I saw Gurgle Twins playing their very idiosyncratic distortion-nausea outside Go Bar in the middle of the afternoon to some teenagers and day-drinkers. The guitarist was wearing parachute pants and had a pedal board the size of a windshield.
2: Atlanta/Athens dance-goof outfit DIP opened for the artist known as Riff Raff at Georgia Theatre. I'm not sure who got fired for this fiasco, but I know multiple arrests were made. An angry audience booed DIP. Later, during Riff Raff's set, bottles kept being thrown, and Riff Raff, in all of his shark-faced, floppy-armed glory, began soliciting the crowd to "kill" the bottle-thrower.
3. David Chandler (Pretty Bird) started booking secret Sunday shows at The Globe; the low-key atmosphere and small audience brought new light to bands I'd seen dozens of times.
4. The rise of local film company Dominar, LTD has been incredible to witness. These are the hardest-working guys in Athens, and it shows, with every new project they put out.
5. The resurgence of Elephant 6 and Athens music history in general has been incredibly overwhelming. The Museum Mix, in particular, where E6ers John Fernandes and James Husband dusted off old LPs at the GMOA, was especially moving, if only because it's easy to forget exactly how much art and music these guys put out in such a short time period.
Like what you just read? Support Flagpole by making a donation today. Every dollar you give helps fund our ongoing mission to provide Athens with quality, independent journalism.