It's not especially common for a band to find its center 18 years into its existence, but the Drive-By Truckers have never been a picture of efficiency. After hitting the scene in the late '90s with the largely acoustic, country-flavored double whammy of Gangstabilly and Pizza Deliverance, lead songwriters Patterson Hood and Mike Cooley laid out their mission statement in 2001 with the sprawling double-disc stadium-rock masterpiece Southern Rock Opera.
Over the years, the Athens-based band has experienced some seismic shifts, including the well-publicized (and variously contentious) departures of longtime members Jason Isbell and Shonna Tucker (Isbell in 2007, Tucker in 2011). The group is now comprised of Hood, Cooley and longtime drummer Brad Morgan, as well as multi-instrumentalist Jay Gonzalez and bassist Matt Patton, who cut his teeth in Alabama powerhouse The Dexateens.
English Oceans, the Truckers' 12th LP—it follows the 2010 and 2011 releases of The Big To-Do and Go-Go Boots, albums conceived of and recorded simultaneously—is out Mar. 4 via ATO. Despite its hour-long running time, English Oceans is a lean, powerful, propulsive, Cooley-heavy record, a reflection of both the current members' chemistry and the confidence that comes with age. If the freewheeling allure of the Isbell days has been diminished, it's been replaced by a comfortable groove that reveals moments of unexpected clarity. (This newfound sound actually harkens back, in some ways, to the group's earliest material; see the recent reissue of the band's 2000 live album Alabama Ass Whuppin' for proof.)
In advance of the Truckers' annual 40 Watt homecoming shows—a portion of proceeds from which go to benefit Nuçi's Space—Flagpole sat down with frontman Patterson Hood, back in Athens from a three-week stay in uncommonly dry Portland, OR ("I love that town. It's beautiful"), for a conversation about his band's hard-fought newfound solidity, the void left by the passing of comrade Craig Lieske, Cooley's phoenixlike second act and what it's like to hit your stride 12 albums in.
Flagpole: English Oceans is the first time a Truckers album has opened with a Cooley song since The Dirty South.
Patterson Hood: He had a really long writer's slump, a pretty brutal dry spell. Even the songs on the last two Truckers records, most of them were older songs he was forced to dig up and rework. Really, the only genuinely new song in a long time had been "Birthday Boy" [from The Big To-Do]. Which is a really good one, in my opinion. But I think he really beat himself up about it, which made it worse.
That seems to be where I'm at as a writer, wanting to explore those ideas that aren't so thought out and just let it happen, let it go. There's a lot of letting go on this record.
He came out of it in a big way. He came [into the studio] with all these songs. I kind of felt, deep down, like maybe we'd done him a disservice doing two records instead of one, at a time where he wasn't having a lot to bring in. I think that compounded his negative feelings about the situation. So, I vowed this time that we weren't gonna make a record until Cooley called me up and said, "Hey man, let's make a record." He not only did that, he called [producer David] Barbe up and booked the studio time. He was very hands on from the first step. Maybe that's how it needs to be from now on.
A lot of the album is more propulsive, straight-up rock and roll. Did revisiting Alabama Ass Whuppin' have an effect on the new record?
I think there's a little bit of synchronicity. The reason we did the reissue is, we found the tapes. The tapes had been missing for years and were presumed gone. I'd never been really happy with the way it sounded, anyway. But when we found the tapes and listened to them, it was a revelation—it actually sounded good. It was an era of the band that was loud and out-of-tune and over-the-top, but [there were] actually cool bass parts, it wasn't just a bunch of low-end mud. It had just been mastered kind of badly.
But we had already said, the next record, we want to make it quick. Last time… it was a two-year process, and we cut nearly 40 songs, put out two records and toured behind 'em. The whole thing just took forever. So, we wanted to do something that was fresh and immediate. But definitely, listening to that era of the band re-calibrated something. It reconnected us with something we had left behind somewhere long ago. I think it was a good thing.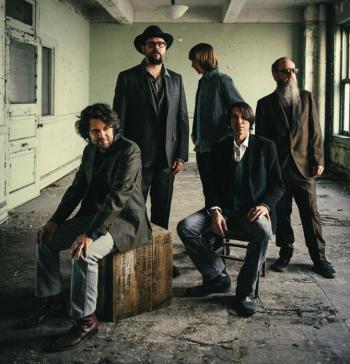 How much does that attitude reflect the current lineup?
That was a lot of it. The lineup is killer right now. It's so fun and immediate. We felt like, if the songs are there, the quicker we can cut it with this lineup, to capture the sound of this band playing basically live in the room is the way to go. It's a little more stripped-down than it's been, and I think that's served us well. It lets each person shine. It's a little more primal, and that's kinda where my head's at now, where all our heads are at. It's good when everybody's head's in the same place. It's a rare phenomenon in the life of a band. The last era of the band that had the same camaraderie that we have now is probably the band that made Alabama Ass Whuppin', when we were out there touring in the Econoline, doing 250 shows a year.
One thing you can always count on from a Truckers record is that it will be an album, not just a collection of songs.
Probably to a fault, sometimes. I tend to write more when I'm writing for a specific record. I haven't written a song since I wrote "Pauline Hawkins," which was the last thing I wrote for [English Oceans]. Especially now, with kids and everything—when I was younger, I wrote every day, whether something good came out of it or not. Now, I don't really have time to write unless there's something to write [for].
That said, when it was time to gear up to start writing this record, I wrote a lot. I had an album written, and then last year I ended up rewriting it, writing another record, which is mostly what we ended up doing. There's a whole other record floating around out there. I don't know if I'll do anything with those songs or not. Some of them I really like, but they weren't this record.
We were trying to be more conscientious about not putting too much shit on there, and just focusing on what's essential. Anything that didn't seem essential we let go of, and if it's meant to be, it'll surface at some other time. I think I'm just now getting to a point where I can do that. It's probably been one of my failings in the past, not being able to let go of stuff easy enough. It's taken 12 albums to get to that point [laughs]. I'm such a stubborn, slow learner. If I had the others do do over, I'd probably be more brutal with the scissors, or the razor blade, whatever it takes to cut shit out.
But that's something a lot of people like about the Truckers, too, that there's this expanse of material.
It starts adding up. After 12 records, you start thinking, "Man, I don't know if that's really what I want to be known for." So much of it is, you go into it looking at things one way, and you get to a certain point and look back and think, "Wow, there's really another way of looking at this that might've been better. But I wasn't there at that time to do it that way."
This band's always morphed and changed, which has been a blessing and a curse, as they say. It's enabled us to reinvent ourselves a number of times, and that part's been good. But then you look at the trail you leave behind and sometimes you go, "Golly." There's all these crazy times when we veered off [course]. It's like looking back at someone's drunk-driving log. Which, there's probably more than a little truth in that, too.
At least you didn't end up in the ditch.
Well, I don't know [laughs]. Neil Young said Harvest put him right in the middle of the road, so he headed for the nearest ditch. I think we've kind of just gone ditch to ditch to ditch a lot of the time.
"Pauline Hawkins" is based on a character from a Willy Vlautin novel. What draws you to a story?
I can't put my finger on it. It's nothing I've ever planned. "Pauline Hawkins" is kind of an extreme case, 'cause we had already finished the record, and I got sent that book. I'm a big fan of Willy—I was in the middle of another book, and I put it down and read [his] book in three days. The next day, I wrote the song, and called the band, like "Hey, I wrote another song, can we get together?"… It was a last-minute addition that I think made the record a whole level better than it would've been without it. It was a gift having that in the nick of time. I feel like it must have been meant to be.
"Neil Young said Harvest put him right in the middle of the road, so he headed for the nearest ditch. I think we've kind of just gone ditch to ditch to ditch a lot of the time."
It was nerve-wracking sending it to Willy. Like, "What if he really hates this?" I could change the name of the song and pretend it's about something else [laughs]. But I sent it to Willy, and he was real enthusiastic about it. I couldn't tell you what it was about that character that moved me so, 'cause she's not like me at all… She's lived a hard, fucked-up life and seen a lot of bad shit. She's a nurse, and she's dealing with people in the worst times of their lives, day after day. Her response to that is just to close everything and everybody off, and not let anybody get close.
We could go through the 120 or however many songs we have in our catalog, and I could probably tell you what almost every one of them's about. But on this record, probably half of them, I couldn't. I really don't know what "When He's Gone" is quite about. Maybe I'll know in a few years. That seems to be where I'm at as a writer, wanting to explore those ideas that aren't so thought out and just let it happen, let it go. There's a lot of letting go on this record.
Speaking of letting go, the album's being released a little over a year since Craig passed. What role did his spirit play in the construction of English Oceans?
[After Craig's death] I wrote [album closer] "Grand Canyon." And I knew that was the center of gravity for what was gonna be our next record. That became the point as to whether a song was gonna be considered or not, whether it fit with that. It's a lot of why I discarded an album's worth of material and wrote new songs. It reset something—we looked at everything from a different point of view.
You know, it was our annual homecoming, our 40 Watt shows, when it happened. I look forward to these shows all year. It's something I enjoy on a different level. I get to play, and I'm at home, and my friends are there, and it's got the Nuçi's Space stuff going on. It's become a really special thing for all of us. So, to have something so horrific happen in the middle of that, and at the beginning of the year… We had gone through a pretty rough year the year before, and the year before that, so we just kinda thought, "OK, 2013, finally, it's gonna be a better year." And then that happened three weeks in.
We played Thursday, Friday and Saturday at the 40 Watt, and then we left for tour. And getting on that bus with the empty bunk was one of the most terrible things we've ever had to do. At the same time, we had to do it. Craig wasn't the kind of person where that would have been acceptable. There was no other option but to go do [our] job. That was how he was. I used to work for him at the 40 Watt, so I didn't wanna piss him off [laughs]. He could be tough. I wrote ["Grand Canyon"] on that tour. I knew when I wrote it that it was something special. It damn well had better be, being for him.
You guys still tour quite a bit, even if you're no longer playing 250 shows a year. Do you see a point where the Truckers will slow down even further?
I feel like we almost inevitably have to at some point. We're gonna hit it really heavy this year, harder than we've hit it in a long time, because we're in a good place. We're all really getting along—everybody's in a good place in their personal lives and with each other. Nobody's got any kind of big issues going on. Everybody's drinking is under control. There's not any bullshit going on, and we're all in a place where we're really enjoying each other's company, and the shows are really fun and the energy level's great.
And we've got this new record that we're extra-excited about. I've played with Cooley for 29 years, and I've never seen him as inspired and focused as he is right now. It's kind of a marvel. So, I wanna go out there and play. None of us are getting any younger. Bands our age are supposed to be basically oldies acts by this point. Of course, we don't have any hits, so there's not really that option [laughs]. But it feels like a new band in a lot of ways.
We all kinda wanna see how far we can take it this year. But who knows after that. I don't see us not continuing on as a band, but there will inevitably come a point where it's not our full-time job. I'm turning 50 in a month. I don't ever wanna do it when we can't do the fuck out of it. If it's ever kinda just sad to see the Truckers, I hope we just go away. But right now, I feel pretty confident that we can play as good a show as ever. Better, in some ways.
WHO: Drive-By Truckers, New Madrid
WHERE: 40 Watt Club
WHEN: Thursday, Feb. 13, 8 p.m.
HOW MUCH: $31
WHO: Drive-By Truckers, T. Hardy Morris, Camp Amped Band
WHERE: 40 Watt Club
WHEN: Friday, Feb. 14, 8 p.m.
HOW MUCH: SOLD OUT
WHO: Drive-By Truckers, St. Paul and the Broken Bones
WHERE: 40 Watt Club
WHEN: Saturday, Feb. 15, 8 p.m.
HOW MUCH: SOLD OUT
Like what you just read? Support Flagpole by making a donation today. Every dollar you give helps fund our ongoing mission to provide Athens with quality, independent journalism.