It's AthFest week, which means it's time to drink. And eat. And walk. And drink some more. And look at art. And sweat a lot. (Which reminds us: Stay hydrated! Wear shorts! Take a cab! Et cetera!) But most importantly, there's music to see. An ass-ton of it, to be exact. Amidst all the noise, it can be tough for non-residents to get an honest sense of the local scene. That's where your new pals at Flagpole come in. This year, we're asking: What makes an Athens band? We pondered the question over Jittery Joe's in the morning and Terrapin at night, and here's what we found.
First and foremost, to be an Athens band, well, you've gotta hail from Athens. (For an exception to the rule, see number 20 below.) Still, that's not quite enough. Athens has to be in you, man. You don't have to embrace a particular sound—in fact, bonus points for venturing outside the pop parameters established by a certain trendsetting trio so long ago. Likewise, don't worry about adhering to any set of structural guidelines. As Flagpole's Gordon Lamb notes below, "There is no proper order to how things take root in Athens."
Here's a little-known fact: the Classic City is home to some of the most dedicated yet under-appreciated folks in the world. To be an Athens band is to put your entire self into what you do, despite no promise of earthly reward. Never mind money, sleep or social status. If any of that comes, it's a happy bonus. Here are 20 incredible artists on the AthFest schedule that we think exemplify this attitude to a T, from the raggedest rockers to the upstart freaks they've inspired:
20. NYMPH
We'll call NYMPH the least most Athens band on this list, 'cause technically, they're not from Athens. But the Brooklyn-based group has built on its local connections for years, and having absorbed into its fold three key members of now-defunct Athens psych-rock powerhouse Dark Meat, NYMPH is now more Athens than ever. The band plays an intricate, brain-fried sort of worldbeat that should appeal to studied free-jazz aficionados and contemporary indie fans alike. [Gabe Vodicka] (Saturday, Farm 255, 12:30 a.m.)
19. Manray
There have only been a couple of times I ever deigned to invent a genre name for music I couldn't otherwise describe. The first wound up already existing, but the term "complicated-core," coined for Manray, stuck. That was well over a year ago, and damn if it still doesn't fit hand in glove. This powerhouse four-piece—three bros by blood plus one brother from another mother—cut their teeth on punk and hardcore, sharpened them on math-rock and use them skillfully and willfully to chomp huge chunks out of rock and roll's bloated carcass. Let's eat! [Gordon Lamb] (Saturday, Caledonia Lounge, 1 a.m.)
18. The Rodney Kings
The trash-bag musical aesthetic of The Rodney Kings can colloquially be called garage rock, but all sorts of bands come out of garages. This is primitive caveman rock filtered through years of late nights and daily imbibing of mid-20th Century teenage outsider culture. It sounds like the guitars are strung with cat guts, the drums pounded with animal bones. The Rodney Kings lose their minds so you don't have to. Even so, if your feet aren't sloshed in beer and your body soaked in sweat after seeing them, you have failed as an audience member. [GL] (Friday, Max side room, 12 a.m.)
17. k i d s
Songwriter K. Jared Collins has gone through so many bandmates over the last couple years that it would be easy to miscategorize his passion. "I kinda just couldn't stand not having as much control as I wanted," he told Flagpole in an interview last year. But with a recent slew of brilliant releases, Collins has proven the validity of his haze-pop vision soundly enough to dispel any notion of egomania. Musically, the dude knows what he wants, and he finds ways to get it. His current live band, which includes members of Velocirapture, is tight and turbulent in all the right places. [GV] (Saturday, Flagpole Showcase, Georgia Theatre Rooftop, 9 p.m.)
16. The Skipperdees
The music of folk duo The Skipperdees is most accurately described in the band's own words: They write sad songs, but are happy people. Followers of the band's online presence can attest to the duo's smart, collegiate wit, and although their music is solidly pre-electricity Tennessee Valley, members Emily and Catherine Backus reside entirely in the 21st Century. Their debut album, Here's To Hoping, was released in 2011. Although old-timey in the strictest sense, it crackled and sighed with a heartache and brittleness beholden to no single tradition more than that of being tragically and reluctantly human. [GL] (Saturday, Melting Point, 8 p.m.)
15. Moths
Moths' Jacob Morris seems as content to perform by himself as he is to play with up to nine musicians at a time. Past and present collaborators include Aaron Wegelin, John Fernandes, Madeline Adams and many others. The relaxed musical dynamic so common around town can be heard in his non-tortured brand of singer-songwriter sound, which reflects Athens in one of its happiest moods: taking life as it comes, searching equally for amusement and sincerity. [Sydney Slotkin] (Friday, Little Kings Shuffle Club, 12 a.m.)
14. Athens Tango Project
There's some statistic floating around that for a town its size, Athens has three times more restaurants than it should. That's because the town's young population craves variety (or maybe can't cook). Either way, in many ways, we're blessed with more international flavors than even Atlanta. Same goes for tunes. With UGA drawing students from across the globe, we've got a diverse group of backgrounds eager to share musical histories. ATP bassist Laura Camacho hails from Argentina, home of the tango, the propulsively rhythmic, emotional and populist art form. Expect a little bossa nova and jazz in there, too. [Chris Hassiotis] (Saturday, Pulaski Street Stage, 1 p.m.)
13. New Madrid
One of the most compelling Athens success stories of the past year, the kids in New Madrid went from house-show mainstays to big stage headliners in the blink of an eye. The group's widescreen Americana has earned it comparisons to My Morning Jacket, but the band's is a more earthly and intricate sort of music. A recent signee to New West Records, New Madrid is poised to woo the world beyond the Loop very soon. [GV] (Friday, 40 Watt Club, 10 p.m.)
12. The Dream Scene
Javier Morales' long-running outsider pop project has taken an unexpected turn towards the center in recent months. Mesmerizing songs like "Escape" and "Always" owe explicitly to mid-'80s Prince, insanely catchy verse-chorus monster jams that, in the context of The Dream Scene's live show, where Morales is backed by various arty Athenians, compel the crowd to move. But Morales still finds opportunities to get weird: other tunes, like the whirling, claustrophobic "Sugar Free," are products of the same Zappaesque abandon that birthed The Dream Scene's now-cult classic Christmas album. [GV] (Friday, Flagpole Showcase, Georgia Theatre Rooftop, 10:30 p.m.)
11. Tunabunny
Athens' art-rock history is well documented, but for all the legendary status ascribed to it, no one seems to remember that the majority of it happened with miniscule audiences and late-to-the-party press coverage, if any. Tunabunny started its own journey a handful of years ago, quietly expanding its noise-pop into full-bore and fully-realized gems. The band released its third LP, Genius Fatigue, last year, and is gearing up for a second tour of the UK. If you leave town without catching these guys, you'll be left playing catch-up, instead. [GL] (Friday, Ciné, 1 a.m.)
10. Powerkompany
Having recorded their lush new electro-pop album, I am More Than This, on their own in a basement here in town, Marie Davon and Andrew Heaton make DIY look like NBD. Like most other Athenian musicians who don't attain street cred until they've had their hands in a dozen projects, Powerkompany isn't Davon and Heaton's first, or only, gig in town. And not only have they cut teeth in Venice is Sinking and Packway Handle Band, respectively, but the duo can be seen regularly scouting other bands at bars on weekends. [Dan Mistich] (Saturday, Hull Street Stage, 1:45 p.m.)
9. Dream Boat/Hope for Agoldensummer
Sisters Claire and Page Campbell are the anchors of a growing cadre of powerful female singers who exemplify the independence and tenacity of Athens. Their decade-old project Hope for Agoldensummer has transitioned from "great Athens band" to an example cited alongside Pylon and Drive-By Truckers when we're trying to express just how good we've got it here. Its younger sister in every sense, Page's newer outfit, Dream Boat, takes Hope's pure, dark sound and adds a layer of atmosphere and windy mysticism—folk for a more modern audience. [SS] (Friday/Saturday, The World Famous, 11:15 p.m.)
8. Shonna Tucker & Eye Candy
"It's time for me to move on to the next great thing, whatever that may be," Shonna Tucker wrote on the Drive-By Truckers' website two years ago when she left that group after eight years as its bassist. "I am, without a doubt, not done." It's often a truly Athenian thing to make promises that go unfulfilled, but it's (thankfully) just as characteristic of our town for people to meet and exceed expectations. That's just what Tucker's done, assembling her terrific band, Eye Candy, from some of Athens' finest scene vets. Debut album A Tell All should be out soon. [CH] (Saturday, Pulaski Street Stage, 4:45 p.m.)
7. Dave Marr
There's only a handful of songwriters in town whose names are spoken with reverence years after their peak activity. Dave Marr is one of them. And, as luck has had it, his activity has increased exponentially in the past couple of years. Known for his work with the well remembered Athens country group the Star Room Boys throughout the 1990s, Marr is armed with two sleeves full of new tunes and over a decade of life experience since that band's demise. No better way to close out a Friday night in Athens. [GL] (Friday, Caledonia Lounge, 1 a.m.)
6. Muuy Biien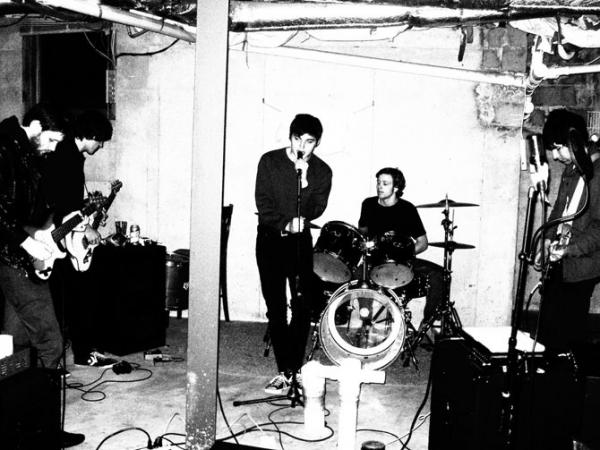 All slippery slopes have a slush pile at their bottom where their combinant ideas gather. So it's not really all that weird, per se, that hardcore punk wunderkinds Muuy Biien grew backwards out of an ambient music solo project. There is no proper order to how things take root in Athens, and those who have tried to impose the industry's standards have been almost universally disappointed at Athens' shoulder-shrugging. Muuy Biien jitters and streaks and shakes and doesn't do anything it doesn't want to. And the outside world holds it as paradox that this is a huge part of the reason the band's name is spreading so rapidly. [GL] (Friday, Ciné, 12:15 p.m.)
5. Ceiling Fan
Few bands represented the early-'90s slacker ethic as well as Ceiling Fan. That is, the music came first and everything else in life—major employment, decent living arrangements, air conditioning—fell to a distant second place. Their Minutemen/Meat Puppets-inspired tunes were laid-back enough to draw the ear of those ambling past the long-gone Frijolero's, where bands performed with a huge picture window behind them, and strong enough that their demos and eventual albums are still spinning in local homes years after their release. Unmissable. [GL] (Friday, Pulaski Street Stage, 5 p.m.)
4. Reptar
Athens loves a good party. If you've caught a live performance from local pop gods Reptar over the past few years, whether a well publicized gig or one of many last-minute "secret shows," you know the band brings a ton of energy and fun to the stage. If you finished high school more than five years ago, though, you might want to limber up; these guys have a tendency to get the young folks dancing. Their wristband-only headlining set at the Georgia Theatre on Friday night may not be hush-hush, but it promises to be one hell of a good time. [DM] (Friday, Flagpole Showcase, Georgia Theatre, 12:30 a.m.)
3. Bloodkin
In this town, what comes around has a tendency to stay around. The guys in Bloodkin are proof that Athens is the perfect place for young people to set up shop while they're trying to figure out the rest of their lives. Having moved to Athens from West Virginia, Daniel Hutchens and Eric Carter have stuck around town for over two decades, playing their brand of Southern-influenced rock and collaborating with a host of luminaries, including former Rolling Stones saxophonist Bobby Keys. But while the members of Bloodkin may be some of the most seasoned rockers playing AthFest, you won't have to shell out $500 to hear them play a great set. [DM] (Sunday, Pulaski Street Stage, 4:30 p.m.)
2. Patterson Hood and the Downtown Mystic Rumblers
"Who needs a downtown when there's a Walmart next door?" Patterson Hood asked in "When It's Gone," his 2012 lament, performed with a supergroup of Athens musicians, about a certain smiley-faced big box rumored at the time to be coming just yards from his Potterytown house. It was the perfect ode to a city that prides itself on buying local, and drew national attention to the anti-Wally World forces. Athens won: Walmart pulled out, and developer Selig Enterprises drastically altered its design. Hood, an Alabama native, has adopted the Classic City as his hometown with the fervor of a convert. You're almost as apt to find him or his wife, Rebecca, at a zoning meeting as at the 40 Watt. Other than strapping on a guitar, what could be more Athens than giving greedy developers hell? [Blake Aued] (Sunday, Pulaski Street Stage, 7 p.m.)
1. Modern Skirts
Modern Skirts have played tuneful, thoughtful, catchy and charming pop together for nine or 10 years, give or take. The band has lived lives as most incarnations of an Athens band: a little-known startup opening shows; steady-gigging locals with an audience of friends; venue-packing heartthrobs for the college crowd; a group of young people touring overseas; a group whose members become eager to explore different paths, and not necessarily together; friends.
By the time they announced an amicable split earlier this year, Jay Gulley, JoJo Glidewell, Philip Brantley and John Swint had released three albums and a number of EPs and singles in their decade as a band. This is the same amount of time that the Beatles were together. This is longer than the entire disco era. This is longer than the United States' most recent Iraq war, though not as long as its current Afghanistan campaign. This means that the people who will enter UGA as freshmen this coming year were 8 years old when the Modern Skirts started playing.
People in Athens can find something they love to do, and do it very well. People in Athens can spin their wheels for years looking for something like that. People in Athens can set aside things they loved in order to explore new ideas. Are you the same person you were 10 years ago? [CH] (Friday, Pulaski Street Stage, 9 p.m.)
Like what you just read? Support Flagpole by making a donation today. Every dollar you give helps fund our ongoing mission to provide Athens with quality, independent journalism.