Screaming Eagle
Charles Bradley has spent many of his 64 years on this Earth wandering. Born in Florida, he grew up poor in Brooklyn, where in 1962, as legend has it, he saw James Brown perform. "It was a person that gave me a lot of hope," he tells Flagpole. "I said, 'Wow. I wanna do something like that.'"
Homeless as a teenager, he ended up in Maine, working as a cook for a while. Then, he went west, halfway settling in Northern California. Finally, at the urging of his estranged mother, he made the journey back to New York City where, to make ends meet, he began impersonating Brown at various Brooklyn bars under the name Black Velvet.
As fate would have it, his powerful presence made an impression on Gabriel Roth, cofounder of retro-soul label Daptone Records, and in 2010, with the help of producer Tom Brenneck, Bradley recorded eight original tracks and a handful of others and compiled them under the title No Time For Dreaming—his debut, at the age of 62.
Many of the record's songs dealt with a particular heartbreak: not long before, Bradley's brother had been killed, shot to death in the neighborhood where he and Bradley both lived. The event shook Bradley to the core. "The first album was the darkness coming out of me," he says now. "I finally got a chance to do it, and put it to music. It was truly hard to sing."
Songs like "The World (Is Going Up in Flames)" and "Heartaches and Pain" found Bradley channeling his grief over his recent loss—and the lifetime of hardship before it—into gut-wrenching soul music, the likes of which had been largely unknown since the days of Stax and its ilk. Bradley owes a clear debt to his hero Brown, but in his delivery is a truly honest and original voice, a metamorphic sound that only a lifetime of anguish could produce.
Nowhere is this made more painfully clear than on "Why Is It So Hard?," a Dreaming track wherein Bradley lays bare his life's story. On record, the song is a tearjerking tour de force. Now, when Bradley performs it live, it carries the sound of hard-fought triumph. Dressed in a sequined suit, he delivers each line with chest-shaking force.
"I didn't get it—why it took so long. I had to grit my teeth to keep a job, to keep enough money to go pay my rent." Now, he says, "I'm beginning to actually start getting a chance in life that I've been seeking for so long. It's getting better."
Bradley's new album, the relatively upbeat Victim of Love, is clearly a more lighthearted affair than its predecessor. Though the songs may not reverberate in the same way, they expertly evoke the psych-tinged 1970s soul made famous by some of Bradley's other heroes, like Al Green and Bobby Womack.
"[On] the second album, I'm coming out of the darkness and into the light," says Bradley. In speaking with him, though, it's hard not to notice the fact that some of that darkness remains, and likely always will. "These songs, I actually lived them," he explains. "That's why it hurts so bad."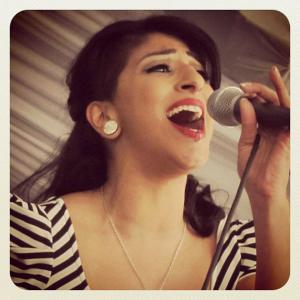 Photo Credit: Bruce Clem
Swan Songs
If Bradley is, as he has been dubbed, the "Screaming Eagle of Soul," Ruby Velle is some sort of waterbird. As the frontwoman of The Soulphonics, over the last several years Velle has slowly become an Atlanta icon, the center of that city's budding nu-soul scene. A longtime weekend fixture at Little Five Points dive Star Bar, The Soulphonics have recently emerged from that smoky cocoon as something unexpected and bright.
Velle and The Soulphonics take bits and pieces from classic soul and R&B and fuse them with a modern lite-pop sensibility. The music is—self-consciously, perhaps—unchallenging, tailor-made for outdoor festivals and summer road-trip playlists.
The group's debut full-length, It's About Time, out late last year on soul-centric Atlanta imprint Gemco Records, is accessible but also powerful, safe for soccer-mom consumption but two steps above the typical Starbucks fare. Whether exploring rapid-fire funk ("Medicine Spoon") or syrupy love ("Coming Home to You"), Velle and her band are convincing throughout.
Like the seasoned Bradley, the much younger Velle's music is often anachronistic, but it's a measure of her ability that she only rarely comes across as inauthentic. When she does, it's because she doesn't reach back far enough—"Longview" cribs from 1990s lite-hip hop and features lyricism so blankly platitudinal it might make Des'ree cringe. Still, Velle's voice saves her; sugar-coated sandpaper, it both soothes and smooths
It bears mentioning that though Bradley and Velle approach their work from vastly different places, with their respective recent outings they seem to be entering common ground: that meeting point between pain and pleasure that has always been at the heart of soul music. For one, it is a newfound mark of maturity. For the other, it is a cosmic answer to six long decades of struggle. For both, it is a promise of better things to come.
WHO: Ruby Velle & The Soulphonics, Monophonics
WHERE: Melting Point
WHEN: Wednesday, April 17, 8 p.m.
HOW MUCH: $5 (adv. or w/ UGA ID), $8 (door)
WHO: Charles Bradley and His Extraordinaires, Paul & The Tall Trees
WHERE: Georgia Theatre
WHEN: Friday, April 19, 8 p.m.
HOW MUCH: $15
Like what you just read? Support Flagpole by making a donation today. Every dollar you give helps fund our ongoing mission to provide Athens with quality, independent journalism.